Acer Aspire ATC-605-UR13 Highlights -

Pros: Excellent memory and storage space. Bluetooth support.

Cons: Graphics card not suited for high-end gaming.
Acer Aspire ATC-605-UR13 desktop PC offers a perfect balance between price, features and functionality. With a massive 10GB of memory, 1TB storage space and a powerful Intel Core i5 processor, even the most demanding tasks will feel like a breeze. It's tower shaped design comes in a metallic finish with a chrome strip that gives it a very modern look. Also, commonly used ports like the media card reader and headphone jacks are located in the front panel providing easy and convenient access.
Performance - Acer Aspire ATC-605-UR13 is powered by a 4th generation Intel Core i5-4440 processor with a clock speed of 3.1 GHz (Max Turbo Frequeny of 3.3 GHz). The processor uses four cores and offers excellent all-round performance. It consumes minimal power and can efficiently handle processor centric tasks. As you can see from the graph below (soure: CPUBoss), the processor offers similar performance when compared against the Intel Core i7-2600 (base model in the Core i7 family of processors).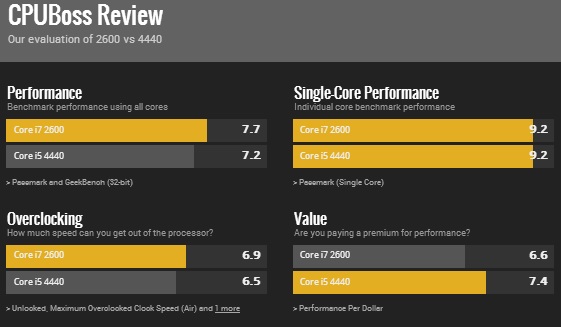 Storage & Memory - The desktop comes with 10GB of DDR3 internal memory (expandable to 16GB) and 1TB hard drive (7200 RPM). The memory and storage space should be sufficient for home and home-office use. Also, a hard drive expansion bay provides flexibility to add more storage in future.
Graphics & Sound - Acer Aspire ATC-605-UR13 comes with an integrated Intel HD 4600 Graphics card. Please see below for a comparison against other common video cards (source: Videocardbenchmark). As with most integrated graphics cards, it is not fast enough to run modern games in full-HD mode. However, it is quite suitable for everyday entertainment and multimedia applications. Also, the high-definition audio with 5.1-channel surround sound delivers good sound quality.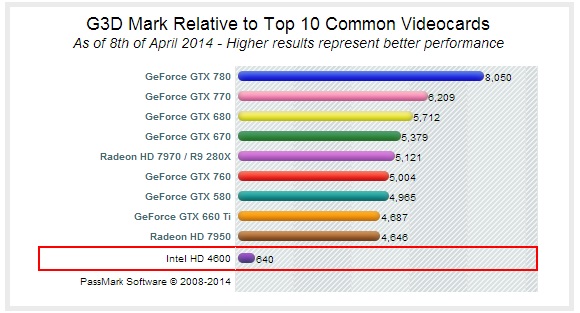 Operating System - Windows 8.1.
Click here for a closer look and buyer reviews.
Acer Aspire ATC-605-UR13 desktop PC comes with the following additional features: Gigabit Ethernet port, 802.11a/b/g/n wireless, DVDR/RW drive, digital media card reader, Bluetooth 4.0, 4 USB 2.0 ports (rear), 2 USB 3.0 ports (front), HDMI port for connecting to an HDTV, keyboard and an optical mouse. The desktop measures 14.98 x 6.89 x 16.29 inches and weighs 20.3 pounds.
ReviewsBucket's Verdict:
If you've found yourself in a situation where you need to replace your current desktop or are looking for a mid-range budget desktop, then we highly recommend the Acer Aspire ATC-605-UR13. The specifications are good for home or home-office use and it can be easily upgraded allowing for flexibility and making it future proof. The desktop also comes in another model with a faster Intel Core i7 processor - Acer Aspire ATC-605-UR14. Alternatively, if you prefer an All-In-One desktop, then please read our review on Lenovo Ideacentre C560.