Acer VX2631-UR11 Highlights -

Pros: Compact design. Affordable.

Cons: Not suitable for high-end gaming.
Having used Acer's Veriton desktop in our office for past couple of years, we only have good things to say about this series of desktops. Acer VX2631-UR11 belongs to the Veriton 2 series of desktop computers. These are basically targeted for the home or office environment and therefore offer all the essential features needed for working efficiently. This affordable desktop with a metallic finish, offers good multitasking performance with it's Intel Core i3 processor, 4GB memory and 500GB storage space in an energy-efficient compact design. It is in fact, about one-third the size of a traditional desktop which means it takes very little desk space. Also, the desktop is future-proof as it allows for easy tool-less expandability. In our office, we have the Acer H276HL monitor to complement this desktop.
Performance - Acer VX2631-UR11 is powered by a 4th Generation Intel Core i3-4130 processor running at 3.4GHz. With only two cores and a fixed clock speed (no Turbo-Boost feature), it is a capable general-purpose processor that outperforms comparable AMD processors on CPU-centric tasks. However, it lacks the raw power of pricier quad-core processors, but it is still reasonably quick. The processor supports Hyper-Threading (HT) technology enabling multiple threads to run on each core efficiently. With HT technology, users will be able to improve productivity by doing more simultaneously without having to slow down. This will be especially beneficial in work environments where users have multiple applications open at the same time. In the Cinebench test shown below, the Core i3 performed modestly better than AMD's similarly priced A8-7600, while the quad-core Core i7 chip outpaced all of them (source - computershopper).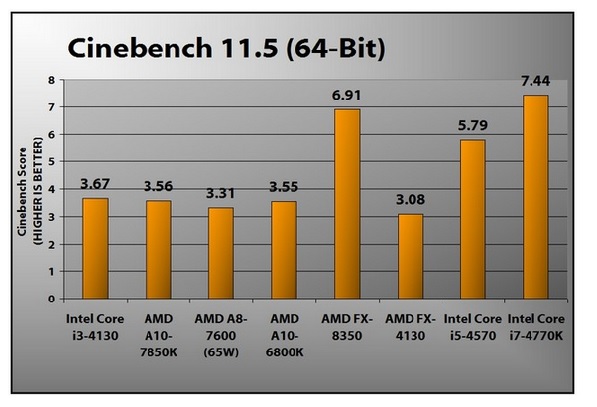 Storage & Memory - The desktop comes with 4GB DDR3 memory and 500GB (7200 RPM) hard drive. Initially, we think the memory and storage space is adequate but after couple of years of use, it would make sense to upgrade the memory to 8GB for better multitasking and increase the storage space to 1GB hard drive. As the desktop allows for easy expandability, upgrading these should not be an issue.
Graphics & Sound - Acer VX2631-UR11 comes with processor integrated Intel HD 4400 graphics core compared to the HD 4600 graphics core found on some of the pricier Core i5 and Core i7 processor models. This means the desktop isn't quite as capable when it comes to gaming as compared to desktops with costlier Intel models. In the 3DMark test shown below, the Core i3's HD 4400 graphics performed noticeably behind the Core i5's HD 4600 graphics, and well behind AMD's recent processor (source - computershopper). We would recommend low-medium settings when playing games on this desktop. The desktop offers high definition audio with 5.1-Channel surround sound support for good sound quality with the right kind of speakers like Bose Multimedia speakers.
Operating System - Windows 7 Home Premium.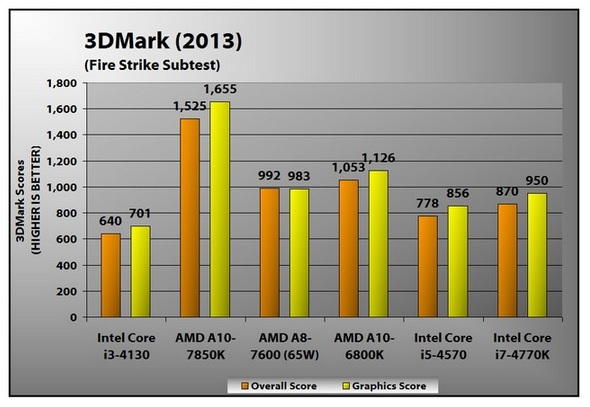 Click here for a closer look and buyer reviews.
The Acer VX2631-UR11 has plenty of ports and connectivity options. The most often used ports are located at the lower front panel of the desktop (2 x USB 3.0 ports, Audio Line In and Audio Line Out and SD media card reader) and the 16X DVD±R/RW SuperMulti drive is located in the middle. At the back, it has the 10/100/1000 Gigabit Ethernet LAN with RJ-45, 4 x USB 2.0 ports, a VGA port and a DVI port. The desktop also comes with a standard USB keyboard and an optical mouse. The desktop measures 14.49 x 4.02 x 10.51 inches and weighs 13.7 pounds.
ReviewsBucket's Verdict:
Acer VX2631-UR11 is an ideal solution for home or work environments bundled with all the essential features needed for working efficiently. It is very competitively priced and offers easy expandability options thereby making it future-proof. The desktop also comes in two different models: Acer VX2631-UR10 featuring a Pentium G3220 3GHz processor and Acer VX2631-UR12 featuring a Intel Core i5-4440 3.1GHz processor. Most of the other specifications remain the same.