Adesso iMouse E10 Wireless Mouse Highlights -

Pros: Unique ergonomic design.

Cons: May not be suited for people with very small hands.
Adesso iMouse E10 is an ergonomic mouse that can be connected wirelessly to your computer. The mouse has a wireless range of up to 30 feet. The vertical orientation and contoured shape provides wrist-friendly support for your hand. This makes the Adesso iMouse E10 design unique as compared to other ergonomic mouse in the market. The mouse is held in a "handshake position" which is the neutral position of your forearm, which prevents twisting thereby minimizing wrist pain. Adesso iMouse E10 features commonly used internet navigational buttons - back and forward, left and right click, scroll wheel and a DPI switch that can quickly and easily adjust DPI resolution (1000/1500/2000 DPI) for a faster response. The DPI (dots per inch) switch on the mouse enables you to adjust it's sensitivity to a faster or slower pointer speed. This is especially handy when you're color correcting or precision photo editing. Also, there is an On/Off switch on the mouse base to extend it's battery life. Adesso iMouse E10 can be easily setup by simply plugging the mini USB receiver into your computer's USB port.
Tracking Method : Optical Sensor
Connectivity : 2.4 GHz RF wireless technology
Resolution : 3 Levels (1000/1500/2000 DPI)
Buttons : 6 Buttons (Left & Right Click, Back & Forward, Scroll Wheel, DPI Switch)
Power : 2 AAA Batteries (included)
Dimension : 3.0 x 4.7 x 2.5 inches
Weight : 0.3 pounds
Click here for a closer look and buyer reviews.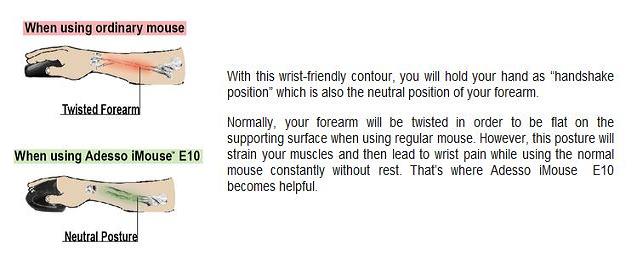 ReviewsBucket's Verdict:
Adesso iMouse E10 Wireless Mouse is great for people suffering from RSI (Repetitive Strain Injury). If you're in a profession that requires extensive use of your mouse like in graphic designing, then we highly recommend this mouse. You hand will thank you for this.