ASUS F555LA-AB31 Highlights

Pros: Great value for money. Large 1080p screen. Good performance for everyday computing tasks.

Cons: Non touchscreen. Memory may need an upgrade.
With the launch of Windows 10, a lot of laptop and notebook manufacturers have come up with a variety of new models supporting this new operating system. If you look at ASUS alone, there are at least 5 families of notebook computers like the ASUS N, K, X, E and F series, that are capable of running Windows 10 and cater to different customer and market segments. For example, the N series is targeted towards multimedia users while the X series has a wide range of exclusive usability features and a diverse color choice with mainstream performance similar to that of the ASUS X551MAV and ASUS X200MA that we have previously reviewed. Then, there is the ZenBook series like the ASUS Zenbook UX303LA-DS51T and not to mention chromebooks like the ASUS Chromebook C201. As you would imagine, this makes choosing a laptop a very daunting process. One of the factors we look at when recommending a laptop is customer reviews and whether it has made it to best sellers list on major online retailers like Amazon.
ASUS F555LA-AB31 is one such laptop that has been one of Amazon's best sellers for a number of months and will suit users who are on a budget looking to tackle everyday computing tasks. The ASUS F555LA is a bit different from other budget priced laptops. Most budget laptops will sacrifice either on display, processor or connectivity options. However, the F555LA comes with good processing power for everyday use with it's 5th-generation Intel Core i3 processor and 15 inch Full HD display for a great visual experience. It also comes with the latest in wireless standards and USB connectivity options. The laptop's design is very modern and elegant too. The fingerprint-resistant black exterior gives a subtle modern look while the black and silver interior with a silver touchpad is reminiscent of Apple's Macbook style. Even though it is mostly made of plastic, the overall build quality is good, as you would expect from ASUS and the styling is nice with a matte finish.

Main Features at a Glance:

* Intel Core i3-5010U 2.1GHz Broadwell processor with integrated Intel HD Graphics 5500 graphics.
* 4GB DDR3 SDRAM.
* 500GB 5400RPM hard drive.
* 15.6 inch Full HD (1080p) screen.
* 2 x USB 3.0, 1 x USB 2.0, 1 x HDMI and VGA ports.
* Wireless 802.11ac connectivity for streaming HD media and web surfing.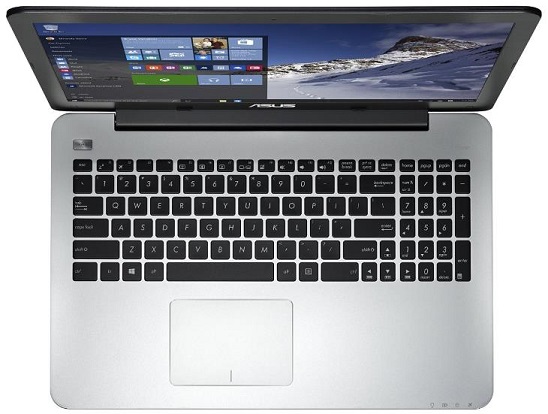 Performance - The processing brain behind the ASUS F555LA-AB31 is an Intel Core i3-5010U dual-core processor based on the Broadwell architecture launched in early 2015. The 2.1GHz ultra low voltage processor has sufficient power for daily office and multimedia tasks without consuming an excessive amount of battery. Also, the processor's HyperThreading technology allows for multiple computing threads per core (two processing threads per physical core), which significantly increases performance in multi-threaded programs. Highly threaded applications can get more work done in parallel therefore completing tasks sooner. All this means is that the processor is capable of running most applications without any problem. Tasks such as running Excel spreadsheets, web browsing, watching videos and running social applications is a breeze. It is also quite energy efficient consuming comparatively less battery power. Below is the Cinebench 11 benchmark score for Intel Core i3-5010U that puts the processor halfway between the Intel Core i7 and the Intel Celeron/Pentium in terms of processing power.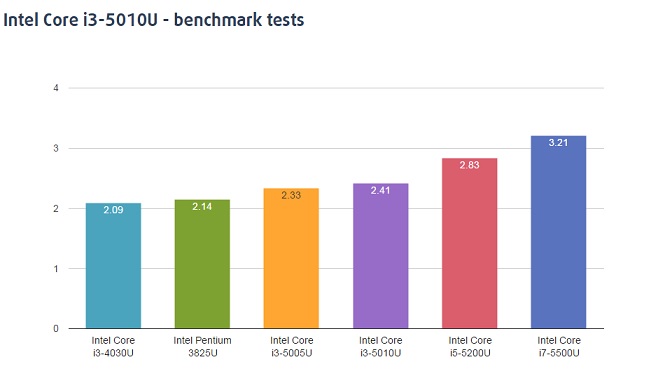 Storage & Memory - The laptop comes with 4GB of DDR3 memory and 500GB (5400RPM) file storage space. The memory is upgradeable up to 16GB. The storage and memory is pretty much standard for the majority of laptops in this price range. However, we think it would be worthwhile to upgrade the memory to at least 8GB. In our experience, 4GB of memory is bare minimum and will be sufficient initially, but as you install more and more applications and use the laptop regularly, it's multitasking capability will degrade a bit. That's why we always recommend our readers upgrade their laptops to at least 8GB of memory for smoother multitasking. The 500GB storage should be sufficient for most average users unless you are planning on storing a large amount of multimedia files, in which case an external disk drive would come in handy. Also, you can upgrade the laptop's hard drive to a much faster SSD drive for quicker boot and response time.
Display, Graphics & Sound - Perhaps the best feature of the ASUS F555LA-AB31 is it's 15.6 inch screen (non-touchscreen) with support for Full HD resolution of 1920x1080 pixels. The screen is large and looks great with a crisp and clear display. We found it to be easy on the eyes while reading. Also the brightness is fairly good and the matte display makes for a comfortable visual experience. However, the viewing angle is not so great as we believe it is not an IPS panel which otherwise would have had a much better viewing angle. But IPS panels are much more expensive. Overall for the price, we think it is real good value for money. As for playing games, the laptop comes with an integrated Intel HD Graphics 5500. This graphics specification is not meant for playing demanding games. It will not give you decent frame rates if you play the latest graphics-heavy games on the highest setting. Games like Battlefield or Call of Duty will simply not cut it. However, most games will be playable in low to medium settings and browser-based games will also work without any issues. Lastly, the Sonic Master technology provides good sound quality from the built-in stereo speakers.
Battery - Users can expect the Lithium Ion battery to last anywhere between 3-4 hours with moderate use. You would think that for an energy efficient processor the battery should last a little bit longer, but usually 1080p screens tend to draw a little bit more power.
Operating System - Windows 10.
Click here for a closer look and buyer reviews.
The ASUS F555LA-AB31 features 3 USB ports (1 x USB 2.0 on the right and 2 x USB 3.0 on the left). There is also a VGA and HDMI port on the left for connecting the laptop to an external monitor. For network connectivity, the laptop has a 10/100Mbps RJ-45 Ethernet port and an in-built 802.11ac wireless adapter. It's the latest in wireless standards and almost 3x faster than the typical 802.11n. However, your wireless router/network should be able to transmit at 802.11ac speeds in order to take full advantage of the increased speed. Having said that, it is still backward compatible with older 802.11 b/g/n wireless networks. Bluetooth 4.0 is an added advantage. In addition, there is a built-in SD card slot on the right to import/export your photos/videos from your digital camera, a DVD±RW/CD-RW drive and a front facing HD webcam on top of the display for basic video chatting/conferencing. The touchpad along with the keyboard is nicely integrated into the laptop and is very comfortable to use. The keyboard comes with a 10-key numeric keypad as well. However, there are no backlit keys. The laptop measures 10.1 x 15 x 1 inches and weighs 3 pounds.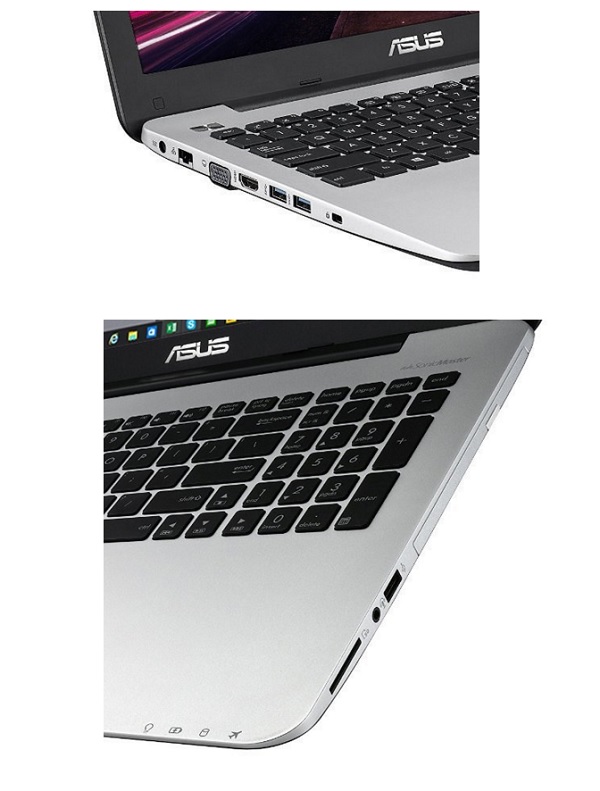 ReviewsBucket's Verdict:
Most people get talked into things they don't really need. We are very pleased with the overall performance and features of the ASUS F555LA-AB31. For less than 400 bucks, you get a decent processor which is more than capable of performing the majority of tasks most users will ever need. Also, a large Full HD screen is rare to find at this price point. Combined with the latest in wireless technology and a very good choice of connectivity options, we think this laptop is great value for money. This laptop is good enough for anyone who will be mostly web surfing, watching streaming videos, listening to music, writing emails and performing office productivity tasks. Hardcore gamers will need to look elsewhere but it will still be okay for playing online and casual gaming in low-medium settings. The ASUS F555LA-AB31 clearly stands out from other laptops with a similar price range. As a side note, there is an upgraded model of the ASUS F555LA - the EH51, which comes with an Intel i5 processor along with 8GB memory and 1TB hard drive.