ASUS Q550LF-BSI7T21 Highlights -

Pros: Elegant and modern design. Great all round performance packed with a full high definition touch screen display.

Cons: Bit bulky and slightly expensive. Not suitable for heavy gaming on high detail settings.
Most technology buffs desire a laptop that offers the best-in-class performance. The good news is that there has never been more choice when shopping for such a laptop. But at the same time this can make purchasing the right laptop a difficult process. The fact is that the laptop market is highly competitive thereby making it extremely hard to differentiate and choose between the endless variety of laptops that flood the market. In order to make the decision process a little bit easier, users should focus on their present and future computing needs and then look for a laptop with specifications that will fit these needs. Users should also consider the laptop manufacturer and their budget before making a decision. A good laptop will easily last for four to five years but you have to make sure that it fits your purpose. In this review we will take a closer looker at ASUS Q550LF-BSI7T21 which is well suited for enthusiasts and high-end users and delivers great performance when playing games, video editing and completing design work. This 15.6 inch touchscreen laptop is aggressive and reliable. It has a dutiful Intel Core i7-4500U processor that runs on Microsoft's Windows 8.1 platform. With a 1TB storage and 8GB of memory stacked up in this modern computer, it is efficient all around. The exterior construction boasts a superior dark gray brushed-hairline aluminium coating and the build quality seems pretty solid.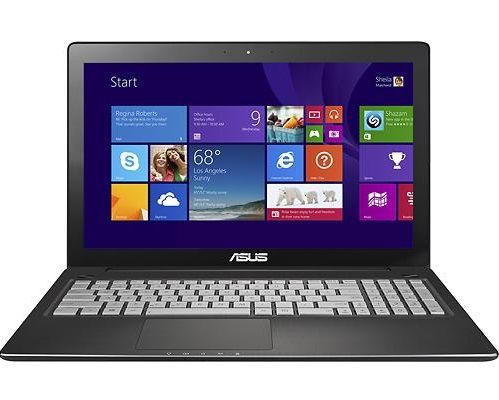 Performance - With it's power-efficient 4th Generation Intel Core i7-4500U processor blasting at 1.8GHz and up to 3GHz in Turbo Boost mode, it effortlessly commands demanding applications and processes high-resolution graphics. The horsepower stacked up in the ASUS Q550LF-BSI7T21 makes it fast and responsive irrespective of the content it is processing. However, since it is a dual-core processor, it has somewhat lower multi-tasking capabilities when compared to processors with more cores. As you can see from the chart below (source - CPUBoss), the performance of the Intel Core i7-4500U is similar to that of the older and slightly higher clocked Intel Core i7-3537U but below the Intel Core i7-4700HQ, which has twice as many cores. Nevertheless, the processor has sufficient power for office and multimedia programs as well as more demanding applications. We found the laptop to be pretty fast for regular and daily home/office tasks and it displayed smooth multimedia editing capabilities. When playing games, users could easily get 30fps (frames per seconds) in medium settings on most games like Just Cause 3 or Battlefield 3. Also, due to it's power-efficient processor, the laptop is backed by a decent battery life which helps with it's overall performance.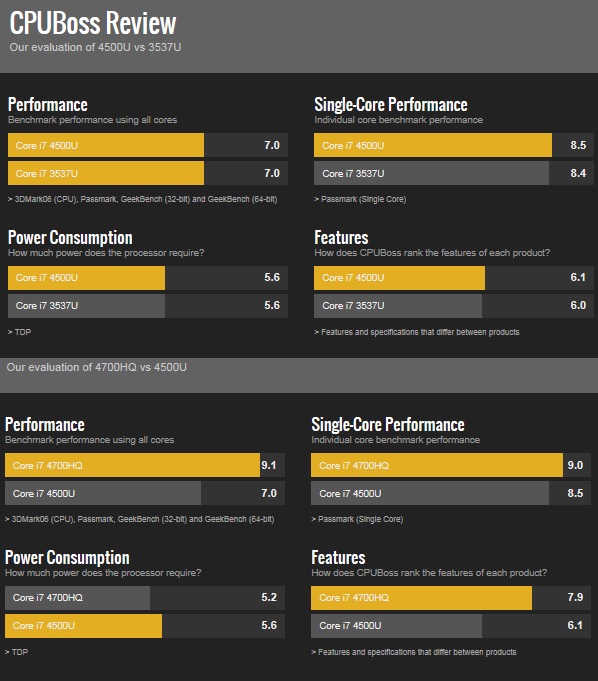 Storage & Memory - The ASUS Q550LF-BSI7T21 has 8GB of DDR3 memory, which is enough to manage multiple tasks without sacrificing efficiency. A bonus is that it's expandable to 16GB. This is a favorable feature that is aimed at high-end users if they are willing to spend money on additional memory. The 1TB hard drive (5400RPM) storage space is sufficient for storing a large amount of multimedia files and documents. It would have been nice to see this laptop with a SSD (Solid State Drive) that provides much faster performance and boot-up time. Nevertheless, we found the storage space to be quite adequate for day-to-day use.
Display, Graphics & Sound - One of the best features that we liked about the ASUS Q550LF-BSI7T21 is it's 15.6 inch 1920x1080 pixels (Full High Definition) touchscreen display with In-Plane Switching (IPS) panel technology. The display features a glossy screen and we like the way images appear crisp along with color reproduction and accuracy. The touchscreen is convenient especially for web browsing and to take full advantage of what Windows 8.1 has to offer. To complement the display the laptop comes with an NVIDIA GT-745M dedicated video card with 2GB of DDR3 video memory. The 745M is basically a multimedia card and isn't a high end gaming-level graphics card. That being said, it will still run most new games at low-medium settings and passes the playability threshold for many of the latest 3D games. The graphics card integrated into this laptop will allow most users to enjoy home entertainment and play a majority of video games without any problems. As far as the audio is concerned, the Q550LF has four stereo speakers in the front. The sound quality is pretty average for a laptop speaker but we would highly recommend getting a subwoofer, if you are going to watch movies or listen to music quite often.
Battery - Users can expect the 6-Cell lithium-polymer battery to last from anywhere between 4 - 5 hours thanks to it's power efficient processor.
Operating System - Windows 8.1.
Click here for a closer look and buyer reviews.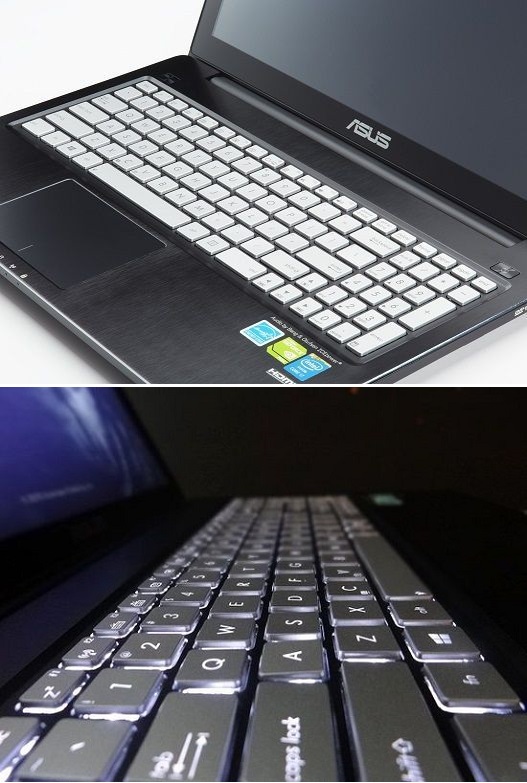 This modern mobile workstation features Bluetooth 4.0 technology that allows users to transfer media from other mobile devices without a problem. It also has a cutting-edge backlit keyboard with a number pad to improve the lighting in low-light areas. The Touchpad felt responsive and didn't result in any unintended clicks or gesture activation. In addition, it is possible to stream high-definition video content straight to the TV via the inbuilt HDMI port or by using the Mini DisplayPort. The data transfer is a breeze because of it's lightning fast USB 3.0 ports (2 on the left and 1 on the right side of the laptop). The 1.0MP HD webcam captures high-quality images. It complements the integrated microphone to record videos and make conference calls. The laptop also features a built-in multimedia card reader to explore media content. For Internet connectivity, the laptop comes with the latest Wireless-AC adapter by Intel or you can use the traditional RJ-45 (10/100/1000Mbps) wired Ethernet adapter (located on the left side of the laptop). Also, creating data disc copies is very easy using the inbuilt DVD/CD (DVD±R/RW) burner. The Q550LF measures 1.1 x 15.1 x 10.0 inches and weighs 6.0 pounds.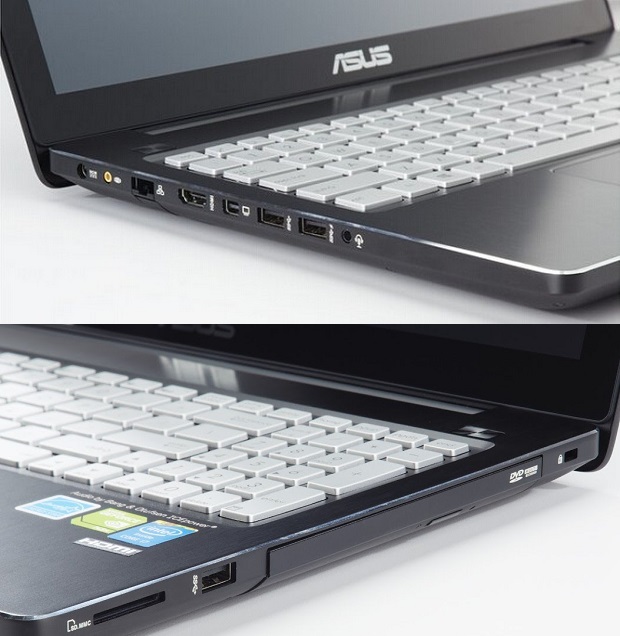 ReviewsBucket's Verdict:
The ASUS Q550LF BSI7T21 is a great all round performer that brings the wired world alive in a profound way. It allows technology buffs to enjoy the luxury of consistent touchscreen gestures, complemented with a flawless display. It's large touchscreen-enabled display gives the user every opportunity to enjoy the latest Windows 8.1 features. Multitasking is an effortless activity using the super fast ASUS Q550LF mobile-laptop. It's not the best companion in terms of mobility, but for someone who does heavy computing, it can measure up to demanding tasks. The dark gray brushed-hairline aluminum coating makes the laptop look very premium as well. Overall, we would recommend this laptop, although if you looking for a slightly better performance and specifications you could also consider the ASUS N550JX-DS71T.