ASUS R510DP-FH11 Highlights

Pros: Full HD IPS display. Dedicated graphics card. Thin design.

Cons: Non-touchscreen. Poor battery life.
The two things that stand out in the ASUS R510DP-FH11 is it's full HD display and it's dedicated AMD Radeon graphics card. There are very few laptops at this price point (between $600 - $800) that offer these two features. With it's AMD quad-core processor and 8GB of memory, this laptop will have no issues running most games smoothly at low to medium settings. The build quality of ASUS R510DP-FH11 is solid and features a sleek and lightweight design with dark gray and black finish. Please note however, having a separate dedicated graphics card doesn't imply that this laptop is meant for gaming. If you are after a decent gaming laptop, please read our review of the ASUS ROG G750JM-DS71 laptop.
Performance - The laptop is powered by a 2.5GHz AMD A10-5750M quad-core processor which can be overclocked up to 3.5GHz. In terms of performance, this processor performs a little better than the Intel Core i3 processors (see chart below - source CPUBoss). This means that users will be able to carry out home and office productivity tasks with reasonable ease. However, the laptop may struggle when running demanding applications like AutoCAD/Solidworks etc.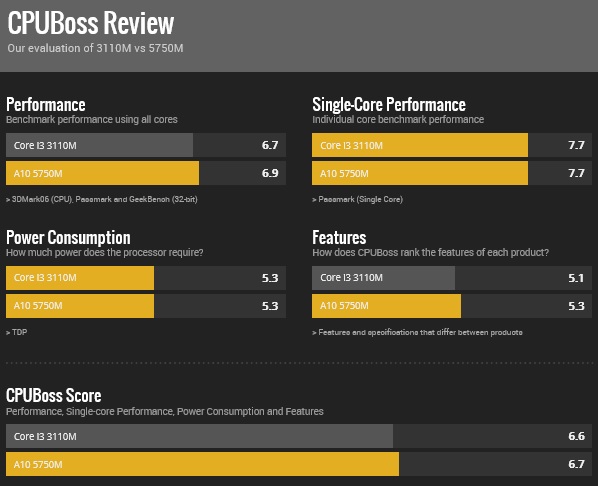 Storage & Memory - ASUS R510DP-FH11 comes with 8GB of DDR3 memory and 750GB (5400 RPM) hard drive. We think the memory and storage space is sufficient for moderate multitasking and storing multimedia files and documents.
Display, Graphics & Sound - The laptop features a 15.6 inch widescreen LED backlight display without touchscreen capability. The display uses IPS (In-Plane Switching) panel technology, which is commonly found in most modern monitors. The matte finish screen has a 16:9 aspect ratio and a full HD 1920x1080 native resolution. The resolution allows the notebook to play back 720p HD content without up-scaling. The laptop comes with a processor integrated graphics unit called the Radeon HD 8650G and a dedicated AMD Radeon HD 8670M 2GB graphics card. The A10 Hybrid Crossfire with HD8670M is capable of running games smoothly at low to medium settings - games that include Borderlands 2, Battlefield 3/4, Diablo 3, Minecraft, Sanctum 2, Rust, WOW, EVE, Tomb Raider, DOTA, LOL, Darksiders II and more. Also, the ASUS SonicMaster sound and integrated stereo speakers offer good sound quality when playing music, videos and games.
Battery - The 4-cell battery pack provides up to 3 hours of battery life.
Operating System - Windows 8.
Click here for a closer look and buyer reviews.
ASUS R510DP-FH11 connectivity options include a Gigabit LAN, 802.11b/g/n WLAN, Bluetooth, 1 USB 3.0 port, 1 USB 2.0 port, 1 HDMI port, a SuperMulti DVD burner, a multi-format media card reader and an integrated webcam and microphone. The laptop measures 15 x 10 x 1-1.2 inches and weighs 5.1 pounds.
ReviewsBucket's Verdict:
ASUS R510DP-FH11 is an ideal choice for budget conscious users who are looking for a laptop that can satisfy a mix of work, home and gaming needs. The beautiful 1080 HD screen is very appealing and the laptop looks very sleek. For the price, the quad-core AMD processor with dedicated graphics card and 8GB RAM is a bargain.