ASUS ROG G20AJ-US009S Highlights -

Pros: Compact and attractive design. Fast performance built for gaming. Plenty of connectivity options. Effective heat management. Quiet operation.

Cons: Difficult to upgrade. Separate AC adapter for power supply.
According to Gartner research, the worldwide video game market, which includes video game consoles, gaming desktop and mobile/PC games, is expected to reach $111 billion in 2015. Even though the bulk of the revenue is generated by gaming consoles like XBOX and Playstation, PC games still remain popular generating approximately 20% of total revenue. As you can imagine, it is a huge and lucrative industry. No wonder hardcore gamers demand desktop specifications geared toward an exceptional gaming experience. This begs the question: what makes a good gaming desktop? There are several factors that need to considered when deciding on a gaming desktop. The best gaming computers rely on a variety of components in order to ensure maximum gaming performance. To us, the most important factor is the one which renders the game's visuals - the graphics card. Alongside the graphics card, the processor also plays an important part. In addition, other hardware specifications like the hard drive and memory also play a beneficial role for smooth performance but to a lesser degree. Depending on your preference, you could also consider other criteria like the desktop design, connectivity and premium upgrade options such as liquid cooling for more efficient performance. But above all you'll need to consider your budget too. You can have a desktop with all the high end options, but if it doesn't fit your budget then it probably doesn't make sense. ASUS ROG G20AJ-US009S is one particular gaming desktop which we believe offers great value for money. If you have read our ASUS ROG G750JM-DS71 laptop review, then you'll probably have an idea how passionate ASUS are about making good quality gaming laptops and desktops.
The first thing that stands out when looking at the ASUS ROG G20AJ desktop is it's unique design and looks. It doesn't look like the traditional big bulky gaming tower desktop but has a very compact profile and more resembles a gaming console. The desktop features a matte-black finish with intricate patterns moulded onto its surface and boasts a compact small form-factor in vertical orientation that makes it look very appealing. There are 3 lighting zones on the chassis that are user customizable and the system is capable of displaying up to 8 million shades of color. In addition, the included keyboard is also backlit to give users that perfect gaming experience. Another highlight of the ROG G20AJ is it's cooling mechanism. Apart from the traditional active cooling which uses two high performance internal fans, the system's internal structure channels heated air out to the top taking advantage of natural convection to keep the machine cool and fan noise to a minimum. The desktop also has energy saving modes where power consumption can drop up to just 20 watts, so that users can keep the system running idle in the background. Overall, we are very impressed with the G20's astethics and design.
Depending on the price point, the ROG G20AJ has different configuration options available. The two most common models are the G20AJ-US009S with Intel Core i7 processor, 8GB of memory, 1TB Hard Disk Drive (HDD) plus 8GB Solid State Drive (SDD) and the G20AJ-US006S with Intel Core i3 processor, 8GB of memory and 1TB HDD. Both of these models come with NVIDIA GeForce GTX dedicated graphics card, although the G20AJ-US009S has an overall slightly better graphics card.
Performance - The ASUS ROG G20AJ-US009S features an Intel Core i7-4790 processor. It is a quad-core processor from Intel's latest CPU line - Haswell Refresh with a clock frequency of 3.6 GHz (Max Turbo Boost - 4.0 GHz). The processor comes with integrated Intel HD Graphics 4600 and supports Hyper-Threading Technology, thereby providing a total of eight virtual cores for calculations. The performance is pretty impressive and offers a very smooth and consistent experience. Running standard Windows applications is lightening fast and is very power efficient. Since the G20 is meant for gaming which usually generates a lot of heat, the processor is able to keep the temperature at a steady and very comfortable level. Even in mixed mode usage that includes general productivity like web browsing, email, streaming of videos and gaming for a couple of hours, the processor exhibited impressive temperature control and at the same time, a very quiet level of operation. Below are some of the benchmark tests carried out by various sources comparing the Core i7-4790 to other similar processors.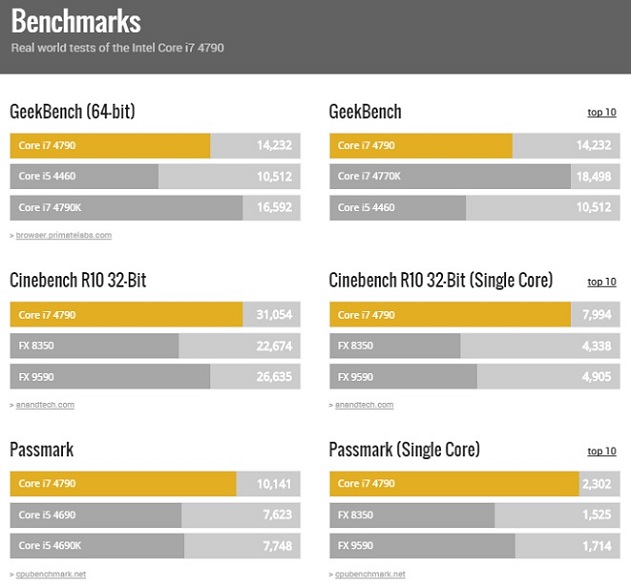 Storage & Memory - The desktop comes with 8GB of memory (upgradable to 16GB), and a Solid State Hybrid Drive (SSHD) made up of a 1TB (7200RPM) hard drive paired with 8GB of Solid State Drive. The hybrid drive improves overall performance. The SSD definitely speeds up the boot time and has much faster transfer rates when compared to a traditional hard drive. For games, this means that a level that would usually take 30 seconds to load on a normal drive, instead loads in 5 to 10 seconds. Games with shorter normal load times may sometimes load almost instantly. Even though the hard drive and memory can be upgraded, it is not an easy task. ASUS doesn't recommend it and you'll put the two year warranty at risk.
Graphics & Sound - The NVIDIA GeForce GTX 760 is a capable graphics card that will play many games at a Full HD resolution of 1920x1080 in highest details. However some reviews have pointed out that games like Crysis 3 and Thief came up with a frame rate of only about 30fps on average. Below are the typical frame rates that you can expect from the GTX 760 for some common games (Source - notebookcheck.net). However, please note that the performance may vary slightly depending on the desktop's memory, clock rate, processor, system settings, drivers, and operating systems. The system features SonicMaster Audio that allows great flexibility in being able to tune sound for delivering a superior audio experience whether it be for music, videos or games.
Operating System - Windows 8.1.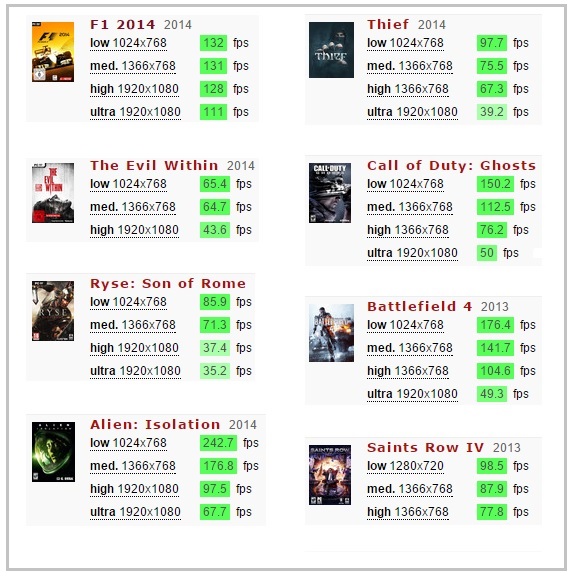 Click here for a closer look and buyer reviews.
When it comes to overall connectivity, the ASUS ROG G20AJ comes with plenty of options and has a very good Input/Output port selection. In the front, you'll find 2 USB 3.0 ports (one of the ports is capable of charging smartphones and tablets) and a microphone/earphone jack. There's also a sleek, tray-loading Super Multi DVD burner. At the rear, you'll find 4 USB 2.0 ports, 2 more USB 3.0 ports, an Intel 10/100/1000 Gigabits Ethernet port, a set of six audio ports for 8-channel surround sound and an HDMI output port. One of the great things about Intel Gigabit Ethernet is that it features packet prioritization software which is fully customizable, allowing users to prioritize for games, or for streaming based applications. For wireless connectivity, there's Bluetooth 4.0 and a dual band 802.11ac Wi-Fi. As far as connectivity options provided by the discrete graphics card is concerned, there is a Display port, HDMI input and dual DVI ports which means you can easily hook up to 3 monitors to the system. It is also capable of supporting a 4K monitor. Another interesting thing about the G20 is it's power supply. There is no traditional power connection as you would see in a standard desktop. The system uses AC adapter plugs (one for the processor and another one for the discrete graphics card) that feed into two external power supply units. ASUS did this to shrink the chassis, but this means that the system will take up at least three power plugs: one for the display and two for the desktop itself.

For software applications, the ASUS ROG G20AJ comes with some key programs that allow users to customize and control the desktop.The ASUS Command center includes multiple functionality from specialized power management options, system maintenance to parental control setup. Other features include the ASUS Aegis UI utility that comes with tools for monitoring and tweaking system performance and the ROG Audiowizard and SonicMaster for audio enhancements. The desktop measures 7.40 x 23.30 x 15.70 inches and weighs 23.2 pounds.


ReviewsBucket's Verdict:
As you can imagine ASUS has spent a lot of time in overall design and development to bring in a small form factor gaming desktop that doesn't compromise in terms of its overall performance. It has a huge amount of features and functionality that complements users who were really interested in getting into PC gaming or users who are already PC gamers, looking for a desktop that offers performance at a level to enjoy the gaming experience as it should be. ASUS ROG G20AJ-US009S is an attractive looking gaming desktop with a quiet level of operation and minimum power consumption. Beyond this, there is a great degree of flexibility in terms of features and functionality and how they can be customized to have a better gaming experience whether it be for network connectivity or sound experience. The NVIDIA GeForce graphics card offers a great balance between image quality and frame rate. The ROG G20 is not only meant for gaming but is also a full featured high performance desktop capable of carrying out your daily productivity tasks. It's like having the best of both worlds. We would highly recommend this ultra high performing small form-factor gaming desktop if you want to game in style.