ASUS ROG G750JM Highlights

Pros: Excellent for gaming.

Cons: Bit bulky and pricey.
ASUS ROG (Republic of Gamers), a brand used by ASUS since 2006, encompasses a range of personal computers and accessories primarily geared toward PC gaming. ASUS has recently introduced three new ROG G750 gaming laptops, which incorporate NVIDIA's latest GeForce GTX 800M series graphics card for mobile devices. The ASUS ROG G750JM-DS71 is one of these laptops (the other two being G750JS-DS71 and G750JZ-DS71). This laptop is targeted towards gamers who like the convenience of portability.
The ASUS ROG G750JM is the base model, powered by an Intel Core i7 processor and paired with 12GB of memory, 1TB hard drive and a GeForce GTX 860M discrete graphics processor. The laptop features a 17.3 inch display with anti-glare. The design of ASUS ROG G750JM is slimmer and more gamer-centric than previous G Series laptops. The laptop design draws inspiration from stealth fighters featuring an ergonomically-inclined surface for greater comfort.
Performance - ASUS ROG G750JM leverages the advanced technology and power offered by a 4th generation Intel Core i7-4700HQ processor clocked at 2.4GHz (up to 3.4GHz with Turbo speed). This outpaces the Intel Core i5 family of processors. The Intel Core i7 is fast and thermally efficient which enables smooth gaming and performance while extending battery life. It is one of the best processors that you can currently get in laptops.
Storage & Memory - The laptop comes with 12GB DDR3 of memory and 1TB (7200RPM) of storage space. The memory is more than what you would find in an average multimedia laptop thereby ensuring smooth multi-tasking. The hard drive space is large enough for installing games and storing all your multimedia files.
Display, Graphics & Sound - ASUS ROG G750JM features a 17.3 inch full high definition non-touchscreen display at 1920×1080 pixels. The wide viewing angles of up to 140° ensures there is no fade or color wash if viewed from the side. The screen also features matte anti-glare coating to eliminate annoying reflections thereby causing less eye strain.
Probably the best feature of ASUS ROG G750JM that makes this a pure gaming machine is the GeForce GTX 860M discrete graphics card with 2GB dedicated memory that promises to be up to 60% faster than it's predecessor. It is an upper mid-range graphics card for laptops unveiled in March 2014 by NVIDIA. The GeForce GTX 860M increases efficiency, giving you more performance while using less power thanks to its Battery Boost feature, something that's particularly important for mobile gamers. Many games of 2013/2014 (like Tomb Raider or BioShock Infinite etc.) will have no problems running in full HD resolution and with high detail settings. The chart below (source: NVIDIA) shows the performance of GeForce GTX 860M in terms of average frames per second (FPS) for common games against it's predecessor: the GeForce GTX 760M. Optimal FPS for average gaming users is around 30-40. As you can see, the GeForce GTX 860M delivers FPS of more than 35 for all games in the chart below. Aside from having the latest GTX 860M graphics processor, the ASUS ROG G750JM also features ASUS proprietary TurboMaster overclocking technology giving it desktop-like performance.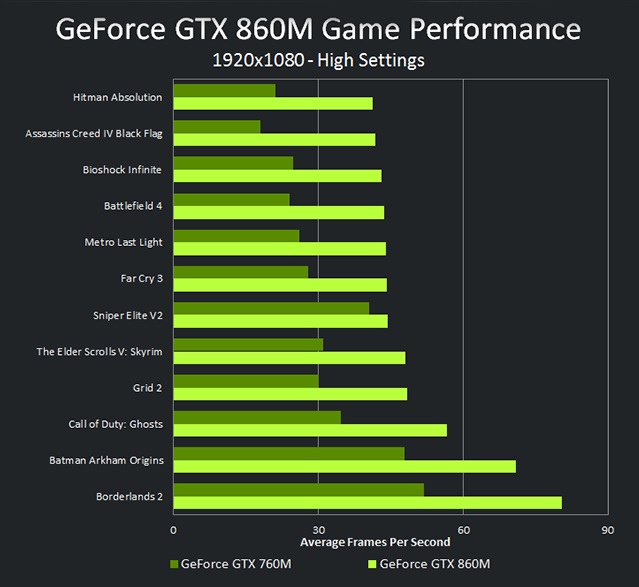 The ASUS ROG G750JM not only delivers a good visual experience but it also features exclusive ASUS SonicMaster with internal subwoofers and ROG AudioWizard that ensures optimized and powerful audio for any kind of game.
Battery - The 8-cell lithium ion battery provides a battery life of up to 3.5 hours.
Operating System - Windows 8.1.
Click here for a closer look and buyer reviews.
ASUS ROG G750JM features an intelligent cooling system that guarantees stability and low temperatures even when overclocking. It's two rear-venting fans and three heat pipes quickly remove heat from core components to ensure stability and reliability. The laptop is future-ready as it has an 4K2K (Ultra HD) HDMI output than can connect to screens that go far beyond today's full HD screens. Other features include four USB 3.0 ports, 802.11AC wireless, Ethernet port, Bluetooth, DVD writer, backlit keyboard, media card reader and a HD web camera. The laptop measures 16.10 x 12.50 x 2 inches and weighs 9.9 pounds.
ReviewsBucket's Verdict:
ASUS has specifically made this series of laptops with gamers in mind. If you are looking for a gaming laptop then ASUS ROG G750JM-DS71 is definitely worth considering. It features some of the latest hardware which offers powerful performance. Once you're done playing games, the laptop will be able to carry out your daily home and office tasks too. ASUS ROG G750 also comes in two other models that have better graphics cards and memory - ASUS ROG G750JS-DS71 and ASUS ROG G750JZ-DS71, however they are more expensive.