ASUS RT-AC66W Highlights -

Pros: Exceptional 802.11ac transfer speeds. Very simple setup.

Cons: No USB 3.0 port. Poor design.
A wireless router is an integral part of a home and office wireless network and it is imperative to have a good router in order to have good internet connectivity. Because no matter how fast your internet connection is, it ultimately depends on the wireless router to stream data efficiently. The 802.11ac is the latest in wireless technology that boasts faster and longer ranges than 802.11n. ASUS RT-AC66W is the white edition cousin of RT-AC66U that supports the latest 802.11ac wireless standards. It can have data transfer speeds up to three times faster than 802.11n and is particularly good for streaming HD media and gaming. ASUS claims RT-AC66W to be capable of data transfer rates up to 1750 Mbps (1300 Mbps 802.11ac at 5 GHz + 450 Mbps 802.11n at 2.4GHz). Speeds like this will offer superior HD media streaming and gaming on multiple wireless devices across the network.
As far as the design is concerned, the router is made from high quality plastic that reduces interference and makes it feel durable. However, what we don't like is how the router looks. The router has three separate external antennas that protrude out of the main body and make it look unappealing. Also, it has way too many status indicator lights ranging from lights for the Ethernet ports to lights for the USB connection. However, the router does offer some convenience as it can be wall mounted too.
As with most modern wireless routers. the ASUS RT-AC66W is a dual-band router capable of operating in 5GHz and 2.4GHz frequency bands with backward compatibility to 802.11a/b/g/n devices. At the back of the router, you'll find one RJ45 Gigabit (10/100/1000 BaseT) for WAN, four RJ45 Gigabit (10/100/1000 BaseT) for LAN and two USB 2.0 ports for sharing a printer or external storage device over the wireless network. These are standard sets of ports and connectivity options that you'll find in most modern routers, however it doesn't have the latest USB 3.0 port which is a bit disappointing. As far as the set-up is concerned, if you have had experience with setting up a router before then setting this one up will be very easy. Even for novice users, the set-up is fairly straight forward. The router's in-built software does have some drawbacks but packs a lot of management tools and configuration options so you can monitor your network and devices, and set up advanced features like WPA/WPA2 encryption, firewall protection, UPnP, guest access, parental control, IPv6, QoS and WPS support.

Now you may be thinking, if ASUS RT-AC66W has features that most current 802.11ac routers have then why should I buy and pay more for this router? We think the simple answer is - performance. It is one of the fastest 802.11ac wireless routers currently in the market. TrustedReviews carried out performance tests in the test environment of 2m and 10m line of sight and 13m between two standing walls and this router delivered 802.11ac transfer speeds of 39.1MBps (Mega bytes per second), 31.2MBps and 27.8MBps respectively. The 802.11n speeds were even better when compared to similar 802.11n routers in the market. It managed 11.6MBps, 10.6MBps and 5.3MBps at 2m, 10m and 13m respectively. This means that RT-AC66W not only delivers exceptional 802.11ac speed but it also delivers increased speed for existing wireless n devices too.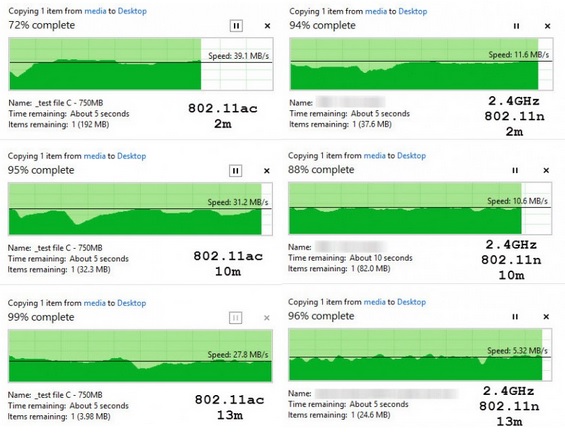 Click here for a closer look and buyer reviews.
ASUS RT-AC66W comes with the ASUS AiCloud service that is designed to unify data across devices, letting you share and stream multimedia and documents from PCs to smartphones. Users will also be able to store files online and remotely control their PC from their mobile devices too. The router measures 8.2 x 1.4 x 5.9 inches and weighs 1 pounds.
ReviewsBucket's Verdict:
If you're thinking of making your wireless network future proof, then we think ASUS RT-AC66W is a good choice. Just make sure you have a capable wireless adapter to take full advantage of the 802.11ac speeds it can deliver. From all the reviews we read about the RT-AC66W, it is very easy to setup and configure. The router has a very good range irrespective of walls and other obstacles around the home. Also, the performance is great to stream HD quality media and play online games without lag. For even faster wireless speeds of up to 1900 Mbps (1300 Mbps 802.11ac at 5 GHz and 600 Mbps 802.11n at 2.4GHz) with a USB 3.0 port, you could also consider ASUS RT-AC68U or ASUS RT-AC68W.