ASUS Taichi 21-DH51 Highlights -

Pros: Full HD Dual-display for laptop and tablet functionality. Fast processing and boot-up time.

Cons: Inward-facing screen is non-touchsceen. Memory limited to 4GB. Short battery life.
At first glance, the ASUS Taichi 21-DH51 looks like a standard ultra portable convertible laptop that can serve as both a tablet and a laptop, but with a difference. Unlike a lot of other convertible ultrabooks like the HP 13-m110dx x2 where the screen detaches itself from the keyboard, the ASUS Taichi 21-DH51 has an entirely separate display on the back of the screen. According to ASUS, it is the world's first dual screen laptop and tablet combination. The advantages of this combination are many. Users can lift the lid and it becomes a fully featured notebook (Notebook mode) or users can close the lid and it instantly becomes a tablet (Tablet mode). Additionally, users can work in a Mirror mode showing the same display on both screens or Dual screen mode with each screen capable of displaying different applications and images that are independent of each other. The Mirror and Dual screen modes are especially ideal in work environments, for example when making presentations. While the dual-screen set-up works great, the ultrabook has one major flaw. The outward-facing screen is touchscreen, but the inward-facing screen, where users will likely spend most of their time, is non touchscreen. This makes the user experience not as ideal, especially when the system comes with Windows 8.1. Nevertheless, the ASUS Taichi 21-DH51 has some great specifications as it comes with an Intel Core i5 processor with 4GB of memory and 128GB Solid-State Drive (SSD). There is also a choice of Intel Core i7 processor with 256GB SSD, but with the same memory size - ASUS Taichi 21-DH71. As an ultrabook, the system looks stylish with black mirror finishing and diamond cut edges. It has a relatively thin body and is very well-built.
Performance - ASUS Taichi 21-DH51 is powered by an Intel Core i5 3317U processor. It is an ultra-low voltage processor designed for use in tablets and ultrabooks. Intel's Hyper-Threading technology allows the two cores to handle up to four threads in parallel leading to better utilization of the processor. Each core offers a clock speed of 1.7 GHz, but with Turbo Boost technology it can dynamically increase the clock rate up to 2.4 GHz (for 2 active cores) and 2.6 GHz (for 1 active core). As mentioned, the ultrabook also comes with a choice of Intel Core i7-3517U processor, which offers a higher clock speed of 1.9GHz and higher turbo clock speed of 3.0GHz. As shown in the chart below (source: CPUBoss), the Core i7 offers slightly better performance compared to the Core i5. Regardless, both processors are capable of providing more than enough power for web browsing, multimedia, productivity and even basic gaming.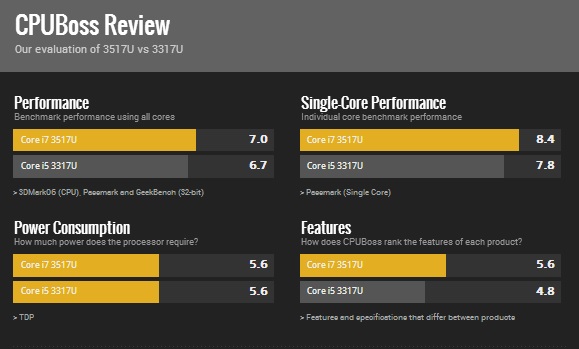 Storage & Memory - The ultrabook comes with 4GB of DDR3 internal memory and 128GB SSD. The model with the Intel Core i7 processor (ASUS Taichi 21-DH71) comes with 256GB SSD. The memory size is a bit disappointing but it is still capable of light multi-tasking without any issues. Also, the SSD will boost the overall performance of the system. With no moving heads, SSD can access data quicker as compared to a traditional HDD (Hard Disk Drive). The speediness of the device manifests itself in all key CPU tasks, from booting of the operating system, to opening files, to reading and writing data. To put things in perspective, the average Windows boot-up time takes 40 seconds for systems with HDD, but averages 22 seconds with SSD. Even a casual user will notice a significant increase in the performance of a computer equipped with a SSD. Faster read-write speed is especially beneficial for photographers and anyone editing graphics or video files. Also, SSDs consume far less power than traditional hard drives thereby preserving battery life.

Display, Graphics & Sound - ASUS Taichi's heavily advertised feature is the dual screen display. Both screens have a 11.6 inch 1920x1080 (Full HD) display with an IPS (In-Plane Switching) panel. However, only the outward-facing screen is touchscreen enabled.The IPS panel, which is found in most modern LCD monitors ensures a great image with accurate colors and crisp contrast, while the 178° wide viewing angle keeps each screen crystal-clear, even when viewed from the side. The lid itself is covered with a scratch-resistant Gorilla Glass sheet and offers tracking for both 10-finger touch and an N-trig digital pen. The ultrabook comes with Intel HD Graphics 4000. The graphics card is adequate for casual gaming and most modern games can be played at low resolutions settings. The ASUS Taichi 21-DH51 features ASUS SonicMaster audio technology, developed with the world-renowned Bang & Olufsen ICEpower that provides a cinematic sound quality.
Battery - The ultrabook is advertised with a battery life of up to 7 hours, but many reviews have suggested that the battery will only last up to 4 hours.
Operating System - Windows 8.1.
Click here for a closer look and buyer reviews.
ASUS Taichi 21-DH51 offers very limited options as far as ports and connections are concerned. In addition to the 2 USB 3.0 ports (one capable of charging devices like smartphones), the ultrabook comes with a headphone and microphone jack combination, mini VGA and micro HDMI port. To connect to the internet and other devices, there is 802.11n dual-band wireless, Bluetooth 4.0 and Intel's WiDi 2.0. Ethernet (10/100 Mbps) connectivity is available through a dongle that converts USB to Ethernet. The ultrabook is equipped with a few sensors such as an accelerometer, e-compass, gyroscope, and an ambient light sensor. Additionally, there are 2 cameras available - one with a 720p webcam above the regular laptop display and a second 5MP camera with auto-focus on the outward-facing (tablet) side. The ultrabook measures 12 x 0.60 x 7.80 inches and weighs 2.7 pounds.
ReviewsBucket's Verdict:
As with many innovate design ideas, at first the idea may sound very appealing but it may not be very practical. We think this applies to the ASUS Taichi 21-DH51. It sounds great in theory, but we are doubtful the dual screen feature would be all too useful in everyday life. It would most probably only be really useful in a handful of very specific situations like when making a presentation. Also, the fact that the inward-facing screen (which we think would be the most-used screen) is non touchscreen, is a bit disappointing. Nevertheless, the specifications of the ASUS Taichi 21-DH51 is something to be happy with if you're considering this ultrabook. With the Core i5 or i7 processor and SSD drive, users will enjoy solid performance. As with other ASUS products, the build quality is top notch and it looks very modern. Also, with two full HD screens, we think ASUS has packed in a lot of features, for a very reasonable and affordable price.