ASUS VivoPC VM60-G067R Highlights -

Pros: Compact VESA-mountable design. Great value.

Cons: Graphics card not suited for gaming.
ASUS VivoPC VM60-G067R desktop redefines the look of a traditional desktop PC with it's minimalistic design and maximum accessibility. The spun-metal finish gives it a modern look. With a height of just 56mm it is very compact and not much bigger in size than a DVD jewel case. However, don't get fooled by it's size: the ASUS VivoPC VM60 desktop provides the same performance as a more bulky, traditional desktop PC. The Intel Core i3 processor with 4GB of memory and 500GB storage packs enough power to breeze through daily productivity tasks as well as entertainment. It is future-proof as well. A user-friendly slide-out cover gives quick and easy access to the desktop's internals for memory and hard drive upgrades.
Performance - ASUS VivoPC VM60 is powered by Intel Core i3-3217U processor. It is a dual core processor and due to Hyper-threading, the two cores can handle up to four threads in parallel leading to better utilization of the processor. Each core offers a base speed of 1.8 GHz, however Turbo Boost is not supported. Although it is not as fast as the Intel Core i5-3337U featured in ASUS VivoPC VM60-G072R desktop (see comparison below - source: CPUBoss), it is quite capable of handling light daily processing tasks.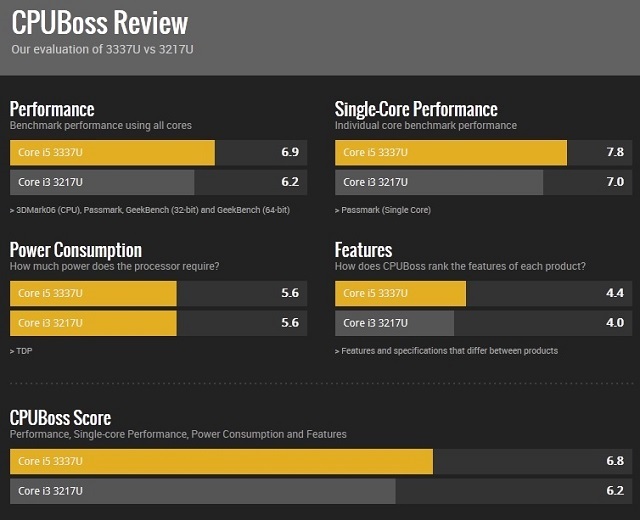 Storage & Memory - The desktop comes with 4GB of DDR3 internal memory (expandable to 16GB) and 500GB hard drive (7200 RPM). The memory and storage space is sufficient for home and home-office use. As always, we would recommend getting the memory upgraded to 8GB for better multi-tasking. Also, it wouldn't harm to increase the storage space by an additional 500GB. As the PC allows easy access to memory and hard drive upgrades, this should be an easy DIY job.
Graphics & Sound - ASUS VivoPC VM60 comes with integrated Intel HD Graphics 4000. In our past reviews we have highlighted that this graphics card is not suited for playing more recent games. However, everyday multimedia applications will run fine. The built-in SonicMaster speakers and MaxxAudio tuning ensures good sound quality.
Operating System - Windows 8.1.
Click here for a closer look and buyer reviews.
ASUS VivoPC VM60 desktop PC features the latest 802.11ac dual band wireless and Gigabit Ethernet port. The ASUS Wi-Fi GO! technology turns a smartphone or tablet into a remote control allowing you to access VivoPC through the remote desktop function and virtual keyboard or mouse. Also, there are numerous connectivity options like Bluetooth, 2 USB 3.0 ports and 4 USB 2.0 ports. USB 3.0 delivers faster device charging and up to 10 times faster transfer speeds than the previous generation USB 2.0. The desktop has an optical S/PDIF (Sony/Philips Digital Interface Format), an output port for multi-channel audio support. It also comes with HDMI and VGA output ports for connecting to HD displays or TVs. The desktop measures 7.48 x 2.21 x 7.48 inches and weighs 2.6 pounds.
ReviewsBucket's Verdict:
ASUS VivoPC VM60-G067R desktop is ideal for home productivity and entertainment applications. It features modest performance and functionality in a tiny little package that fits into any space. For a faster processor with more storage space, consider the ASUS VivoPC VM60-G072R desktop. If you need a monitor as well, then check out our review of the Samsung S27D390H LED Monitor. We think ASUS VivoPC VM60 desktop will complement this monitor as they both offer great style and performance.