ASUS X200MA-RCLT07 Highlights -

Pros: Inexpensive. Portable and compact.

Cons: Not good for running demanding applications or gaming. No bluetooth.
When looking for laptops, portability is one of the primary deciding factors. By portability, we mean laptops which are light weight and small enough to be carried around comfortably without sacrificing functionality. Portability is especially important for students and other people on the move. ASUS X200MA-RCLT07 is one of these laptops which is compact and lightweight but has all the basic features and functionality required for working efficiently. The laptop features an Intel Celeron processor with 4GB of memory and 500GB storage space. With the addition of touchscreen capability, ASUS has made this laptop very versatile. Also, ASUS has brought down the cost of this laptop by using high quality plastic material for it's casing. It may not look very elegant and modern like some of the HP laptops, but with a black textured finish this laptop still looks reasonably decent.
Performance - The laptop is powered by Intel Celeron N2815 processor capable of running at a speed of 1.86GHz (with Burst speed up to 2.13GHz). It is a power efficient dual-core processor especially suited for entry-level laptops. Because the processor consumes less power, it makes the laptop extremely portable as users will not need frequent charging. Performance wise, the processor lacks many advanced Intel technologies like Turbo Boost and Hyper-Threading. Since the laptop is targeted for home use and students alike, the performance is adequate for simple everyday tasks such as internet browsing or office productivity applications. In benchmark tests carried out by CPUBoss, the Intel Celeron N2815 performance was below that of entry level Core i3 processors. However, the processor excelled in terms of power consumption which reinforces our belief that the laptop is an excellent choice for users looking for portability.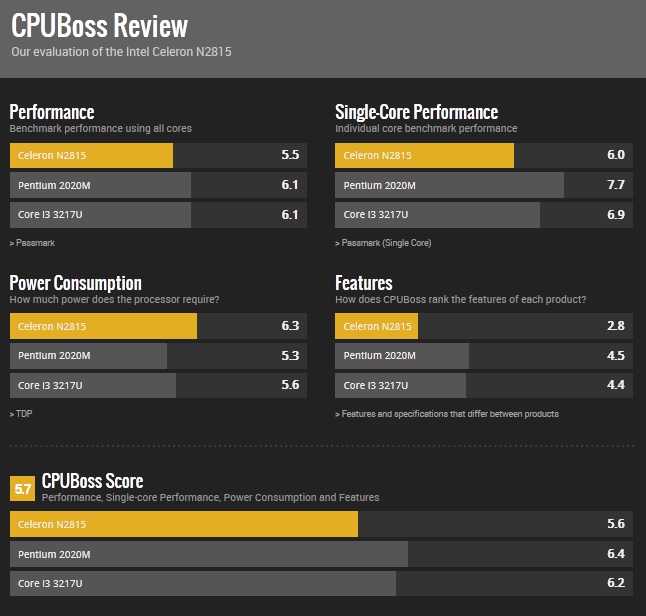 Storage & Memory - ASUS X200MA-RCLT07 comes with 4GB of DDR3 memory and 500GB (5400 RPM) hard drive. We think the memory and storage space is sufficient for light multitasking and storing multimedia files and documents. Please be aware that the memory is non-expandable.
Display, Graphics & Sound - The laptop features a 11.6 inch high-definition touchscreen display with a maximum resolution of 1366x768 pixels. The touchscreen feature will enable users to take full advantage of features offered by the pre-installed Windows 8. The processor integrated Intel HD UMA Graphics has fairly limited gaming use. Users are better off considering laptops with higher end Intel Core i5 or i7 processors for their gaming needs. Also, the in-built stereo speakers with ASUS SonicMaster offers average sound quality when playing music, videos and games.
Battery - The 3-cell lithium-ion battery provides up to 4 hours of battery life.
Operating System - Windows 8.
Click here for a closer look and buyer reviews.
ASUS X200MA-RCLT07 packs essential connectivity options that users really need such as 2 USB 2.0 port, 1 USB 3.0 port, a media card reader, VGA and HDMI port. Other features include integrated WiFi 802.11 b/g/n LAN, Gigabit (10/100/1000 Mbps) Ethernet LAN and built-in 1.0MP front facing webcam. The laptop measures 7.87 x 11.89 x 1.01 inches and weighs 2.7 pounds.
ReviewsBucket's Verdict:
ASUS X200MA-RCLT07 is not really designed for power users but it is intended more for student and home users that need a basic laptop with just the essential features. For this user group, portability and price is a primary deciding factor and this laptop satisfies both. The laptop's Celeron processor limits users to performing simple everyday productivity tasks but having a touchscreen display is definitely a plus. For the price, we think this laptop offers great value to budget conscious users. You could also consider laptops like ASUS Transformer Book T100 or ASUS Taichi 21.