ASUS X551MAV-EB01-B Highlights -

Pros: Elegant design. Affordable. Good performance for very basic computing tasks.

Cons: Average display and image quality. No Bluetooth. Minimum connectivity options.
If you've ever shopped for a laptop, you know that the factors to consider go far beyond performance and aesthetics. Additional criteria such as size, weight, battery life, screen dimensions, keyboard/trackpad quality and various other connectivity options are equally important. It can be an overwhelming experience. Even more so when shopping on a tight budget with so many options from different manufacturers. Budget priced laptops often miss out on features and have specifications that are sub-par. At the same time, a laptop that has too many features can cause users to spend a lot more than what is really needed. Therefore when looking for a laptop, we usually ask our readers to first determine their needs and how they will use their laptop. If they are like most average users with basic computing needs, then a budget priced laptop like the ASUS X551MAV will usually suffice.
The ASUS X551MAV-EB01-B offers well-balanced user-centric features for everyday computing tasks without breaking the bank. It is an upgraded newer version of X551MAV-RCLN06, which is very popular amongst budget conscious users. The laptop comes with a dual-core Intel Celeron processor, 4GB of memory and 500GB hard drive with a 15.6 inch screen. It is primarily meant for home use and would especially come in handy for kids, students and elders with basic computing needs. The styling is nice with an elegant textured finished. It is light weight, feels very sturdy and has a very comfortable grip.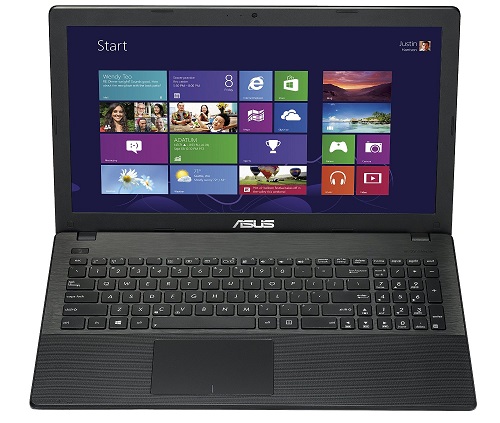 Performance - The ASUS X551MAV-EB01-B comes with a power efficient dual-core Intel Celeron N2840 processor, especially made for entry-level laptops. It is one of the most widely adopted processors and commonly found in sub $300 laptops such as Toshiba Satellite C55-B5300, Acer Aspire ES1-111M-C40S and HP Stream 13. It is clocked at up to 2.58 GHz and is part of the Bay Trail-M processor family known for it's affordability and low power consumption. It consumes only 7.5W of power compared to 17W used by some typical mid-range mainstream processors such as the Intel Core i5. This translates to a much better battery life. However, a typical home user would prefer performance over battery life and in that respect the N2840 offers average performance. It is just enough to perform daily tasks, such as web surfing with limited multi-tasking capability, document processing, preparing presentations, performing spreadsheet calculations, streaming videos and multimedia playback. For more processor intensive tasks such as video or photography editing, the Intel Core series of processors is better suited. According to the PassMark performance test shown below, the N2840 scored about 1100 which is inline with the Intel Atom processors used in ultra low cost laptops like the ASUS Transformer Book T100, but was significantly lower than the Intel Core family of processors.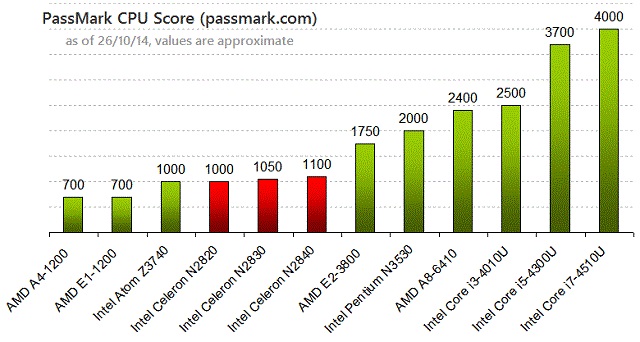 In the video below, you can see the performance of the N2840 running on Windows 8.1. Most of the basic applications pretty much worked smoothly. However, notice how the processor performance peaks when multiple applications are open.
Storage & Memory - The X551MAV comes with 4GB of DDR3 memory and a 500GB (5400RPM) storage space. The drive is divided into an operating system partition (186GB) and a data partition (254GB). Both of these specifications are bare minimum and users shouldn't expect heavy multitasking capabilities. The memory should be sufficient for light multitasking. Also, please be aware that the memory cannot be upgraded, so the laptop is not future proof. The storage space is adequate too for home use. However, the biggest drawback is the lack of a SSD (Solid State Drive). A laptop with a mechanical drive, all else being equal, will feel much slower in day-to-day use than one with an SSD. Unfortunately, SSDs are pretty much out of the budget laptop price range. However if you really wanted, you could replace the current SATA Hard Drive to a SATA 2.5 inch SSD - Crucial BX100 250GB or Crucial BX100 500GB, which will add further to the cost of buying this laptop. We believe users will benefit from the huge performance gains that SSDs can deliver.
Display, Graphics & Sound - The laptop features a 15.6-inch screen (non-touchscreen) with a native resolution of 1366x768 pixels. It's brightness is not particularly impressive and is similar to most other laptops at this price range. The same goes for both the contrast and black level. Also, because the screen uses TN (Twisted Nematic) panel, it has limited viewing angles. It's outdoor viewing experience in bright surroundings may not appeal to some users. However, the color reproduction seems a little bit better than comparative models. Overall, the picture quality is acceptable considering the price and should suit most users. As for the graphics, the integrated Intel HD Graphics performance is on the lower end of the scale. Therefore, only older and less demanding games will run fluently. Some gamers have tested the laptop by playing game titles such as League of Legends, Dota 2 and Minecraft. They could play League of Legends at a rate of 25fps (frames per second) on Medium settings, but while playing Dota 2 gamers had to dial down settings to Low to achieve close to 25fps. Also, Minecraft should be put on lower settings to achieve a smooth gaming experience at 720p. However, simple non-3D games can be played without a glitch. In addition, the Sonic Master technology provides good sound quality from the in-built stereo speakers, although users should not expect high-end audio.
Battery - The N2840 processor is quite power efficient and therefore the laptop proves to have a modest battery life. Users can expect the Lithium Ion battery (3-cell, 34WHrs) to last anywhere between 4-5 hours with moderate use.
Operating System - Windows 8.1 (eligible for free Windows 10 upgrade by Microsoft).
Click here for a closer look and buyer reviews.

The ASUS X551MAV-EB01-B features two USB ports (1 x USB 2.0 and 1 x USB 3.0). There is also a VGA and HDMI port for connecting the laptop to an external monitor. For network connectivity, the laptop has a 10/100Mbps RJ-45 Ethernet port and an in-built 802.11n wireless adapter. It lacks Bluetooth, however you can always buy a cheap USB Bluetooth adapter - Kinivo BTD-400, if required. In addition, there is a in-built SD/MMC card slot to import/export your photos/videos from you digital camera and a front facing VGA webcam on top of the display for basic video chatting/conferencing. There is no DVD drive available. The touchpad along with the island-style keyboard is nicely integrated into the device for a seamless and ergonomic design. The keyboard comes with a 10-key numeric keypad as well. Overall, the keyboard is fine for home use, but it doesn't have a good or responsive feel to it. Also, there are no backlit keys. The touchpad features 'Smart Gesture' technology for easy and smooth navigation. Smart Gesture provides another way of performing different mouse actions like pinch and zoom pictures, scroll up and down, and swipe quickly between web pages with your touch pad. In addition, the ASUS IceCool Technology keeps palm rests cool by placing heat-producing components away from users. The ASUS X551MAV-EB01-B measures 9.9 x 15 x 1.2 inches and weighs 4.7 pounds.
ReviewsBucket's Verdict:
If you are looking for a low cost laptop for your basic computing needs, then the ASUS X551MA offers a great balance of entertainment and productivity performance. For a price of less than $300, users gets a simple 15.6-inch laptop including the Windows 8.1 operating system. It offers good performance for basic tasks such as web browsing, home-office productivity applications and multimedia playback. The laptop consumes very little power and has a modest battery life. The screen's image quality and connectivity options are acceptable too, considering the price level. The only other alternative to this budget laptop is a Chromebook like the Acer CB3-111-C670. But if you really want a budget priced Windows machine and require only little performance, then the ASUS X551MAV-EB01-B is probably all you need.