ASUS UX303LA-DS51T Highlights -

Pros: Elegant design. Good battery life. Great all round performance.

Cons: Average color reproduction. Not suitable for heavy gaming on high details/settings.
The Zenbooks belong to the family of ultrabooks manufactured by ASUS. They are one of the prettiest looking ultrabooks currently in the market. As far as the design is concerned, most models in this family draw comparison to Apple's Macbook Air. ASUS have spent a lot of time in designing Zenbooks and they have had great success with it's exceptional build quality and aesthetic. Since it's launch in 2011, Zenbooks have been generally well received due to their overall design and appearance. According to Wikipedia, the Zenbook name was proposed by ASUS chairman Jonney Shih to reflect the "Zen philosophy" applied to their design by portraying a pattern of concentric circles on the lid, representing ripples in water. In this review, we will have a look at the UX303 family of Zenbooks. This line of ultrabooks are comprised of the LA model - ASUS Zenbook UX303LA-DS51T which we look at here and the LN model - ASUS Zenbook UX303LN-DB71T with dedicated NVIDIA GT 840M graphics and a Quad HD display.
The UX303LA-DS51T is a newer and upgraded model of the UX303LA-DB51T featuring a 13.3 inch Full HD touchscreen that runs on an Intel Core i5-5200U processor with 8GB of memory and 128GB Solid State Drive (SSD). The laptop's internals are upgradable which is definitely a plus for an ultrabook. Perhaps the most striking feature of the UX303LA and other Zenbooks is it's all-metal design. The entire laptop is made of aluminum with a dark gray colored glossy spun metal lid. The machine feels quite solid and is sleek, light and snappy too. The lid does flex a bit but the underbelly seems rigid. The lid can be easily opened with a single hand. There are no pointy sides except for the sharp front edges which can cut into the wrist when using the trackpad. But other than that, the design is truly exceptional and well thought through.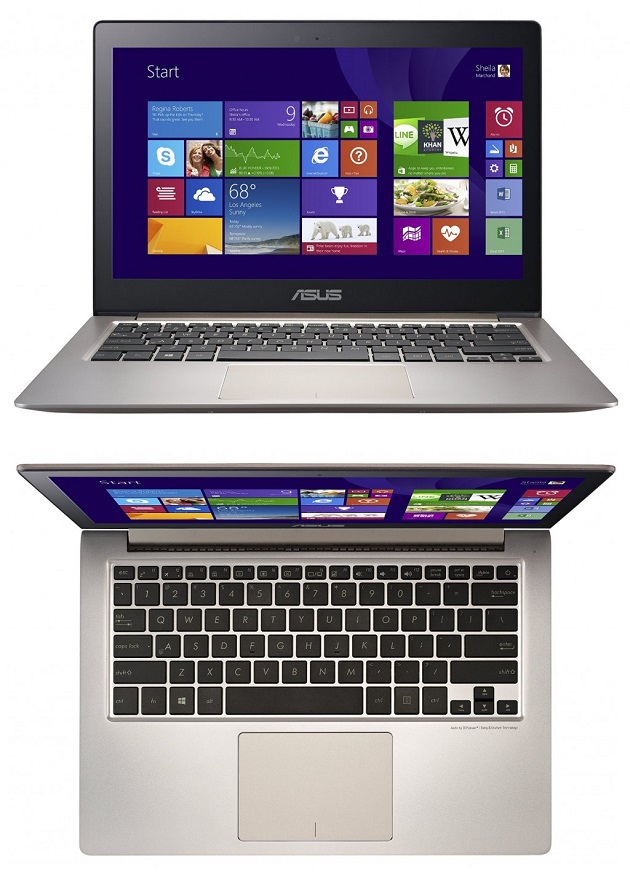 Performance - The UX303LA is powered by the 5th Generation Intel Core i5-5200U processor. The processor is based on Broadwell architecture, which was launched very recently in January 2015. The Broadwell chips are already out in a number of ultra-slim convertible devices and have a lot in common with their predecessors (4th generation Haswell chips) that brought big battery life improvements. There is definitely some performance improvements over the Haswell chips (see chart below), but nothing significant. According to Intel, users can expect up to 15% better performance. In short, having a processor with the latest architecture is a plus. As far as speed and performance are concerned, the two processor cores with Hyper-Threading is clocked at 2.2GHz and has a Turbo clock speed of 2.7 GHz. As such, the processor is very capable of running common routine tasks like web browsing, text editing, playing multimedia content and office applications like Microsoft Office programs and various other accounting software. Multimedia and video editing using programs like Adobe Photoshop and Windows Movie Maker is possible too. As for gaming, users should be able to play most of the latest game titles in low to medium settings and resolutions. The chart below (source - CPUBoss) compares and illustrates the performance and benchmark scores of the i5-5200U (5th Generation Broadwell) and i5-4210U (4th Generation Haswell) processor.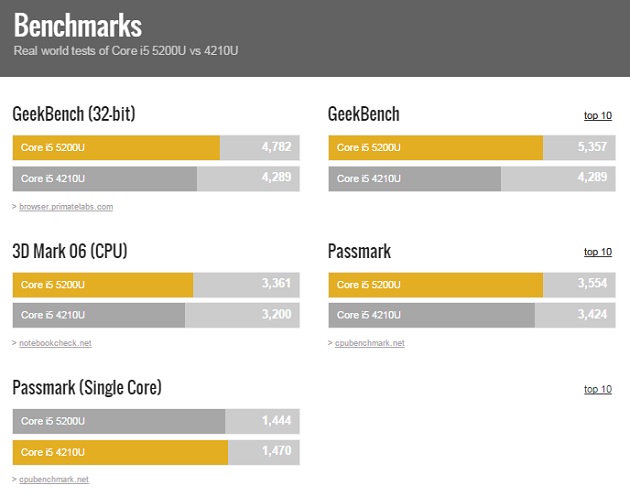 Storage & Memory - The ultrabook comes with 8GB of DDR3L memory, which is enough to manage multiple tasks without sacrificing efficiency. We were able to easily open up 25 browser tabs without any noticeable lag. Out of the 8GB memory, 4GB is soldered to the motherboard and 4GB is attached to a single memory slot. So it is possible to buy a 8GB memory module and upgrade the memory up to 12GB. The 128GB SSD is a plus too, as it is much faster than traditional hard drives thereby providing much better read/write throughput and startup time. However, depending on your needs it would be much better to have bigger storage capacity and considering that SSD's have come down in price, it may be worthwhile to upgrade the storage to 256GB. Nevertheless, the fact that it comes with SSD storage makes this ultrabook appealing.


Display, Graphics & Sound - The Zenbook UX303LA features a 13.3 inch Full HD 1920x1080 pixels LCD display. The screen uses IPS (In-Plane Switching) panel technology and is touch enabled. The images appear sharp and given Windows 8.1 scaling improvements, most elements are going to look great on it. It is also fairly bright with an impressive 344 Nits of brightness and has wide viewing angles of 170 degrees. However, it seems to lack color accuracy especially with reds and yellows appearing less vibrant. Therefore, it may not be ideal for those who work closely with graphics and those that regularly edit images or video. Also, if you're very particular with image quality while watching videos then we would not recommend considering this laptop. Otherwise, for regular use the display is great. The touchscreen is responsive too and according to ASUS the Zenbook uses high-fidelity touch actuators that are 30% smaller than the industry standard, resulting in a great touch experience. Similar to the processor, the integrated Intel HD Graphics 5500 has been revised for improved performance. However, most games as of 2015 will be playable only in low settings. It's fine for casual gaming (Tomb Raider and even Bioshock Infinite on low settings and 720p resolution), but if you are really looking for an ultrabook capable for gaming then you should consider UX303LN with dedicated NVIDIA GT 840M graphics. As for sound, the UX303LA features SonicMaster premium audio which incorporates Bang & Olufsen ICEpower technology. The sound quality is not too bad but we would recommend getting a subwoofer, if you are going to watch movies or listen to music quite often.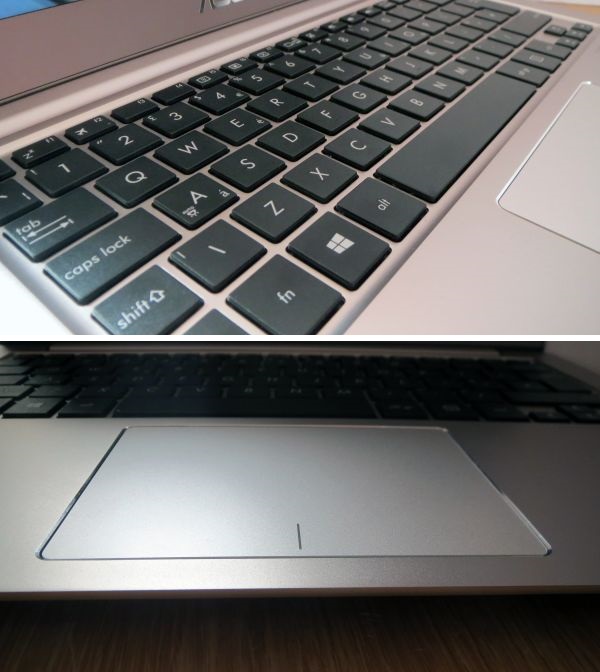 Battery - Based on a usage scenario of performing routine tasks like web browsing, watching YouTube videos, listening to music and editing documents with the screen on 50% brightness and balanced power mode, users can expect anywhere between 6-7 hours of battery life thanks to it's power efficient processor.
Operating System - Windows 8.1.
Click here for a closer look and buyer reviews.
Usually with an ultrabook users have very limited ports and connectivity options. This is not the case with the ASUS UX303LA-DS51T. There are 3 USB 3.0 ports (1 on the right side and 2 on the left side), a HDMI port along with a mini DisplayPort, 3.5mm combo audio and a full sized SD card reader slot. As for network connectivity, the ultrabook comes with the Intel AC-7260 dual band 802.11ac card and Bluetooth 4.0. You can expect good wireless connectivity despite the metal casing without unexpected dropouts. Please note that it doesn't come with the traditional RJ-45 wired Ethernet port. Needless to say, as with most other portable laptops a built-in HD camera with microphone comes as standard. The keyboard feels comfortable and has a good layout. It's backlight adjusts automatically and is very handy especially for those who prefer to work in a dark room. The touchpad is large and doesn't offer too much friction. It is accurate and responsive. There is not much to complain about the keyboard and touchpad. The UX303LA measures 12.70 x 8.80 x 0.80 inches and weighs 3.2 pounds, which makes it quite thin and light weight. One more thing to consider is that ASUS provides warranty to fix or repair any isolated factory defect as you would expect.

ReviewsBucket's Verdict:
As competition beefs up in the ultrabook market with the likes of Dell XPS 13, Lenovo Yoga 3 Pro and Samsung Ativ Book 9 to name just a few, ASUS has certainly come out with a model that will appeal to a number of users. The ASUS Zenbook UX303LA-DS51T offers great all round performance packed in an elegant looking metal casing design, good keyboard and touchpad, responsive Full HD IPS touchscreen display and upgradable components. Even though it has some flaws like the below average color reproduction and accuracy, these points appear minor when compared to it's numerous good features. At the end of the day, we'd say ASUS did a great job with this mid-range ultrabook paired with a power efficient Core i5-5200U processor, 8GB of memory and a proper SSD. Such a configuration should do well for most users, as long as they plan on using this ultrabook for everyday routine activities such as browsing, editing documents, preparing office presentations, chatting, listening to music, watching multimedia contents and even for casual gaming.