Belkin F9K1113 Wireless AC1200 Highlights -

Pros: Easy to set-up. Supports the 802.11ac standard. Good performance on the 5GHz band.

Cons: Below average performance on a number of benchmarks, but inexpensive. No in-built modem.
With the ever-increasing need to stream data faster in households, and the growing number of wireless devices available, routers capable of increased bandwidth offered by latest 802.11ac wireless standard are gaining popularity. 802.11ac is the next-generation wireless standard that provides greatly improved wireless coverage and speeds compared to the current 802.11n standard. 802.11ac enables private wireless home networks to handle data-intensive tasks such as video streaming and hard drive back up. Belkin F9K1113 wireless AC1200 router features this latest wireless 802.11ac standard. The router uses Broadcom's chipset and is dual-band, capable of operating at both 2.4GHz and 5GHz frequencies. According to Belkin, the router can provide a theoretical speed of up to 300Mbps (megabits per second) at 2.4GHz and 867Mbps at 5GHz, thereby delivering a maximum speed of nearly 1200 Mbps (hence the reference to AC1200). The router has a vertical orientation and has antennas hidden inside the plastic enclosure with 4 LED light status indicators. There are 2 USB 2.0 ports on the rear panel, one of which can be used with a USB thumb drive or an external hard drive to have access to files over the network, and the other to attach to a shared printer if needed. The Belkin F9K1113 also features a WPS (Wireless Protected Setup) button, 4 Gigabit Ethernet LAN ports and 1 WAN port.
CNET have benchmarked the performance of the Belkin AC1200 against common 802.11ac routers. According to CNET, the router's performance was decent, with the 5GHz band offering much better performance than the 2.4GHz band. In a close range of approx. 15 feet, the router scored 116Mbps on the 5GHz band and just 36Mbps on the 2.4GHz band. However, at the distance of 100 feet, the performance of the router degraded and fell to 79Mbps and 9.6Mbps on the 5GHz and 2.4GHz bands respectively. As you can see from the graph below (source - CNET), the Belkin AC1200 performs below average when compared to other 802.11ac wireless routers, nevertheless it will still be able to stream HD videos, play games online with little lag and make voice calls with no delays.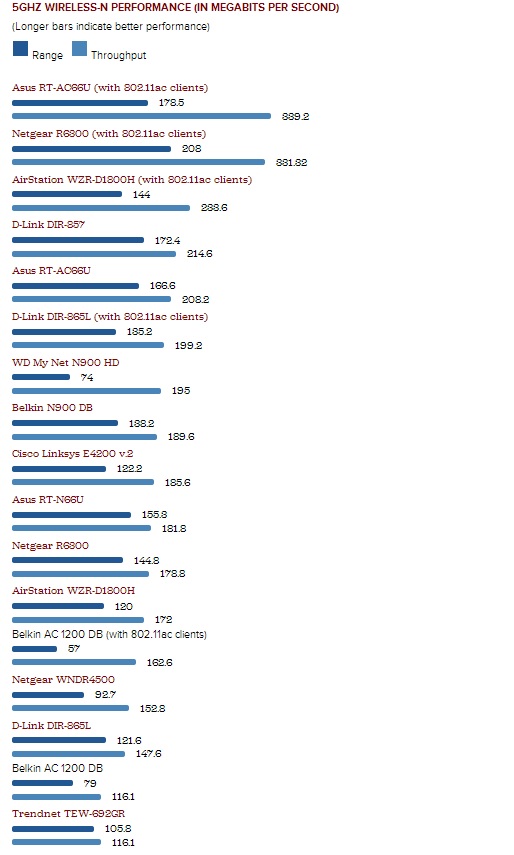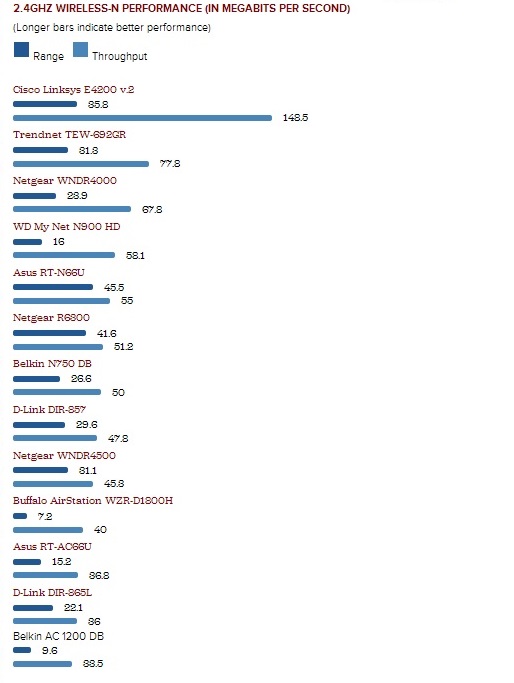 Click here for a closer look and buyer reviews.
Belkin F9K1113 offers functionality such as QoS (Quality of Service), which Belkin calls 'Intellistream'. This identifies and prioritizes media and gaming connections automatically to avoid any delays or disruptions. Also the Norton Parental Control comes pre-installed with the router, enabling users to block any inappropriate content thereby making it safe for children to access the internet. The router provides a DLNA (Digital Living Network Alliance) media server for sharing and streaming digital media between multimedia devices. The router's security and firewall features are much the same as other routers and includes virtual server support, MAC address filtering to deny access to certain computers, DMZ to work around the firewall, WAN ping blocking to stop hackers from discovering your network and security logs. The router measures 10.4 x 3.4 x 13.7 inches and weighs 2 pounds.
ReviewsBucket's Verdict:
With 802.11ac becoming more common these days, it would make sense to buy a wireless router that supports this standard. The Belkin F9K1113 wireless AC1200 router offers an affordable router featuring the latest standards with the added benefit of faster speeds and extended range. It may not be the top performer when compared to other similar routers like the ASUS RT-AC68U but it offers reasonable speeds that will enable users to stream HD quality media over the wireless network. It should be noted that in order to maximise the full benefit of this router, users should upgrade or buy client adapters that support the 802.11ac standard as well, like the Linksys AE6000 wireless mini USB adapter. Overall, we find Belkin F9K1113 to be a very good user-friendly 802.11ac wireless router.
The router comes in the latest upgraded model - Belkin F9K1123 Wireless AC1200 and another 2 models that support faster speeds - Belkin F9K1115 Wireless AC1750 and Belkin F9K1118 Wireless AC1800.