Chuwi Hi8 Highlights -

Pros: Great value for money. Impressive Display. Good design similar to iPad Mini. Powerful specifications for the price.

Cons: No micro HDMI output and GPS support. Short battery life. Small storage capacity. Poor camera quality (front and back).
It is not uncommon to see many small manufacturers mimicking designs inspired by Apple tablets. This is especially true for tablets made by smaller manufacturers in China. But this is where the similarities end. Unlike premium quality material used by Apple, these small manufacturers tend to use low quality material in order to cut cost and make it more affordable to the masses. However, this doesn't mean these tablets are not worth your money. Many of these tablets offer similar performance to that of Apple and are definitely worth having a look at, if functionality and usability is all that matters to you. The Chuwi Hi8 is one such tablet. Chuwi is a China-based smartphone manufacturer that is not well-known internationally. Many of you have probably never heard of them, but they do tend to release interesting devices from time to time. At first glance, the Hi8 doesn't even look like a sub $100 tablet. When you consider the hardware and the functionality that this tablet has to offer, we think it is a bargain and offers exceptional value for money.
For those who are familiar with Chuwi's Vi8 tablet, the Hi8 looks very similar and this is Chuwi's 3rd variation of their 8 inch dual boot tablet. The model that was given to us by our dear friends at GearBest houses an Intel Atom Bay Trail Z3736F processor with 2GB of memory and a 32GB storage. The back body is made of white textured plastic with a matte finish and feels very smooth to touch. It has a nice metal trim that goes along the sides and adds a modern look to the tablet. The tablet is 9.8 mm thick and although it is not as thin as an Apple iPad, from a distance it does indeed look like one. The size of the tablet is very comfortable to hold in one hand and it is light enough to ensure you won't get tired holding it for a long period of time. It weighs about 300g making it lighter than an iPad Mini. The power and volume buttons on the side are made of metal and have good feedback. Overall, we were surprised with the look and build quality considering it has a price tag of less than $100. However, the plastic body seems delicate and could easily break if mishandled.

Package Content:
* Chuwi Hi8 Tablet (White).
* 1 x White 5 Volt, 2 Amp US two flat prong adapter.
* 1 x White MicroUSB cable for charging and transferring data.
* 1 x White MicroUSB to USB 2.0 cable.
* Product manual in Chinese.

Performance - The Intel Atom Z3736F is a high performing energy efficient processor with a maximum clock speed of 2.16GHz. The 4 cores offer great performance and efficient multi-tasking when compared to dual core processors. The performance while using Windows is actually quite good. We were able to open Windows apps and folders pretty quickly and everything loaded up fine, as if using a laptop. For everyday tasks such as Internet or Office productivity, the performance is great. You can really see the benefit of having a processor with 4 cores, as using Windows feels very responsive. According to benchmark tests carried out by TechTablets, the Chuwi Hi8 scored well and outperformed similar tablets like Cube i6 and PiPo W4S . It's performance in Android was equally good. We didn't notice much lag and the apps launched pretty fluidly. Swiping between widgets and home screens was fast. The browsing experience was decent too and we were able to open and browse multiple tabs without any issues. All in all, we were extremely pleased with the performance.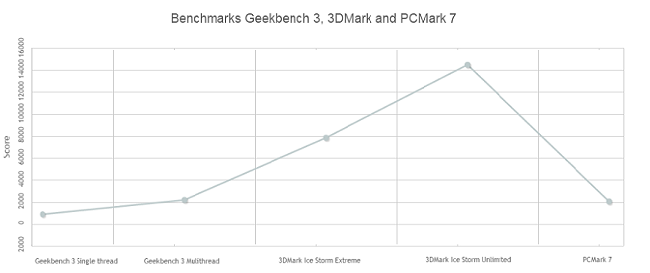 Storage & Memory - The Chuwi Hi8 comes with 2GB of single channel 1333Mhz DDR3L memory and a 32GB eMMC storage. In tablet world, 2GB memory is quite large and as such running multiple apps in either Windows or Android is not an issue. However, the 32GB storage is quite small in our opinion and not all of it is available for use. After removing some pre-installed bloatware applications, the available storage on Android is just about 6GB. In Windows though, the available storage is about 10GB. But still, this is pretty small. We think all dual boot devices should have at least 64GB for storage. In our opinion, if you're seriously considering this tablet then it is probably best to buy a separate microSD card (also referred to as a TF card) to increase the storage up to a maximum of 64GB for storing a wide variety of multimedia and documents. We always recommend our readers to have as much storage as possible to maximize the usefulness of their portable device.
Display, Graphics & Sound - Perhaps the most noticeable feature of the Hi8 is it's 8 inch IPS (In-Plane Switching) display with a screen density of 283 PPI (pixels per inch) and 1920x1200 pixels screen resolution. "Pixel density" is the number of pixels a display can fit into a fixed distance. This is different from screen "resolution" which is simply a count of the number of pixels across the entire width and height of a device. At 283 PPI, the Hi8's screen is even better than the iPad Air's "Retina" screen, which has a screen density of 264 PPI. Also at 350 Nit brightness, the screen is very bright. The images on the screen look extremely sharp especially on the Android side. Text looks crisp and the color reproduction is great. The viewing angle is good too and is on par with other high quality tablet screens. We are very impressed with the resolution of the screen which pleases with it's clarity and details that you can see. Looking at the screen is an absolute pleasure. The Touch is responsive and we didn't feel any need to press hard on the screen to swipe or open up the apps. However, in Windows we found it hard to close or minimize windows at times due to how small things are. Therefore a stylus would definitely come in handy. In Android, there are no issues with this as it is more touch friendly. As for the graphics (GPU), the integrated Intel HD Graphics has a relatively low clock speed, so only older and less demanding games (like simple Android titles) will run fluently. Also, at native resolution of 1920x1200 pixels, there is a noticeable lag in some games. This sucks up a lot of battery too. Therefore, you may need to lower the screen resolution in order to get playable frame rates. However, video acceleration and other multimedia applications should be fine. For intense gaming we would not recommend this tablet. Windows games like Path of Exile, League of Legends, Counter Strike Source, Team Fortress 2 and Dota 2 were mostly playable along with most Android games. The speakers have definitely improved over the Vi8 and have much more punch and are much louder. The only downside is it's location at the back which can easily be covered up. However, there is a 3.5mm headphone jack which delivers very clean audio.
Battery - The Chuwi Hi8 comes with a 4000mAh battery and users should be looking at around 4 hours of medium web browsing and video use. This will vary depending on the degree of screen brightness as well. Also as mentioned above, the sharper and higher resolution screen of Hi8 takes a toll on the battery life. If you're planning to use this tablet for occasional gaming then the battery life will be even less. You'll definitely need a charger close by. This is something to keep in mind while considering the Hi8.
Operating System - The Chuwi Hi8 ships with Windows 8.1 with Bing and includes free one year Office 365. As for Android OS, it comes with Android 4.4.4 KitKat. Switching between the two operating systems is pretty easy. It's just a matter of touching the Android icon in Windows which is located in the Taskbar and you'll boot over to Android. In Android, it is just as easy as selecting Windows from the drop down menu. The whole switching process takes about 20-25 seconds.
Click here for a closer look and buyer reviews.
The Chuwi Hi8 has limited connectivity options. There is a microSD card slot on the right and a MicroUSB port on the top. Unfortunately, there is no HDMI port and GPS support which could disappoint some users. Apart from that, the right side of the Hi8 has a power on button and volume rocker. There is nothing on the left side and at the bottom you'll only find a microphone. On the top, there is a 3.5mm headphone jack. As for network connectivity, the Hi8 has 802.11b/g/n wireless, Bluetooth 4.0 and Miracast support. For taking photos/videos, there is a dual camera - one at the front (0.3MP) and one at the rear (2.0MP). To some users the images could look pixelated and washed out. However for occasional use, it is not too bad. The tablet measures 8.29 x 4.83 x 0.38 inches and weighs 0.304 kg.


ReviewsBucket's Verdict:
It is rare to find a sub $100 tablet with such an impressive set of features. Chuwi Hi8 has a small form factor design similar to the iPad Mini which will appeal to a lot of users. The Z3736F processor is quite powerful for a tablet and it is very responsive both in Windows and Android. But probably the tablet's best feature is it's 8 inch 'Retina' like, 1920x1200 pixels display. We couldn't believe such a display exists for a tablet for less than $100. The Hi8 has a very sharp looking screen with great brightness and viewing angles. Unfortunately, where this tablet falls behind is it's poor battery life, lack of intensive gaming capacity and and lack of micro HDMI port. Overall, the Hi8 is a very solid media tablet that has set the bar very high for it's competitors in terms of price and functionality. If you can live with some of the drawbacks as mentioned above, then this tablet is one of the best 8 inch tablets currently in the market.

About GearBest:
GearBest specializes in consumer electronics and gadgets by providing an unparalleled selection of gadgets, an unbeatable shopping experience, prompt shipping and exceptional customer service that exceeds expectations. Their online catalog is constantly expanding with the very latest and the coolest gadgets added every day to ensure users get their tech fix.
reviewsbucket.com has teamed up with GearBest so you can buy Chuwi Hi10 at a great price! Please click on the link here.