Chuwi Vi10 Highlights -

Pros: Good connectivity options. Great battery life. Decent performance for light tasks and gaming.

Cons: Average display and image quality. Lacks Full HD resolution.
Most big tablet manufacturers like Samsung, Lenovo, Microsoft, Google and Apple offer portable tablet devices that run on just one single operating system, limited to either Android, iOS or Windows. But wouldn't it be great if you had a tablet capable of switching between two operating systems - Windows for productivity and Android for mobile apps. However, building a dual boot tablet is expensive when taking into account the Operating System (OS) and hardware costs. It is one of the many reasons why big manufacturers have shied away from this idea. But we believe there is a market for dual boot tablets, although it may be limited to software or app developers and enthusiasts to test their programs or users just looking for convenience and flexibility. Also, it reduces the need for an extra Windows or Android tablet. This is why a small Chinese manufacturer Chuwi has come up with a budget priced dual boot tablet Chuwi Vi10 to fill in this gap.
This 2GB RAM tablet is powered by an Intel Atom Z3736F processor and features 32GB of storage. The tablet offers easy switching between Windows and Android operating systems. Furthermore, the 10.6 inch screen is quite large and is much bigger than most mainstream tablets like the Apple iPad Air. The rear of the tablet is made of tempered glass with black glossy backing. Because of this, it is prone to fingerprint marks and may need regular cleaning. In addition, having a glass rear panel makes it prone to damage and cracks if dropped. However, the overall build quality of Chuwi Vi10 is much better than some of the tablets which are made of plastic.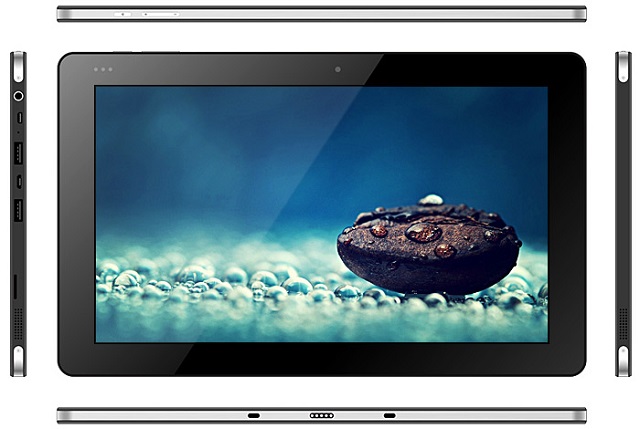 Performance - The Intel Atom Z3736F processor featured in Chuwi Vi10 is the same processor that powers the HP Pavilion X2 10.1 inch laptop. The Z3736F processor is especially designed for tablets like the Vi10 with energy efficiency in mind and supports a burst frequency of up to 2.16GHz with a base processing speed of 1.33GHz. This quad-core processor has sufficient muscle for carrying out daily web and office productivity tasks, multimedia playback and low-end Android and PC based gaming, but not much more than that. Unfortunately, it doesn't support Hyper-Threading technology and therefore tasks like video editing, 3D rendering and heavy multi-tasking is not recommended for this tablet. According to benchmark tests carried out by TechTablets, the Chuwi Vi10 scored well and outperformed similar tablets like PiPo W3F and P98 4G.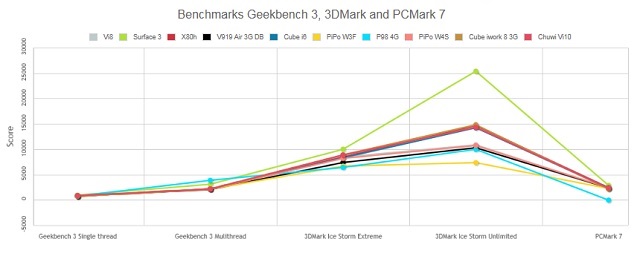 Storage & Memory - The Chuwi Vi10 comes with 2GB of memory and 32GB eMMC storage, which is shared between Windows and Android. eMMC is a kind of flash storage most commonly found in cheap tablets and laptops and has a lot in common with SD cards. It is slower and cheaper than a SSD (Solid State Drive) that you would find in more expensive computers. Having said that, eMMC is still faster than a traditional spinning hard drive. We feel 32GB to be quite small and limiting as you'll only get 10.5GB available free space in Windows and 4.6GB in Android. We would have really liked the Vi10 to have at least 64GB of storage. Nevertheless, this is not a big issue as the Vi10 comes with two full sized USB 2.0 ports to easily connect to a much bigger external storage device. Also, the 2GB of memory is pretty good for a tablet, and apps running in the Android OS should be very responsive. Although in the Windows OS, you may have some difficulties if you load too many programs.
Display, Graphics & Sound - The display of the Chuwi Vi10 is probably it's weakest point. It lacks a Full HD 1080p screen and has a low resolution of 1366x768 pixels, therefore images may appear pixelated and blurry if you look close enough. However on the upside, the Vi10 boasts a full sized 10.6 inch screen with IPS (In-Plane Switching) panel technology. The screen brightness is pretty average at 259 cd/m2 and viewing angles is not too bad either thanks to it's IPS panel. The touch screen is quite responsive too and you'll have no issues navigating or scrolling either in Windows or Android. As for the graphics (GPU), the processor integrated Intel HD Graphics is based on the Intel Gen7 architecture. With a relatively low clock speed of up to 646 MHz, the GPU is pretty average at best, therefore only less demanding Windows games like World of Warcraft, Half-Life 2, Team Fortress 2, Dota 2, League of Legends, and Counter Strike Global Offensive can be played fluidly in low settings. Also, the lower screen resolution of the Vi10 makes it easier for the GPU to render games. Most older Android based games should work well with this tablet. However, latest games like Modern Combat 5 may have trouble rendering on this tablet and users may see some noticeable lag while playing similar modern game titles. Users can expect a good sound quality with the two built-in speakers on each side.
Battery - The 8000mAh battery is more than double the charge found in Acer Chromebook 13 CB5-311-T7NN. Users can easily expect anywhere between 6 - 7 hours of battery life with moderate use of medium to light browsing, gaming and watching a couple of hours of video.
Operating System - Android 4.4 and Windows 8.1.

Switching between the operating systems is very easy and the Chuwi Vi10 uses the Insyde BIOS switching system. In Android, it is just a matter of pulling down the top menu and switching to Windows. In Windows, clicking the OS Switcher application will reboot the tablet into Android. On average, the switching process takes around 15 seconds. Alternately during cold boot, you can just hold the Volume Down button to bring up the option of selecting between the Android or Windows operating systems.
Click here for a closer look and buyer reviews.
Ports and connectivity is one of the Chuwi Vi10's strong points. All ports are on the left side of the tablet and are well spaced for easy access. The presence of two full sized USB 2.0 ports along with one micro USB port is what sets this tablet apart from it's mainstream competitors. While the dual full-sized USB ports might not be all that necessary while running Android, they could certainly come in handy when you're running Windows and want to connect multiple USB devices like a printer, external hard drive, or other peripherals like a wireless mouse. You don't have to unplug one device to connect another. There is also a micro HDMI port for outputting 1080p content, a microSD (also referred to as a TF card) slot for inserting up to 128GB of removable storage, along with a 2MP front and rear fixed focus camera. The 2.4GHz single band wireless N (max speed - 150Mbps) and Bluetooth are both handled by Realtek All-In-One solution. There is also an option to have a clip-on external magnetic keyboard if you prefer. The Chuwi Vi10 measures 10.93 x 6.72 x 0.31 inches and weighs 1.15 pounds which makes it quite thin and lightweight to be put into a purse, backpack or briefcase.


ReviewsBucket's Verdict:
If you're looking for a dual boot tablet then Chuwi offers a very well rounded solution with it's Vi10 tablet. The quad-core Intel Bay Trail chip performs quite well and is very power efficient. It has a great battery life and offers excellent ports and connectivity options. The screen resolution is probably it's weakest point as the picture quality and images are not the sharpest. Also, 32GB of storage is a tad small in our opinion, although this can be overcome by connecting an external storage device to one of it's two full sized USB ports. Overall, if you're not too fussed about the image quality then the Vi10 makes for a great tablet.

- This review was sponsored by GearBest

About GearBest:
GearBest specializes in consumer electronics and gadgets by providing an unparalleled selection of gadgets, an unbeatable shopping experience, prompt shipping and exceptional customer service that exceeds expectations. Their online catalog is constantly expanding with the very latest and the coolest gadgets added every day to ensure users get their tech fix.
reviewsbucket.com has teamed up with GearBest so you can buy Chuwi Vi10 at a special price! Please click on the link here and enter GBVI10 as your coupon code.