Chuwi Vi7 Highlights -

Pros: Great Price. Good build quality. Decent performance for running Android apps.

Cons: Lacks Full HD resolution. Short battery life. Small storage capacity. Poor camera image quality.
The popularity of phablets grew dramatically in 2012 thanks to falling costs and screen prices, increased power efficiency and battery life and a growing consumer demand for smartphone-tablet hybrids. According to IHS, a premier provider of global industry and technical expertise, 25.6 million phablet devices were sold in 2012 and it is estimated that these figures would grow to 146 million by 2016. Phablets (PHone-tABLET) provide the best of both worlds by offering the portability and functionality of a smartphone, crossed with the practicality of the big-screen experience of a tablet. In a recent article, the New York Times said phablets could become the most used computing device of the future and perhaps the only smart device many of us will need. Phablets typically have a screen size between 5 and 7 inches and are quite feature-rich. For example, the Huawei Ascend Mate supports a high resolution camera and has an IPS (In-Plane Switching) screen commonly found in large screen TVs. These specifications are similar to what you'll find in Samsung's Galaxy Mega and other similar devices. However, phablets from these manufacturers will set you back at least $200-$400. But devices like Chuwi Vi7 will cost you less than $100, if you're willing to live with some drawbacks.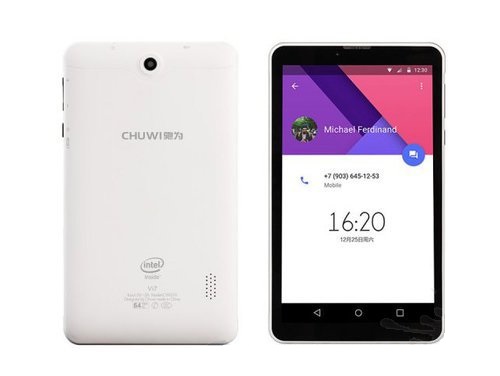 Chinese tablet manufacturers are always looking for low price points for tablets to ship out to the masses. The Chuwi Vi7 is no different. The Vi7, unlike other super low priced phablets actually has some decent specifications like the latest Intel Atom x3 processor, a 7 inch screen and support for cellular networks. The outer design of the Chuwi Vi7 makes for an elegant and minimalistic appearance that every person will surely love. It's back cover is made from plastic so it is easy to clean but may be prone to scratches. Below we go through the product's description that can serve as a guide in terms of choosing this device.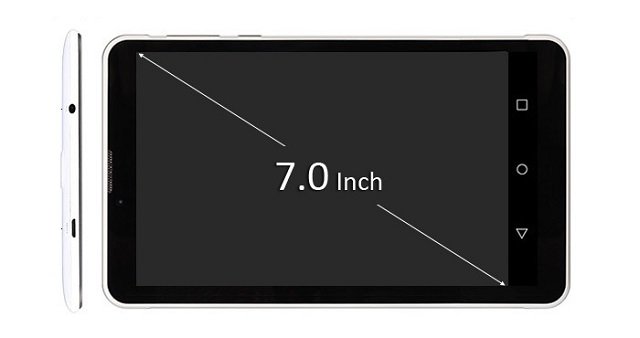 Performance - Earlier this year, Intel announced the release of it's latest Intel Atom x3 processor (code-named 'SoFIA'). This new system-on-a-chip (SoC) processor offers an integrated solution covering multiple connectivity support in terms of Wi-Fi, GPS, NFC, FM radio, Bluetooth along with cellular modem. It is especially designed for low cost smartphones, phablets and tablets. The Atom x3 processor comes in 3 different versions and the Vi7 features the Intel Atom x3 C3230 processor. This new 64-bit chipset is designed to support everything a decent smartphone needs, including 1.2GHz quad core design, NFC, eMMC storage, 3G integrated cellular baseband modem and a Mali-450MP GPU. It also has FM radio baked into the design. The processor supports high quality audio, HD video, media playback and Miracast-based wireless display. Intel's own estimate says that the Atom x3 is about 1.5 times faster than similar Qualcomm chips (Qualcomm is among the top-ten chip makers after Intel, Texas Instruments, Samsung and a few others), in terms of the MobileXPRT benchmark that evaluates the capabilities of Android devices.
Storage & Memory - The Chuwi Vi7 comes with 1GB of memory and 8GB eMMC storage. Please be aware that the stated 8GB storage is the maximum available storage with nothing installed. The available storage on this device will be slightly less as it comes with some pre-installed software from the manufacturer that will occupy some space. In our opinion, the storage is very basic and it is probably best to buy a separate microSD card (also referred to as a TF card) to increase the memory up to a maximum of 64GB, for storing a wide variety of multimedia and documents. We always recommend our readers to have as much storage as possible to maximize the usefulness of their device.
Display, Graphics & Sound - As with most budget-priced phablets, the display of the Chuwi Vi7 is subpar. It lacks a Full HD 1080p screen and has a lower resolution of 1024 x 600 pixels. But on the plus side, it has a large 7 inch screen which makes it small enough to be portable and big enough to easily read or watch videos and movies without straining your eyes. Also, because the screen uses IPS (In-Plane Switching) panel technology, it offers bright and good viewing angles. However in direct sunlight and outdoors, the viewing experience will probably be average at best. The touch screen offers a very responsive and fluid performance. As for the graphics (GPU), the Mali-450MP GPU can run almost all games from the Google store without any lag or stutters. 3D games are supported too. The Chuwi Vi7 features only one speaker at the back. It is very tiny and will probably struggle at maximum volume. It is one area where Chuwi has cut corners to keep the price low. However, there is a 3.5mm headphone jack, which has reasonably clean audio.
Battery - Typically for a 2500mAh battery you are looking at around 3 hours of normal web browsing and video use. This will vary depending on the degree of screen brightness as well. Personally we would have liked to see a little bit more battery life here, but it seems size or most likely cost constraints came into play when considering this.
Operating System - The Chuwi Vi7 is the first ever tablet that has an Android 5.1 Lollipop system that brings multiple enhancements in terms of improved stability, performance and battery life over the original 5.0 release which debuted in November 2014.
Click here for a closer look and buyer reviews.
Staying connected with the world is important and the Vi7 makes it easy because it supports different connectivity and worldwide communication options such as WiFi (802.11b/g/n), 3G, GPS and Bluetooth (4.0). If you're a traveller this can be your perfect companion. The device has a microSD card slot and micro USB port with OTG (USB On-The-Go) support. Because of it's OTG support, it is possible to connect USB flash drives, digital cameras, a mouse or keyboard as well as other supplementary devices. Use of OTG allows these devices to switch back and forth between the roles of host and client devices. For taking photos/videos there is a dual camera - one at the front (0.3MP) and one at the rear (2.0MP). To some users the images could look pixelated and washed out. However, for occasional use it is not too bad. Also, there is no HDMI output, which could be a deal breaker for some. At approx. 0.4 inches it is not the thinnest and at 7.39 inches high and 4.24 inches wide with a weight of only 340 grams, it is extremely easy to handle. As a side note, the Vi7 will only work with GSM and WCDMA networks: GSM 850/900/1800/1900MHz and WCDMA 900/2100MHz. Please check the network frequency of the country where you wish to use this device.


ReviewsBucket's Verdict:
Technology is getting more useful than ever before. One of the most popular and valuable pieces of technology is the phablet. With phablets, users have the flexibility and capability of interacting and connecting with other people around the world, without the need to carry a full sized laptop or other computing devices. Chuwi Vi7 is one of the best phablets for users who are on a budget. For the price and the specifications, it is hard to overlook when you think about similar phablets that costs more that twice the price of the Vi7. The build quality is good with a very decent and fairly new Intel x3 processor. It can run almost all apps and games that the Google store has to offer without any problems. In addition, the large 7 inch screen along with great screen brightness and responsiveness will appeal to every gadget enthusiast. But it does have some drawbacks. It lacks a Full HD screen with really small storage space. The cameras are below par and there is no HDMI output. Also, the battery life is short in our opinion, which could be a deal breaker for some. But for the price, the Chuwi Vi7 is a surprisingly good product for anyone looking for a very cheap phablet as compared to more expensive, branded products. If you're looking for a device with better specifications then have a look at Chuwi Vi10.

- This review was sponsored by GearBest

About GearBest:
GearBest specializes in consumer electronics and gadgets by providing an unparalleled selection of gadgets, an unbeatable shopping experience, prompt shipping and exceptional customer service that exceeds expectations. Their online catalog is constantly expanding with the very latest and the coolest gadgets added every day to ensure users get their tech fix.
reviewsbucket.com has teamed up with GearBest so you can buy Chuwi Vi7 at a special price! Please click on the link here and enter VI7 as your coupon code.