Dell Inspiron i15RVT-6195BLK Highlights -

Pros: Affordable with touchscreen display.

Cons: Very basic specifications.
Recently we reviewed the Toshiba C55-A5182 laptop featuring entry-level specifications suited primarily for budget-conscious users. At the time of writing that review we mentioned that the laptop didn't feature a touchscreen display which may be off-putting for some buyers. Dell Inspiron i15RVT-6195BLK fills this gap by offering specifications similar to the Toshiba C55-A5182 but with touchscreen capability which makes using the pre-installed Windows 8 more fun and interactive. The Dell Inspiron i15RVT-6195BLK is a very affordable laptop that provides features and performance for basic everyday tasks with it's Intel Core i3 processor, 4GB of memory and 500GB storage space. The 15.6 inch touchscreen display makes navigating around applications much easier than trying to use the traditional trackpads that come with most laptops. The laptop looks modern with it's black textured matte finish and with a thickness of just over 1 inch it is quite portable.
Performance - Dell Inspiron i15RVT-6195BLK is powered by an Intel Core i3-4010U processor. The processor is specifically suited for small ultrabooks as it consumes less power thereby increasing battery life. It is a dual-core processor that can handle up to four threads in parallel leading to better utilization of processing resources. Each core offers a base speed of 1.7 GHz but unfortunately the processor doesn't support Turbo Boost. The charts below compare the features of the Intel Core i3-4010U versus the Intel Core i5-4200U processor (source: CPU-World). These features determine how well a processor performs. The "Number of cores / threads" graph shows the number of cores (refer to the darker area). The lighter area on the graph corresponds to the number of additional threads, offered by Hyper-Threading technology. The "Operating frequency" chart shows the base frequency (darker area), whereas the lighter area is for extra frequency offered by the Turbo Boost feature. Based on the charts below, the Intel Core i3-4010U is as power efficient as the Intel Core i5-4200U but lags marginally in terms of performance. The Intel Core i3 is great for carrying out light processing tasks like surfing the net, watching movies, creating spreadsheets and presentations, light multimedia and games, and watching movies. However, it will struggle playing the latest games and performing demanding tasks like multimedia and photo editing.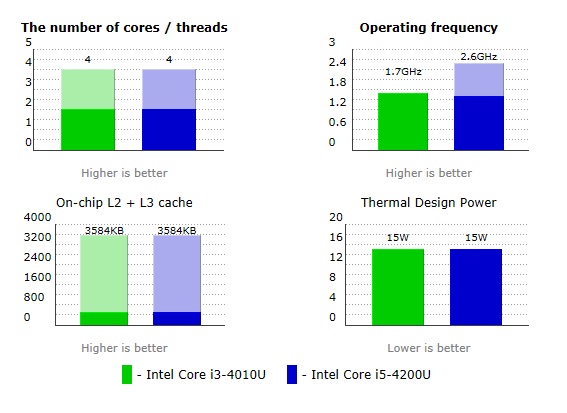 Storage & Memory - The laptop comes with 4GB DDR3 of memory and 500GB (5400RPM) of storage space. We would highly recommend to upgrade the memory to 8GB by adding a 4GB DDR3 memory chip to the spare memory slot. This will ensure smooth multi-tasking. As for the storage space, we think it is enough to store plenty of multimedia files and documents.
Display, Graphics & Sound - Dell Inspiron i15RVT-6195BLK features a 15.6 inch widescreen LED backlit touchscreen display with 1366x768 resolution. The laptop comes with integrated Intel Mobile HD 4400 Graphics. The laptop features Dell's TrueLife display which has won high praise for its high-gloss, sharp contrast finish ideal for watching movies. While it's performance might satisfy occasional gamers, it is not suited for more demanding games. The Waves MaxxAudio offers decent sound quality.
Battery - The 4-cell lithium ion battery provides a battery life of up to 4 hours.
Operating System - Windows 8.
Click here for a closer look and buyer reviews.
Dell Inspiron i15RVT-6195BLK connectivity options include a 802.11 b/g/n wireless, 10/100 Ethernet network card, Bluetooth 4.0, 4 USB ports (2 USB 2.0 ports and 2 USB 3.0 ports), an HDMI port, a 8-in-1 media card reader and a DVD+/-RW drive. The 1.0 MP webcam is great for making video calls. The laptop measures 19.29 x 13.15 x 3.31 inches and weighs 4.85 pounds.
ReviewsBucket's Verdict:
Dell Inspiron i15RVT-6195BLK provides a very affordable solution for users needing a laptop for daily routine tasks. It will easily handle home and office productivity applications, social media, web browsing and light entertainment tasks. It's no secret that Windows 8 has been designed with touchscreen laptop and tablet users in mind, and this laptop does a great job of providing the full experience that Windows 8 has to offer.