Dell Inspiron i3847-4616BK Highlights -

Pros: Easy to setup. Respectable specifications for an affordable desktop.

Cons: Average graphics card, not suited for high-end gaming.
Since the Dell PC was first introduced in 1986, it has been know to deliver innovative and cost-effective solutions for home, small business and enterprise computing. Dell Inspiron i3847-4616BK is another great product from Dell, which belongs to the Inspiron 660 family of desktop computers. The desktop promises to deliver a great entertainment experience combined with high-performance processing. It should not have any issues fulfilling it's promise with an Intel Core i5 processor, 8GB of memory and 1TB storage space. As with most modern desktops, the Dell Inspiron i3847-4616BK features a minimalistic tower design. The desktop is easy to set-up and runs very quietly. Please note, you will need to buy or have an existing monitor to connect to this desktop. If you're also looking for a monitor, then we would recommend the Dell UltraSharp U2414H Widescreen LCD Monitor.
Performance - Dell Inspiron i3847-4616BK is powered by Intel Core i5-4440 processor with a clock speed of 3.1 GHz. The Core i5-4440 uses four cores and can process four threads at once. The processor also features Intel Turbo Boost Technology that can automatically allow processor cores to run faster than the rated operating frequency. The processor enters turbo mode when the Operating System (OS) requests a frequency higher than the rated frequency of the processor. The turbo frequency (for this processor the max turbo frequency is 3.3 GHz), varies depending on workload, hardware, software and overall system configuration. The processor provides an excellent all-round performance with low power consumption and is great for CPU-centric tasks that require a lot of processing power like advanced video/image/audio editing or complex data manipulation tasks using Microsoft Office applications. Typically, the two main consumers of processing power are applications and the operating system itself. Thus, having a good processor like the Core i5 will make sure that applications run smoothly. Processor benchmarking conducted by Hexus shows the Intel Core i5-4440 outperforms similar AMD processors. Overall, we think the Intel Core i5-4440 is a great processor choice.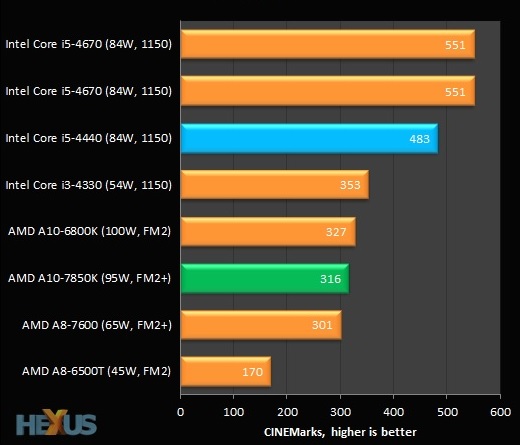 Storage & Memory - The desktop comes with 8GB DDR3 of memory and 1TB (7200RPM) of storage space. We think the desktop has adequate memory for multi-tasking and provides sizeable storage space. One thing to note is that this desktop's hard drive features 7200RPM (rotation speed of the motor that drives a hard disk's spindle), as compared to the standard 5400RPM. A 7200RPM hard disk improves the computer's performance in all disk-limited tasks such as starting the computer, launching applications and opening large files.
Graphics - Dell Inspiron i3847-4616BK comes with Intel HD Graphics 4600. According to Hexus, this graphics card (integrated with the Core i5-4440 processor) is not as good as other cards that come with other AMD processors. This card performed below average while playing games like BioShock Infinite. Therefore, we wouldn't recommend this desktop if you're thinking of using it for high-end gaming. Regardless, the graphics card is still good for watching movies, performing multimedia tasks and playing light casual games in lower resolution settings.
Operating System - Windows 8.1.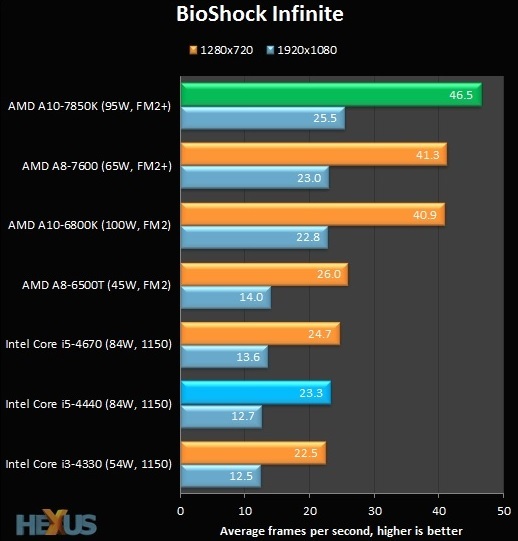 Click here for a closer look and buyer reviews.
The Dell Inspiron i3847-4616BK serves as a entertainment hub as well. With 2 USB 3.0 ports, 4 USB 2.0 ports, an 8-in-1 media card reader, a DVD±RW/CD-RW drive and HDMI capabilities, connecting to cameras, printers and other accessories is quick and easy. The desktop comes with an integrated 802.11b/g/n WiFi, 10/100/1000 Gigabit Ethernet and Bluetooth connectivity. Additionally, the Dell Inspiron i3847-4616BK also has a PCI-E slot if you need to extend it's hardware. This desktop comes with a USB keyboard, mouse and bundled software such as McAfee Anti-virus and Microsoft Office 365 Trial. The desktop measures 21.93 x 14.88 x 19.25 inches and weighs 17.4 pounds.
ReviewsBucket's Verdict:
With it's Intel Core i5 processor, the Dell Inspiron i15RVT-6195BLK desktop enables you to handle all types of computing tasks with speed and reliability. Although gamers may be disappointed with it's integrated graphics card, the desktop is a great choice for home entertainment and office productivity tasks. Many buyer reviews have indicated that the desktop is easy to set-up and is very responsive. Some have even gone as far as saying that it is one of the best purchases they have made in many years. This gives us confidence in highly recommending this desktop.