HP 15 AY011NR Highlights -
Pros: Large 1080p screen. Good performance for everyday home/office computing tasks.

Cons: Non-touchscreen. Touchpad a bit unresponsive and keyboard lacks backlighting.
Over the last decade, laptop and desktop components such as processors, motherboards, graphics and memory have all been getting much faster. If your computer needs a performance boost, then replacing these components can be a viable option. However, this can be an expensive exercise and is not meant for the inexperienced. Also, many times your existing desktop or laptop may not be compatible with the latest components. However, in our experience nothing offers a performance boost like that of a Solid-State Drive (SSD). Just replacing the traditional hard drive with an SSD in your old computer is enough to make it feel like a new machine, even if every other component stays the same. That's why we always recommend an SSD to our readers when they are looking to buy a new computer. A few years ago, SSDs were pretty expensive but they are getting much cheaper as time goes by. According to data from DRAMeXchange reported by Computerworld, the average price for SSDs have fallen from about 99¢ per GB in 2012 to around 68¢ in 2013 and now about 39¢ in 2015. We have no doubt that in couple of years time SSDs will become standard and soon it will be time to bid farewell to traditional spinning hard drives. In this review, we introduce our readers to the HP 15 AY011NR which features great performance options and good value for money including a model which comes with an SSD for an added performance boost.
The HP 15 AY011NR offers the choice of a massive 1TB hard drive or 128GB SSD in the form of it's sister model HP 15 AY013NR. All other specifications remain the same, a Full HD screen, Inter Core i5 processor and 8GB of RAM. This way HP has catered for users looking for large storage capacity as well as for users who prefer SSD related performance boost whilst sacrificing on storage space. The laptop design is typical HP - modern, elegant and slick. We simply love the aluminium finish and polished brushed metal design that leaves no smudges or fingerprints when closing or opening it for use. The build quality is great and we are sure that users will be very happy with it's overall look.

Main Features at a Glance:
* 2.3GHz Intel Core i5 6200U Dual-Core Processor.
* Intel HD Graphics 520 with up to 4169 MB total graphics memory.
* 8GB DDR3 SDRAM.
* 1TB 5400RPM hard drive.
* 15.6 inch Full HD (1080p) screen.
* 1 x USB 3.0, 2 x USB 2.0, 1 x HDMI, Media reader and Optical drive.
* Wireless 802.11ac connectivity for streaming HD media and web surfing.
Performance - The Intel Core i5 6200U processor is probably one of the best processors that you can get in a mid range laptop. It is an energy efficient processor based on the 14nm Skylake MicroArchitecture. It features 2 Physical Cores (4 Logical) clocked at 2.3GHz which can go up to 2.8GHz. It supports many Intel based technologies such as HyperThreading, Turbo Boost 2.0 and Virtualization for various performance improvements. Whilst it may not be the first choice for playing games or for running other strongly parallelized applications, it is powerful enough for all common office and home office application tasks, as well as demanding programs such as Adobe Lightroom. It is fast when moving from window to window and there is minimum to no lag when moving between applications. Users needing more power should take a look at the HP Pavilion 15-AB292NR which comes with the more potent Intel Core i7-6700HQ (benchmark below - courtesy CPUBoss). Overall, the laptop responds fairly quickly and smoothly and for most parts users should not encounter any issues.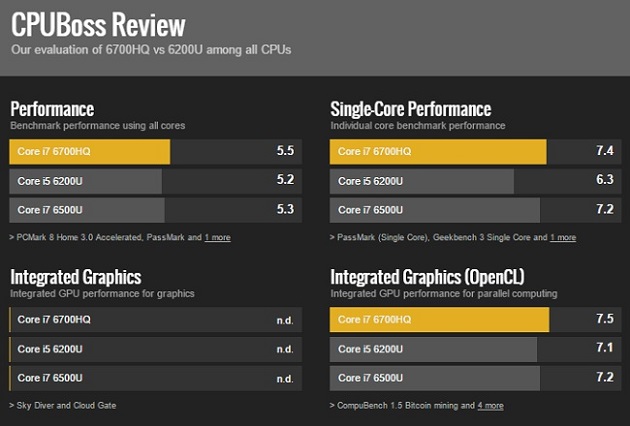 Storage & Memory - The laptop comes with 8GB (upgradeable to 16GB) of DDR3 memory and 1TB (5400RPM) file storage space. Nowadays, 4GB is the standard for most laptops and will work well for very basic multitasking. Having 8GB will make sure your laptop is capable of handling extensive multitasking. The hard drive while not SSD like in the HP 15 AY013NR, is very spacious and will be able to store a large amount of documents and multimedia files. As mentioned in the beginning, having an SSD over the traditional spinning HDD does make a big difference in terms of performance and boot time. Having said that, if you don't want to sacrifice on space and don't mind waiting a few extra seconds for your laptop to boot up or accessing files, then the 1TB hard drive should not be much of an issue.
Display, Graphics & Sound - Perhaps the most compelling feature of the HP 15 AY011NR is it's 15.6 inch screen (non-touchscreen) with support for Full HD resolution of 1920x1080 pixels (TN-based panel). The screen is large and looks great with a crisp and clear display thanks to it's anti-glare coating to maximize viewing capacity even in direct sunlight. The screen shows good response rates, but may be too slow for competitive gaming. The viewing angle is still not a strength of TN panels, but they continue to improve. The color reproduction mostly remains true when looking at the screen horizontally from the side, and only the contrast and brightness significantly decrease. Overall for the price, we think it is real good value for money. As for playing games, the laptop comes with an integrated Intel HD Graphics 520 GPU. This integrated graphics is not meant for playing demanding games, however, modern games (year 2015 and up) should be playable at low settings and resolutions. Casual gamers will be happy with it's gaming performance and experience. Lastly, the DTS Studio Sound provides good sound quality with it's built-in stereo speakers located on the underside toward the front, and on both the left and right sides.
Battery - Users can expect the Lithium Ion battery to last anywhere between 5-6 hours with moderate use.
Operating System - Windows 10.
Click here for a closer look and buyer reviews.
The HP 15 AY011NR features 3 USB ports (2 x USB 2.0 on each side and 1 x USB 3.0 on the left). There is also an HDMI port on the left for connecting the laptop to an external monitor. For network connectivity, the laptop has a 10/100Mbps RJ-45 Ethernet port and a built-in 802.11ac wireless adapter. It's the latest in wireless standards and almost 3x faster than the typical 802.11n. In addition, there is a built-in SD media card reader on the right to import/export your photos/videos from your digital camera, an optical drive (DVD burner) and a front facing HD webcam on top of the display for basic video chatting/conferencing. The keypad feels smooth to touch and is responsive with a slight tap. While typing, the hand seems to glide smoothly across the keys which is a plus. The keyboard comes with a 10-key numeric keypad, however there are no backlit keys. Also, the Touchpad can seem a bit unresponsive at times. Nevertheless, this shouldn't be a big issue as you can buy a cheap wireless mouse instead. The laptop measures 10 x 15.1 x 0.9 inches and weighs 4.7 pounds which makes it slightly bulkier than other common laptops.

HP 15-AY011NR Vs HP 15-AY013NR
| Models | HP 15-AY011NR | HP 15-AY013NR |
| --- | --- | --- |
| Processor | Intel Core i5 6200U, 2.3GHz, Dual-Core Processor | Intel Core i5 6200U, 2.3GHz, Dual-Core Processor |
| Memory | 8GB DDR3L-SDRAM Memory | 8GB DDR3L-SDRAM Memory |
| Storage | 1024GB (1TB) 5400RPM Hard Drive | 128GB Solid-State Drive |
| Display | 15.6 Inch Full-HD (1920 x 1080) | 15.6 Inch Full-HD (1920 x 1080) |
ReviewsBucket's Verdict:
HP 15 AY011NR is a great mid range laptop that money can buy. The Hyperthreading dual-core CPU and large memory provide all the requirements for a good overall system performance for home/office use. The 8GB of memory gives you the ability to do heavy multitasking and open a number of browser tabs. The 6th Generation Intel Core i5 processor makes the laptop run very smoothly without too much wait time. The keyboard is excellent, though not backlit with occasional touchpad issues. The Intel HD Graphics 520 graphics chip isn't amazing and is not meant for hardcore gaming, but will fill your needs for casual gaming on a lower resolution. Nevertheless, it is a very good graphics chip for general application such as streaming/editing videos. The laptop's design is modern and looks amazing just like it's 1080p resolution display. If you plan to do light-medium activities such as viewing Facebook, YouTube, general web browsing, amateur photo editing, and other light intensity tasks then we would highly recommend this laptop. The only other advice we would give to our readers is if they are willing to sacrifice on storage space then they should consider the HP 15 AY013NR which comes with an SSD.