HP TouchSmart 15-D037DX Highlights -

Pros: Inexpensive. Touchscreen. Generous storage space.

Cons: Not suitable for high-end gaming. Bulky.
HP TouchSmart 15-D037DX laptop is very similar to the HP 15-D035DX laptop which we have recently reviewed. If you have read our review, then you'll probably agree with us that the HP 15-d037dx offers better value for money with it's faster Intel Core i3 processor and touchscreen capable display. Most of the other specifications like the 4GB of memory and 750GB storage space remain the same. As with most HP laptops, the HP 15-D037DX features a very high quality material for casing. The rounded design with sparkling black color finish makes this laptop look very modern and premium.
Performance - HP 15-D037DX is powered by Intel Core i3-3130M processor. It is a dual-core processor with each core offering a base speed of 2.6 GHz. Unfortunately, the processor doesn't support Intel's Turbo Boost technology. However, due to Hyperthreading (HT), the two cores can handle up to four threads in parallel leading to better utilization of the processor. The single core performance of the processor is better than the Intel N3520 processor featured in the HP 15-D035DX (see chart below - CPUBoss). This reinforces the fact that the HP 15-D037DX laptop offers a better performance and value proposition. The processor brings more than enough power for daily home, office and light multimedia tasks.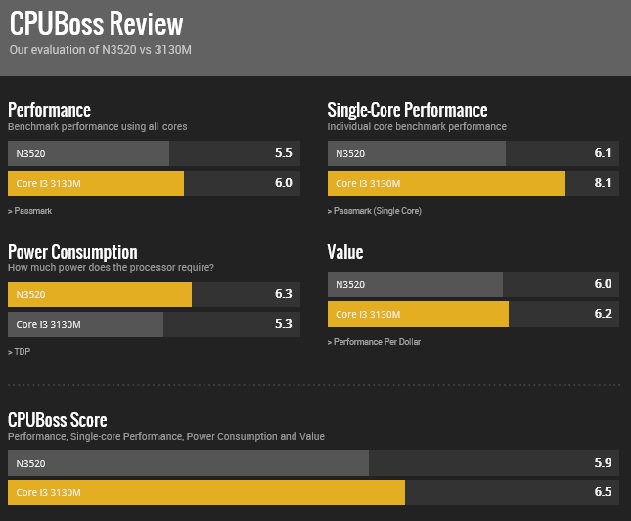 Storage & Memory - The laptop comes with 4GB of DDR3L memory and 750GB (5400RPM) hard drive. Although 4GB is adequate, we always recommend users have at least 8GB of memory in all of our reviews, to be able to smoothly multitask. Memory can easily be upgraded via the service doors at the base of the laptop, so we would highly recommend users to upgrade the memory. The 750GB hard drive offers ample storage space for storing a large number of documents and multimedia files.
Display, Graphics & Sound - HP 15-D037DX features a 15.6 inch LED-backlit high-definition display with HP's BrightView technology. The touch screen display has a resolution of 1366x768 pixels and is capable of 720p high definition video playback. The touch screen display would be handy when using the pre-installed Windows 8.1. The laptop comes with processor integrated Intel HD Graphics 4000. As with most processor integrated graphics, it is not suitable for playing modern and high-end games. Only older and less demanding games will run smoothly. Games like Battlefield 3, Assassin's Creed and Far Cry 3 will need to be run on low to medium resolution settings. For a decent gaming laptop, please read our review of ASUS ROG G750JM-DS71. As with HP 15-D035DX, the sound quality of HP 15-D037DX is pretty average with the built-in HD audio stereo speakers.
Battery - The 3-cell lithium-ion polymer battery provides a battery life of up to 6 hours.
Operating System - Windows 8.1.
Click here for a closer look and buyer reviews.
HP 15-D035DX connectivity options include 802.11b/g/n wireless and 10/100BASE-T Ethernet LAN. Additionally, it includes a DVD±RW/CD-RW, a multi-format digital media card reader for SD cards, 1 USB 3.0 port, 2 USB 2.0 ports and a HDMI port for connecting to a HD TV. There is also a front facing HP TrueVision HD webcam with integrated digital microphone. The laptop measures 10.20 x 14.90 x 1.10 inches and weighs 6.1 pounds.
ReviewsBucket's Verdict:
The HP TouchSmart 15-D037DX is meant for everyday use including word processing, checking email, web-browsing, basic office productivity tasks. Users like students and small business owners will appreciate the touchscreen functionality that this laptop has to offer. It is not a very powerful laptop though, but if you are a budget conscious user who is looking for a laptop with decent performance with the added convenience of touchscreen capability, then HP TouchSmart 15-D037DX makes for a very good choice. Please note, there is also a model without touchscreen capability called the HP 15-D038DX, for those looking to save even more and don't mind having a non-touchscreen display. Conversely, if you prefer a bigger screen, please read our review of HP Pavilion 17-e116dx laptop.