HP 15-G007DX Highlights -

Pros: Stylish design. Affordable laptop for everyday use.

Cons: Non-touchscreen display. Lacks Full HD resolution. No Bluetooth.
Tablets and Smartphones might be taking over the world, but there are still some tasks that are best done on a laptop. Some of the most common uses of a laptop include producing documents and web-browsing. This might include preparing spreadsheets and word documents or just looking for information on the Internet. As simple as they sound, these are some of the primary functions of any computer and if you're like us and you like to multitask, then we think these are best done with the help of a laptop computer. Say you're online and writing something (a document, email or blogpost), with Skype open in the background while Spotify is streaming music. If you were doing all that on a tablet, you'd be jumping back and forth from app to app. Therefore, it makes sense to have a laptop with specifications that are affordable and capable of multitasking/running your daily computing tasks.
HP 15-G007DX is one such laptop that combines style, decent performance and affordability with it's AMD quad-core processor, 4GB of memory and 750GB storage space. These specifications are pretty much standard in a laptop with a 15 inch screen. Just like HP's 15p030nr Special Edition laptop, the G007DX is a beautifully designed laptop with a red color body that makes for a very stylish look and is sure to attract attention. Apart from it's looks, the build quality itself is pretty good, made from high quality plastic. Measuring approx. 1 inch thick and weighing 4.8 pounds, the laptop is slimmer and lighter than most 15 inch laptops currently in the market. In addition, with a price point of around $400 at the time of writing this review, we think the laptop is very competitively priced.
Performance - The HP 15 G007DX is powered by an AMD A8-6410 processor. This relatively new processor released in early 2014 with 4 CPU cores clocked at 2.0 GHz (2.4 GHz boost clock speed) is specifically suited for entry-level laptops. Generally speaking, the more the number of cores, the better the overall multi-threading performance. This is especially beneficial for improving the performance of multi-threaded applications such as Adobe Photoshop, WinRAR, Windows Media Encoder and the majority of new game titles. In terms of raw processing power, you'll notice the performance of the A8-6410 is similar to that of a Haswell-based Intel Pentium or Intel Core i3 processor. We are a big fan of Intel based processors, but having said that AMD chips are sensible choices under a variety of circumstances and they can offer exceptional value. Many of AMD's chips including the A8-6410 are quite adequate for light and moderate computing, which is what the majority of users engage in most of the time. Not everyone edits huge HD video files or crunches million-cell spreadsheets, but if you were thinking of doing so, then we would recommend a laptop with an Intel based processor such as the Toshiba Satellite S55T-B5260. Nevertheless, the HP 15 G007DX is good for running home/office productivity tasks such as office applications, surfing the web, watching videos, listening to music, light multitasking and some casual gaming. As you can see from the chart below, the performance offered by the AMD A8-6410 is comparable if not better than the Intel Core i3-4010U and Intel Pentium N3530 processor (source - cpubenchmark).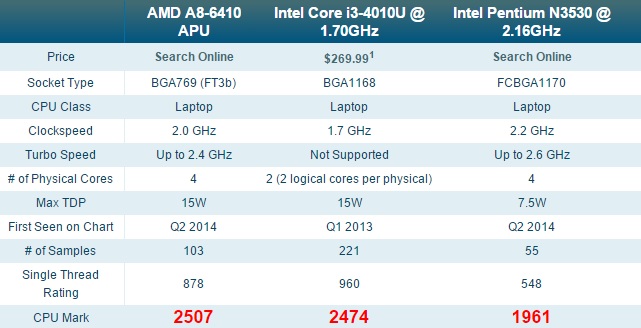 Storage & Memory - The 4GB DDR3L memory is standard for a laptop nowadays. Even though it will be sufficient in the beginning for light multitasking, we would recommend upgrading the memory to at least 8GB for smoother multitasking capability. To save your data including documents, music, videos, pictures and other software application, the G007DX comes with 750GB (5400RPM) storage space. The storage space is quite large and enough for daily computing needs.
Display, Graphics & Sound - The 15.6 inch diagonal HD BrightView WLED-backlit display offers a resolution of 1366x768 pixels which means the laptop can stream up to 720p HD content. Please be aware that the display is non-touchscreen. The lack of Full HD 1080p support and the non-touchscreen display are a bit disappointing but again the laptop is meant to be affordable, so HP had to compromise somewhere. Nevertheless, the image quality and clarity is still reasonably good and most users will not even notice. The integrated AMD Radeon R5 Graphics will appeal to casual gamers. Hardcore games should stay away from this laptop and instead look for a laptop with a discrete graphics card such as the ASUS ROG G750JM-DS71 gaming laptop. Nevertheless, older and less demanding game titles should run flawlessly. Users can play games like FIFA 2014, Tomb Raider and Grid Autosport in low resolution settings and games such as Skyrim, Minecraft, Left 4 Dead 2, Battlefield 3, League of Legends, Team Fortress 2 are playable as well (see video below). Also, the HD audio with stereo speakers offers very basic sound quality.
Battery - The 3-cell 31WHr 2.8Ah lithium-ion polymer battery offers up to 5 hours of battery life.
Operating System - Windows 8.1.
Click here for a closer look and buyer reviews.
When it comes to input/output ports and connectivity options, the HP 15 G007DX comes with standard features such as 1 SuperSpeed USB 3.0 port, 2 USB 2.0 ports, a HDMI port for connecting the laptop to a high definition TV, multi-format digital media card reader for SD cards and a SuperMulti DVD burner. For network connectivity, there is a 10/100BASE-T Ethernet LAN for wired connectivity and 802.11b/g/n WLAN for wireless connectivity. Unfortunately, Bluetooth is not supported. This laptop also features a full sized keyboard with numeric keypad which is comfortable to use. In addition, you'll find a VGA webcam with an integrated digital microphone in the front of the laptop. The laptop measures 7.40 x 23.30 x 15.70 inches and weighs 23.2 pounds.
ReviewsBucket's Verdict:
When it comes to getting the biggest bang for your buck, you can't go past a laptop like the HP 15-G007DX. Most users opt for a laptop with the best processor, the most RAM and the biggest storage, but most of the time they don't even use it. If all you need is something to handle home and office tasks, then the G007DX is a great choice. It's exquisite and stylish design meets decent performance for carrying out daily routine and entertainment tasks in a thin, efficient and mobile package. Featuring an AMD Quad-Core processor on a vivid 15.6 inch display, it can also playback videos smoothly and perform mild complex tasks such as compressing files, small sized video editing and encoding thanks to the processor's four cores. Yes, it does lack touchscreen and full high definition support but if you're thinking that screen resolution is important - don't. It's important to a degree, but once you hit 13 to 15 inches, you won't notice a great difference between 1366x768 (most common screen resolution) and 1920x1080 (full high definition screen resolution). Overall, the laptop is very competitively priced and we would like to recommend this laptop to budget conscious users. Alternately, users can also opt for chromebooks such as Toshiba Chromebook 2 for a laptop with full HD resolution IPS display.