HP Chromebox CB1-014 Highlights -

Pros: Compact design. VESA mount compatible. Inexpensive. Quick start-up.

Cons: Average specifications.
Chrome OS came into the spotlight in 2011, when many considered it to be Google's answer to Microsoft's Windows operating system (OS). Although it attracted some media attention and curiosity from the general public at that time, very few considered it to be a serious contender. But things have changed in this space over the last couple of years. With Chrome OS slowly taking more and more market share from Microsoft OS, many computer manufacturers have started to listen to their customer's needs and are coming out with Chrome OS powered desktops (Chromebox) and laptops (Chromebooks). We recently reviewed an All-In-One (AIO) Chrome OS desktop by LG called the LG Chromebase 22CV241. Now, HP have come out with their own model called the HP Chromebox CB1-014. Chrome OS is basically a bare minimum operating system that features Google's most popular products like Google Docs, Google Drive, Google Map etc. with cloud storage and multiple layers of security built right into it. The OS is built around the Chrome web browser. You won't need to install separate software applications as required by traditional Windows desktops. Chromebox uses Chrome-specific apps for everyday tasks like creating documents, listening to music, chatting with friends and family and playing online games. All these apps can be downloaded from the Chrome Web Store. Also, all your documents and files are stored in the cloud and with it's built-in virus protection, multiple layers of security and auto updates you won't have to worry about security risks and upgrades. In short, Chrome OS provides a hassle free way of doing most common computer tasks. Also, the biggest advantage is that because the Chrome OS is not that resource intensive, Chrome OS powered computers don't need to have powerful processors. In fact, the Intel Celeron processor and 2GB of memory featured in the HP Chromebox CB1-014 is sufficient to carry out daily tasks like internet browsing, sending emails and keeping in touch with friends and family. Design wise, the HP Chromebox is small and compact weighing only 1.4 pounds and can easily fit into the palm of a hand. Plus, it can be VESA wall-mounted (to connect to a HD TV) if needed.
Performance - HP Chromebox is powered by an Intel Celeron processor 2995U. It is the same processor as featured in the LG Chromebase 22CV241 where we compared the processor's performance against the Intel Core i3-4010U. The dual-core processor is based on Intel's Haswell architecture and is clocked at 1.4GHz. It has sufficient power for simple office and multimedia tasks. Many features like Intel's Turbo Boost and Hyper-Threading are missing in this processor. Even though the processor is entry-level, it has no problems carrying out basic computing tasks. Also, because the Chrome OS is light weight, the desktop doesn't require a powerful processor.
Storage & Memory - The desktop comes with 2GB of DDR3 memory (expandable to 4GB) and 16GB Solid State Drive (SSD). We have explained the benefits of SSDs previously, namely faster startup and faster reading/writing of data in our ASUS Taichi 21-DH51 ultrabook review. Also, with cloud storage everything is stored in the cloud which minimizes the need for having a bigger storage space. The memory is slightly on the lower side, but then again because it is a Chrome OS users should not experience much lag.
Graphics & Sound - Generally speaking, the processor integrated Intel HD Graphics is not that great, but users should not have any issues playing games downloaded through the Chome App Store. If it was a traditional desktop, we wouldn't recommend this graphics card for playing games. For sound, the Chrombox includes an Audio Realtek combo mic/headphone jack.
Operating System - Chrome OS.
Click here for a closer look and buyer reviews.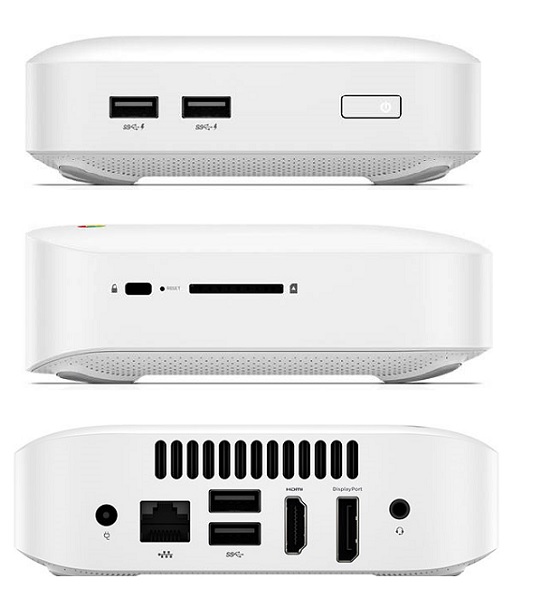 For the size, HP Chromebox CB1-014 features an impressive set of connectivity options including 2 x USB 3.0 (front), 2 x USB 3.0 (rear), SD card reader, 1 HDMI port, 1 Display port, Gigabit (10/100/1000Base-T) Ethernet, 802.11 b/g/n wireless LAN and Bluetooth 4.0. The Chromebox measures 4.88 x 4.96 x 1.54 inches and weighs 1.4 pounds.
ReviewsBucket's Verdict:
Most people just want a computer that will cost them as little as possible and can perform simple computing tasks without crashing. HP Chromebox CB1-014 achieves both. Google's Chrome OS has come a long way since 2011 and is gaining wide spread popularity. Don't just take our word for it though, If you head over to Amazon's best-seller list, you'll find three or four Chrome OS powered computers among the top 10 best selling computers. HP's Chromebox is no different. It is sleek and modern looking and comes with enough power to run Chrome OS without a glitch. If you're ready to experience all the features that Chrome OS has to offer, then HP Chromebox CB1-014 is a great choice.