HP Envy 15-j181nr Highlights -

Pros: Impressive specifications. Light weight and thin design.

Cons: Non-touchscreen display. No bluetooth. No DVD/CD Drive.
HP Envy 15-j181nr is one of the top-of-the-line laptops from HP, capable of running demanding applications with ease. If you have read our review of the HP Envy 17-j130us you will notice a lot of similarity between these two laptops. The only major difference between the two is the screen size (this laptop has a slightly smaller screen) and touchscreen capability (this laptop does not have a touchscreen). Regardless, both laptops have impressive specifications and will be able to run any applications that users throw at them. HP Envy 15-j181nr is powered by a Intel Core i7 processor with 8GB of memory and 1TB storage space. The 15.6 inch screen provides a good balance between portability and usability. As usual with HP laptops, the HP Envy 15-j181nr features premium design and color. The casing is made from high quality aluminium material and combined with a natural silver colored exterior and interior. The island style design of the full-sized black keyboard gives the laptop a premium look and comes equipped with a full numeric keypad.
Performance - The laptop is powered by a 4th generation quad-core 2.4 GHz Intel Core i7-4700MQ processor. The processor features Intel's Turboboost technology that dynamically bumps up the speed as high as up to 3.4GHz when required. Also, due to Hyperthreading capability, the four cores can handle up to eight threads in parallel, leading to better utilization of the CPU. The Intel Core i7 provides high performance at a low voltage thereby providing increased battery life. According to PassMark's database of user-generated CPU benchmark results, the Core i7 performed well against the Core i5 processor.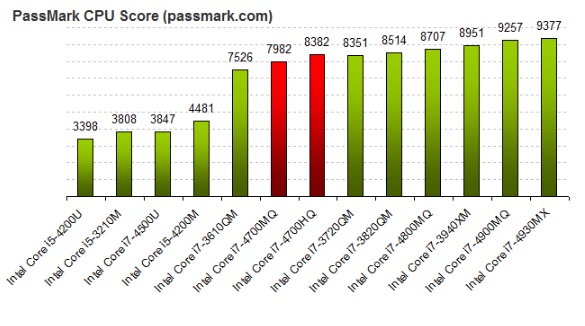 Storage & Memory - HP Envy 15-j181nr comes with 8GB of memory (expandable to 16GB) and 1TB (5400 RPM) hard drive. With the Core i7 processor and 8GB of RAM, users will easily be able to multi-task between applications quickly and efficiently. The storage space is great for storing all of your multimedia files and documents.
Display, Graphics & Sound - The laptop features a 15.6 inch widescreen display without touchscreen capability. The screen uses LED backlit technology for low power consumption and better energy efficiency. The display has a 16:9 aspect ratio and a resolution of 1366x768 pixels. The integrated Intel HD Graphics 4600 comes with up to 1,792MB of total shared graphics memory. While it will certainly play most games, some of the more graphic intensive games may require a better graphics card. Regardless, the laptop should have no issues performing demanding tasks like graphic design or video editing. Also, exclusive to HP computers, the HP Envy 15-j181nr features Beats Audio quad speakers and two sub-woofers that provide enhanced sound quality for a better multimedia experience.
Battery - The 6-cell battery pack provides up to 4.5 hours of battery life.
Operating System - Windows 8.1.
Click here for a closer look and buyer reviews.
Unlike the previous model, HP Envy 15-j181nr lacks an optical drive, so users should consider buying an external optical drive to burn or load applications from DVDs or CDs. The laptop is equipped with a range of port interface and connectivity features such as 4 USB 3.0 port, 1 HDMI port, a multimedia card reader, front facing HP TrueVision HD webcam with integrated microphone, Gigabit Ethernet LAN and WiFi 802.11b/g/n. HP provides several other unique technologies to keep the HP Envy 15-j181nr running efficiently like the HP CoolSense (to keep the laptop cool), HP ProtectSmart (to keep the hard drive safe from accidental bumps) and HP SimplePass (to allow access to online accounts with just the swipe of a finger). The laptop measures 9.87 x 14.94 x 1.10 inches and weighs 4.8 pounds.
ReviewsBucket's Verdict:
The HP Envy 15-j181nr combines performance, usability and functionality into one powerful laptop. It is suited for both work and entertainment and will have no issues multi-tasking or running demanding applications. The reason this laptop is cheaper than the HP Envy 17-j130us is because of lack of touchscreen and smaller screen size. If users think having a touchscreen is a not a big deal but would rather prefer a laptop offering great performance, then we think HP Envy 15-j181nr is a great choice. For a slightly cheaper option with similar performance users should consider Toshiba Satellite S55-A5176.