HP Envy 700-210 Highlights -

Pros: Decent specifications. Plenty of USB ports. Bluetooth support.

Cons: Graphics card not suited for high-end gaming.
HP Envy 700-210 belongs to the HP Envy 700 series of desktop computers. It has a modern tower design and is powered by an AMD processor with 8GB of memory and 1TB storage space. Unlike the All-In-Desktops (AIO) like Lenovo Ideacentre C560 or HP Pavilion 18-5010, a separate monitor screen is needed for use with HP Envy 700-210.
Performance - HP Envy 700-210 is powered by AMD Elite Quad-Core A10-6700 Accelerated Processor operating at 3.7 GHz. The processor incorporates Turbo technology, that can temporarily bump core frequency up to 4.3 GHz. The processor is not as fast as the Intel Core i5 or Intel Core i7 processor as shown in the benchmarking data compiled by Futuremark (below). But the processor is still very capable of carrying out business productivity tasks with ease. HP Envy 700 series also comes in another model that is powered by Intel Core i5 - HP Envy 700-230.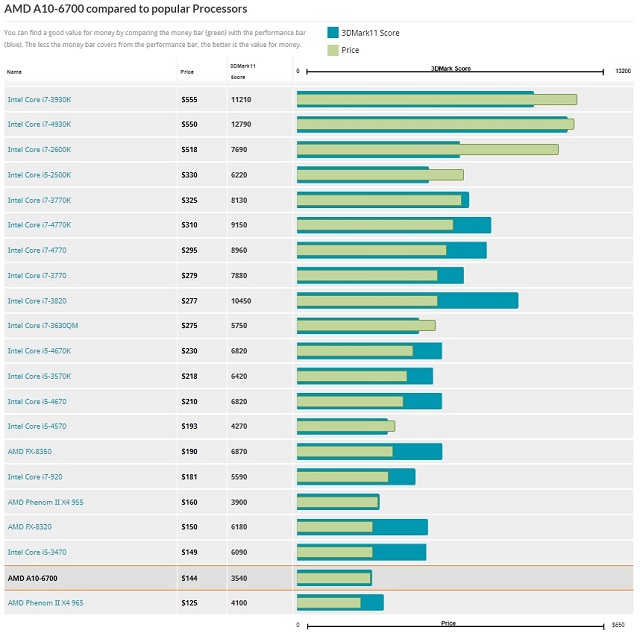 Storage & Memory - The desktop comes with 8GB of internal memory (expandable to 32GB) and 1TB hard drive (7200 RPM). This should be sufficient for both productivity tasks and casual gaming.
Graphics & Sound - HP Envy 700-210 comes with integrated AMD Radeon HD 8670D graphics card. It has no dedicated memory and thus depends on the speed and size of the desktop's internal memory. Futuremark has benchmarked the performance of AMD Radeon HD 8670D against some popular graphics cards and found it to be average at best. It may struggle playing modern games on high resolution.
For sound, the desktop features Beats Audio for a rich audio experience.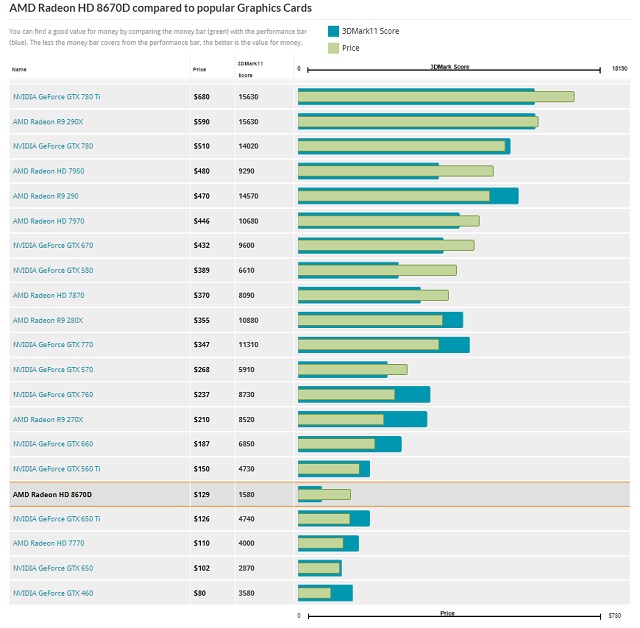 Operating System - Windows 8.1.
Click here for a closer look and buyer reviews.
HP Envy 700-210 has great connectivity options such as 802.11b/g/n Wireless LAN, an Ethernet port, integrated Bluetooth 4.0, SuperMulti DVD burner, plenty of USB 2.0 and USB 3.0 ports and a HP 15-in-1 multi-slot media card reader. The desktop also comes with a wireless keyboard and optical mouse. It is multi-display capable, so that you can connect more than one monitor simultaneously. HP Envy 700-210 can be easily customized and upgraded as per your requirements which allows for flexibility. The desktop measures 16.71 x 6.68 x 16.29 inches and weighs 21.6 pounds.
ReviewsBucket's Verdict:
HP Envy 700-210 is a reasonably priced desktop with decent specifications. It is great for business users and it will breeze through all productivity tasks that you throw at it. The desktop will keep casual gamers happy too but as mentioned above, hard core gamers are better off looking for a computer with a better graphics card. For a better processor, HP Envy 700 series also comes in another model that is powered by Intel Core i5 - HP Envy 700-230 or you could look at HP Envy 800 series PC powered by Intel Core i7. Untimately, it depends on how much you want to spend and what you really need. If you're on a budget then HP Envy 700-210 provides a good balance between price and performance.