HP Envy TouchSmart 14-k112nr Highlights -

Pros: Premium build & finish. Responsive touchscreen with great resolution. Capable processor for performing everyday tasks with good battery life.

Cons: No dedicated graphics.
The HP Envy laptop series is known for it's sleek and modern design. It is packed with great performance features and if you own one, it is bound to make others 'envy' your laptop. HP Envy TouchSmart 14-k112nr ultrabook is no exception. Being an ultrabook, it uses a low-power Intel Core i5 processor, solid-state drive, and slim chassis to reduce weight and bulk without compromising battery life. This ultrabook has features like Beats Audio with dual speakers, free 4G wireless broadband access for mobility and CoolSense technology. However, perhaps it's most stand out feature is it's 14 inch Quad HD+ touchscreen which gives users an incredibly sharp and detailed picture. As with most HP Envy series laptops, this ultrabook has a sleek and modern design with a silver finish and is just 0.84 inches thick.
Performance - The Intel Core i5-4200U dual core processor offers a base speed of 1.6GHz, but with Turbo Boost technology it can dynamically increase clock rates up to 2.6GHz. Also, due to HyperThreading, it can handle up to four threads in parallel leading to better multitasking. The processor is quite capable and is relatively powerful for everyday office productivity and multimedia tasks, as well as some demanding applications. According to the PassMark benchmark database, the 4th generation Haswell i5-4200U processor provides noticeable performance improvement over the comparable Core i5 from the previous 3rd generation 'Ivy Bridge' Core series (the i5-3317U), which also runs at up to 2.6GHz. The i5-4200U also consumes less power which leads to better battery life.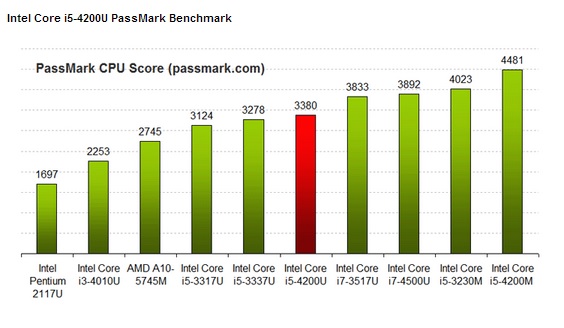 Storage & Memory - The laptop comes with 8GB of DDR3 memory and 120GB SSD (Solid State Drive) storage. SSD offers faster data access speeds, has no moving parts, uses less power than a standard HDD and generates no noise. This results in faster start ups and better battery life. Also, the 8GB of memory is great for multitasking and running memory hungry applications like Adobe Photoshop.
Display, Graphics & Sound - As mentioned, the stand out feature of the HP Envy 14-k112nr is it's 14 inch Quad HD+ touchscreen. It is based on IPS (In-Plane Switching) panel technology that displays consistent and accurate color from all viewing angles. However, this consumes more power and is a bit expensive to produce. In terms of the number of pixels, Quad HD is equivalent to 2560x1440 pixels (4 times the number of pixels you get on a 720p HD panel - hence the name Quad HD). However, because the screen is Quad HD+ it offers even an better resolution of 3200x1800 pixels. Also, with 10-finger multi-touch support, users won't be disappointed with how the screen displays images and the ease of user interaction. The integrated HD Graphics 4400 is capable of playing videos from streaming services like YouTube and Netflix and will have no issues playing recent games on lower resolution settings. Lastly, the sound quality is pretty good as it is powered through two Bose stereo speakers and a subwoofer.
Battery - The 3-cell lithium-ion battery offers battery life of up to 6 hours.
Operating System - Windows 8.1.
Click here for a closer look and buyer reviews.
Being an ultrabook, the 14-k112nr doesn't have accessories like optical drive which can make the laptop bulky. However, it does have the necessary connectivity options like 2 USB 3.0 ports (1 of them is a charge port capable of charging smartphones), 1 USB 2.0 port, HDMI, a digital media card reader, RJ-45 (10/100/1000) Gigabit LAN port, latest 802.11a/b/g/n/ac wireless and a mobile broadband module. Also, there is Bluetooth and a front facing HP TrueVision HD webcam. The ultrabook measures 13.61 x 0.84 x 9.42 inches and weighs 4.4 pounds (note: this is a bit heavier than most ultrabooks).
ReviewsBucket's Verdict:
The HP Envy TouchSmart 14-k112nr ultrabook is a further example of how the HP series of ultrabooks provide top quality together with an unbelievable price tag. This makes the ultrabook worthy of your consideration. It has an excellent display, decent performance and build quality that is in line with HP's motivation towards delivering quality products. Also, the speedy solid state drive will give you all the power and speed you need for completing a wide range of tasks. Overall, we are very pleased with the design and performance of the ultrabook and believe it will undoubtedly impress.