HP Pavilion 17-e116dx Highlights -

Pros: Inexpensive. Modern design. Good battery life.

Cons: Not suitable for high-end gaming. Bit bulky.
The HP Pavilion 17-e116dx is perfectly suited for users who want the convenience of a laptop without having to deal with a separate desktop and monitor for performing daily tasks like web browsing and running light office productivity applications. The 17.3 inch display is big enough to replace your computer monitor and still be able to work efficiently. The 1.3 inch thick glossy black body with micro-dot design and anodized silver-colored lid is packed with an Intel Core i3 processor, 4GB of memory and 750GB hard drive. All these features, plus a price tag of less than $500 makes this laptop very affordable.
Performance - HP 17-e116dx is powered by a 4th Generation Intel Core i3-4000M dual-core processor from the latest Haswell processor family. Each core offers a base speed of 2.4 GHz with no Turbo Boost support. The processor supports Hyper-Threading (HT) technology enabling the two cores to handle up to four threads in parallel leading to better utilization of the processor's resources. With HT technology, users will be able to improve productivity by doing more tasks simultaneously without having to slow down. This will be especially beneficial in work environments where users can have multiple applications open at the same time. The processor is a capable mid-range general-purpose processor that lacks the raw power of pricier quad-core processors. Nevertheless it is still reasonably quick and affordable. In benchmark tests carried out by CPUBoss, the processor came in very close to the Intel Core i5-4200U processor (refer below).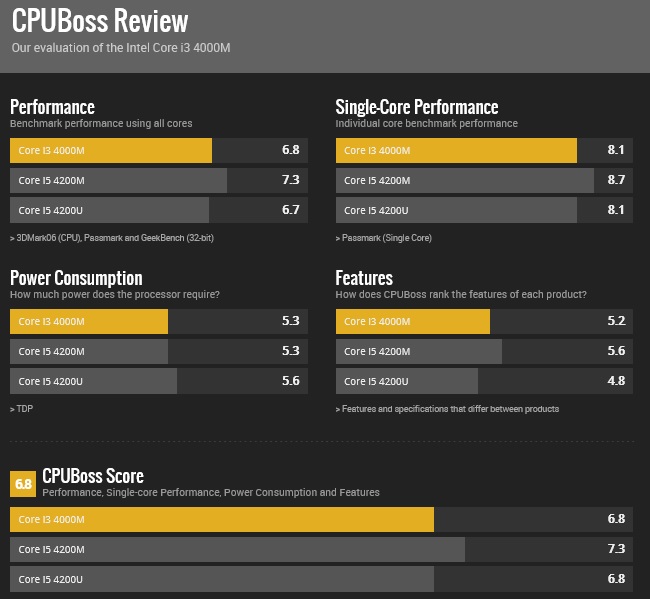 Storage & Memory - The laptop comes with 4GB DDR3 memory and 750GB (5400 RPM) hard drive. Even though 4GB of memory is adequate, we always recommend to our readers to have at least 8GB of memory, to ensure smoother multitasking ability which leads to a snappier performance. As the laptop has two memory slots, the memory can be easily upgraded to 8GB. Also the storage space is big enough to store a decent amount of multimedia files and documents.
Display, Graphics & Sound - HP 17-e116dx features a 17.3 inch LED-backlit high-definition display with HP's BrightView technology, which can produce a maximum resolution of 1600x900 pixels and up to 254 Nit brightness. Since the laptop is targeted to budget conscious users, HP has kept the cost down by making the display non-touchscreen. Even though it is not full HD (1920x1080 pixels), it is better than most 15 inch laptops with 1366x768 screen resolution. The processor integrated Intel HD 4600 Graphics doesn't offer gaming performance like that of a dedicated graphics card, but it can still be used for some casual gaming in low to medium settings. The stereo speakers with DTS Sound+ technology offers decent sound quality, however with the right kind of speakers like Bose Multimedia speakers, users will enjoy watching videos and playing music on the laptop.
Battery - The 6-cell lithium-ion battery promises up to 5 hours of battery life.
Operating System - Windows 8.1.
Click here for a closer look and buyer reviews.
HP 17-e116dx interface includes a USB 2.0 port, 2 SuperSpeed USB 3.0 ports, DVD±RW/CD-RW drive, front-facing TrueVision HD webcam, multiformat media card reader, HDMI port, VGA port, built-in high-speed wireless LAN (802.11b/g/n) and a built-in 10/100Base-T Ethernet LAN. The laptop measures 10.50 x 16.50 x 1.30 inches and weighs 6.4 pounds.
ReviewsBucket's Verdict:
The HP Pavilion 17-e116dx is a bit bulky due to it's heavier weight and thicker design. Power users may find themselves limited with the lower end Intel Core i3 processor and limited memory that comes with this laptop. Nevertheless with it's 17.3 inch display, this is one of the best sub $500 laptops that is currently available on the market. It is mainly suited for home and small business users that are on a tight budget, looking for a reliable laptop for daily office and multimedia tasks. Overall, we think the laptop is a very smart choice.