HP Pavilion 500-281 Highlights

Pros: Decent processor. Plenty of USB ports.

Cons: No Bluetooth support. Graphics card not suited for high-end gaming.
If you're reading this review then chances are you're searching for an all-purpose budget desktop computer. If this is the case, then you should definitely consider HP Pavilion 500-281. With it's Intel Core i3 processor, 4GB of memory, 1TB storage and easy expandability options, this desktop offers everything you'll need. The desktop features a clean modern look with a simple tower design. Please note that a separate monitor screen is needed for use with HP Pavilion 500-281. For All-In-Desktop (AIO) computers please read our reviews on Lenovo Ideacentre C560 or HP Pavilion 18-5010.
Performance - HP Pavilion 500-281 is powered by a 4th generation Intel Core i3-4130 processor with a clock speed of 3.4GHz. The processor lacks Turbo Boost but features Hyper-Threading to improve parallel processing (doing multiple tasks at once). The chart below illustrates relative multi-threading performance of processors that are most commonly compared to the Intel Core i3-4130 (source: CPU-World). The benckmarking data shows that the processor is decent and will be able to run multiple applications without any issues.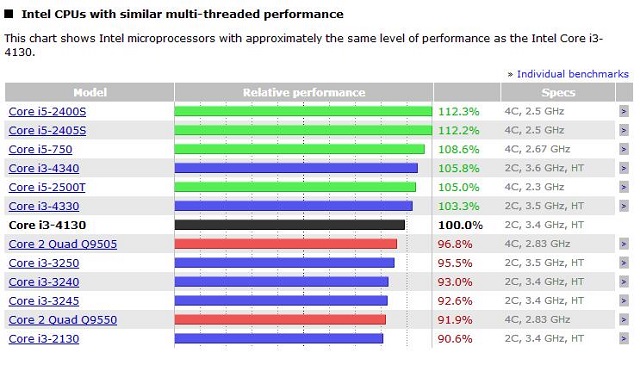 Storage & Memory - The desktop comes with 4GB of internal memory and 1TB hard drive (7200 RPM). Even though the memory is less than what you would find in other HP desktops like the HP Envy 700-210, it should be sufficient for home and home-office use. If required, the memory can always be expanded up to 16GB.
Graphics & Sound - HP Pavilion 500-281 comes with integrated Intel HD 4400 Graphics card. Please see below for a comparison against common video cards (source: Videocardbenchmark). Although it is not fast enough to run modern games in full-HD mode, it is quite suitable for everyday entertainment and multimedia applications. The DTS Sound+ system offers great sound experience with clear audio.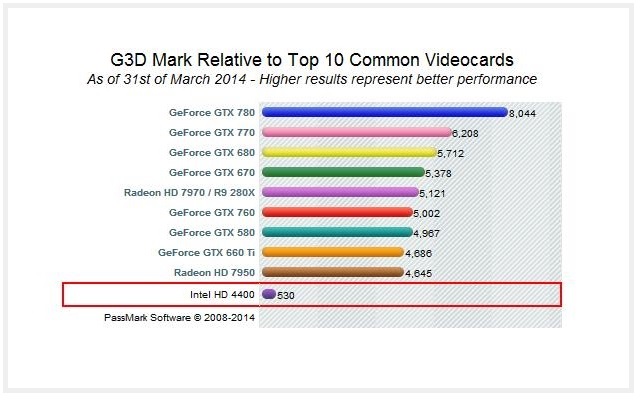 Operating System - Windows 7 Home Premium 64-bit.
Click here for a closer look and buyer reviews.
HP Pavilion 500-281 features great connectivity options such as 802.11b/g/n Wireless LAN, an Ethernet port, SuperMulti DVD Burner, plenty of USB 2.0 and USB 3.0 ports and a HP 7-in-1 multi-slot media card reader. The desktop also comes with a USB keyboard and optical mouse. It is multi-display capable too, so that you can connect more than one monitor simultaneously. HP Envy 500-281 can be easily upgraded as per your requirement which allows for flexibility. The desktop measures 19.53 x 6.91 x 14.48 inches and weighs 15.8 pounds.
ReviewsBucket's Verdict:
HP Pavilion 500-281 is a great all-purpose desktop suitable for home and home-office use. It is reasonably priced too and with it's convenient expandability options, the HP Pavilion 500-281 is very versatile so it can grow with your needs. If you're looking for a desktop with better specifications and willing to spend more, then you could consider HP Envy 700-230 powered by Intel Core i5 processor or HP Envy 800 series PC powered by Intel Core i7. Considering all of the above, we would highly recommend HP Pavilion 500-281 as a great all round desktop computer.