HP Slate 21 K100 Highlights -

Pros: Solid performance and build quality. Large, high definition screen

Cons: No internal battery. Limited storage.
When we first came across the HP Slate 21 K100 21.5 inch All In One (AIO) Touchscreen Desktop, we were not overly impressed, however after reviewing it in detail, this machine has grown on us and we have fallen in love with it. Let me tell you why. There are a few things that are very different about this AIO. First and foremost it is not a Windows machine - it is all Android. It is one of the first such products to enter the market and is powered by NVIDIA Tegra quad-core processor - again another first to have this kind of processing power. Secondly, it provides a very different experience to what you would expect from a traditional computer. Most of us are very used to a "Windows experience" and cannot really visualise a computer ecosystem which is not Windows based. Once you get used to this machine however, the HP Slate 21 K100 offers a very convenient and user friendly computing experience. It is a great alternative to Windows and Mac.
The design and build quality of the HP Slate 21 K100 is excellent considering the price. The whole body is made of plastic with an enamel finish so you may have to be careful about scratches but apart from that, it looks elegant and classy and it will be comfortable sitting anywhere in your home or office. At the back, there is a kickstand that allows the device to be reclined into different viewing angles (between 15 and 70 degrees), or even flat on the table. It also offers a wall mounting option, which isn't common in budget AIO desktops.
Please note, don't expect this machine to behave like a traditional Windows AIO desktop otherwise you'll be disappointed. You're better off considering other alternatives. HP has already announced a counterpart which runs standard Windows 8 and includes a Haswell processor - the HP Envy Rove 20-K120 or HP Envy Recline 23-M120 AIO desktops.
Performance - HP Slate 21 K100 is powered by an NVIDIA Tegra T40S processor. This processor is specifically designed for Android and Windows RT tablets and smartphones. It is a quad-core 1.66GHz processor, based on the ARM's Cortex-A15 architecture. The processor harnesses ARM's most advanced CPU cores ever, plus a second-generation battery-saver core, to deliver excellent performance and battery life. The cores can be clocked up to 1.8GHz and NVIDIA claims performance levels to be above that for current high-end tablet and smartphone processors like the Apple A6. Since the HP Slate 21 K100 is running an Android operating system, the processor is powerful enough to deliver exceptional speeds for a very smooth computing experience.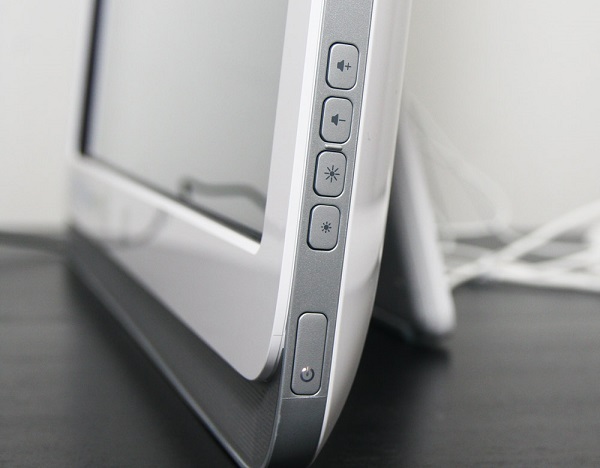 Storage & Memory - The AIO desktop comes with 1GB DDR3 memory and 8GB eMMC (Embedded MultiMediaCard) storage. At first the memory size may sound below average, but we will remind you that for an Android system this is actually quite good. The 8GB storage space is on the lower side, but HP is offering free 25GB lifetime cloud storage from Box (the offer is valid through December 31, 2014). The desktop is capable of booting up in 30 seconds from a cold start and has an instant sleep/awake function.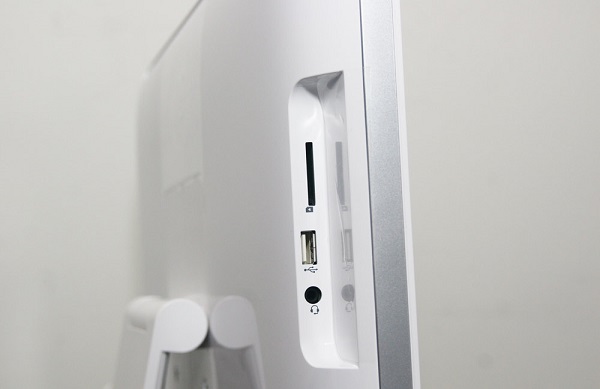 Display, Graphics & Sound - Without a doubt, the most talked about feature of HP Slate 21 K100 is it's display. It features a 21.5 inch widescreen Full HD (1920x1080) LED-backlit touchscreen display. The IPS (In-Plane Switching) panel with it's 178° viewing angles is brilliant in terms of color reproduction. The screen is beautiful, bright, and responsive. As far as most of the AIO desktops in this price range are concerned, the viewing experience of movies or games is absolutely unmatched. Also, the integrated GeForce graphics card offers 72 cores with a reasonably good gaming experience. Please note, because of a lack of sensors (no GPS or accelerometers) this AIO is not capable of playing games that require tilting of the device (driving or flying games) but it will have no issues playing games like Angry Birds, Candy Crush Saga etc. The four integrated speakers with DTS sound+ enhancement offer good sound quality.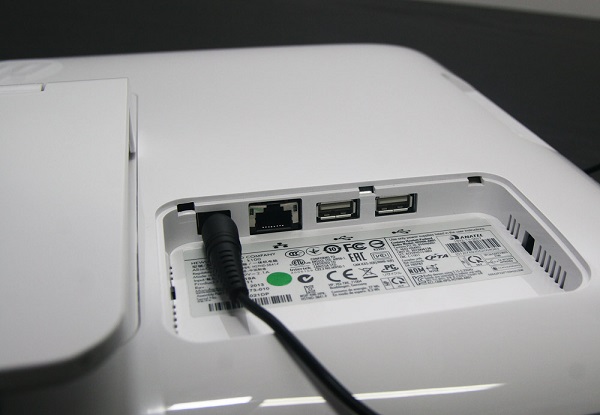 Battery - There is no built-in battery and the only way to power the desktop is via AC power.
Operating System - Android 4.2 (Jelly Bean).
Click here for a closer look and buyer reviews.
HP Slate 21 K100 includes a Secure Digital (SD) card reader and 3 USB 2.0 ports (2 in the rear, 1 on the left side) to expand it's storage capacity by plugging in an external hard drive. It offers Wireless LAN 802.11a/b/g/n, RJ-45 (Ethernet 10/100) port and Bluetooth 3.0 connectivity. It also has Wi-Fi Direct support to connect to phones, tablets, and other Wi-Fi-enabled devices directly without the need to set up a router. The short-cuts across the top of the keyboard that come with the desktop are very handy and the mouse is very responsive. On the center of the upper bezel users will find the HP TrueVision HD Webcam that supports still images and 720p resolution videos. HP expects the desktop to be shared amongst multiple users, so it lets users set up a maximum of five user profiles, which allows each user to customize their apps. The desktop comes preloaded with the Splashtop 2 HD software that lets users access their Windows computer remotely as well as KingSoft office software which has full compatibility with Microsoft Office for work and school. The AIO desktop measures 13.92 x 2.63 x 20.90 inches and weighs 10.7 pounds.
ReviewsBucket's Verdict:
HP Slate 21 K100 21.5 inch All In One (AIO) Touchscreen Desktop works effectively like a large tablet. Though more AIO's use Windows as their main operating system, HP has gone in a different direction and come up with this device which runs on an Android operating system. We think there is nothing wrong with offering users alternatives. If you a need a simple AIO at home, to do the types of things that most people actually use their computers for (like web browsing, emailing, multimedia and casual gaming) without the hassle of Windows, then this system will suit you perfectly. What you get is a system that offers solid performance and a stunning display for an attractive price. Users can tap the screen with just about anything as the touchscreen is very responsive, as long as it doesn't scratch the screen. The only issue we have with this device is the lack of internal battery which makes it non portable like tablets and the small storage space. Regardless, the device boots up very quickly so frequent startup and shutdown is not a major issue. Also, the device has no problems accepting any USB drives so we think it's internal small storage issue can be remedied. Overall, we love this AIO desktop and would recommend this to you as well.