System Mechanic 14.5 Highlights -

Pros: Well designed interface. Vast set of features. Easy to use. Unlimited home computer license. Useful desktop widget. Delivers obvious speed improvements.

Cons: Requires multiple restarts. Repair process can take a long time.
Most computer users underestimate the need for regular PC maintenance. It's easy to keep using the computer and to overlook the maintenance aspect while it's running well, however over time computers can slow down and what was once a fast system can become slow and cumbersome to use. This is especially true for computers running Windows operating system. There are several possible reasons for a slow and sluggish computer. Apart from the processor itself being slow overall, it could be related to system clutter (accumulation of a large amount of temporary and unneeded files), disk fragmentation, registry issues or due to a large number of unnecessary programs and services automatically loading at startup. With Windows 7 and 8, Microsoft has done a really good job of making the system perform well over time by automating some of these maintenance tasks. Also, there are tools like Disk Cleanup, Drive Optimizer and Task Manager that are baked into the Windows operating system that can assist with a variety of cleanup tasks. Whatever the reason for slow performance, it is always a good idea to carry out PC maintenance tasks on a regular basis. There is no reason that a computer can't perform as fast as it did the day you bought it. We think it's worth the trouble maintaining your computer. This is where programs like System Mechanic can help users by providing a one stop solution with the necessary tools needed to fix and speed up your PC and perform routine maintenance tasks.
iolo's System Mechanic 14.5 claims it can help diagnose and fix over 30,000 different PC issues, cleanup the system, plug security holes and optimize programs and settings thereby improving performance. It has tools to cleanup system clutter, fix and defragment the registry, tune Internet connection, fix security vulnerabilities and even optimize system performance in real time. In this review, we take a closer look at what System Mechanic 14.5 has to offer and whether it stacks up against the claims it makes. We were offered a review copy and the software was tested on a reasonably old Toshiba Portege R830 running Windows 7 with an Intel Core i5 processor, 2GB of memory and 500GB hard drive.

Getting Started -
System Mechanic 14.5 is compatible with computers running Windows 8.1 as well as Windows 8, Windows 7, Vista and XP (Service Pack 3). Also, it requires a minimum of 512MB of memory and 400MB of free hard drive space to run smoothly. The installation process itself is pretty straightforward, just a couple of clicks and you'll have the software installed in under 5 minutes. As for the license, during the installation process you'll be asked to enter an existing license key if you already have it, purchase a license or evaluate the software for a limited time. iolo offers 'Whole Home License' that allows installation across an unlimited number of a user's home computers, rather than limiting it to just 3 or 4, which we think is really a great benefit. The interface is minimalistic and looks very clean. The software doesn't slow down the system while it's running and it's overall memory footprint is quite low. There are several options in the left pane (Dashboard, ActiveCare, LiveBoost, Internet Security, Toolbox and Reports) that have their own individual sub-categories that will allow you to configure, check for statuses, problems or run specific tools. Another handy tool that you can optionally install is a desktop widget that gives you at-a-glance health and security status of the computer. From this widget, you can run a system scan to determine your computer's health, repair issues or launch various other System Mechanic's tools. Overall, the software has a simple and well-designed interface.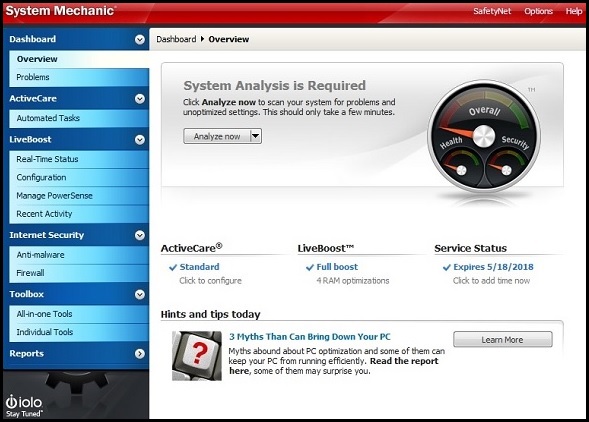 Initial Scan -
When the program is first launched, it offers to analyze your computer by either doing a quick scan or a deep scan. A quick scan checks for the most common issues, whereas deep scan checks for all types of problems and usually takes longer. We ran the deep scan and then used another popular PC optimization and cleaning program - CCleaner by Piriform and compared the results. What we were interested in is how much of system clutter (temporary files, Internet cache etc.) these programs were able to find. At first we focused our attention on temporary Windows files and System Mechanic was able to find about 91MB of clutter in 909 temporary files, whereas CCleaner found 38MB of clutter in 830 files. We then looked at the Internet cache files accumulated by Google Chrome and System Mechanic was able to find about 378MB of clutter in 805 cache files, whereas CCleaner found 578MB of clutter in 1,158 files. This was a bit disappointing as we were expecting System Mechanic to find a similar amount of cache files to that of CCleaner. Another observation was that System Mechanic doesn't tell you exactly what it is going to delete unlike CCleaner. This may be good enough for a novice who just wants to get rid of the clutter, but experts may want to have more control. Our guess is iolo had simplicity in mind and didn't want to confuse users with the details. Overall, there wasn't much of difference in the size of system clutter that both software could find. To us as long as the majority of the clutter gets identified, users should be happy and System Mechanic does that well enough. We then looked at the registry issue identified by System Mechanic and it was the clear winner, as it was able to identify 82 issues as compared to only 7 issues identified by CCleaner. Also, users have more visibility here as System Mechanic shows each individual detail of the registry issue.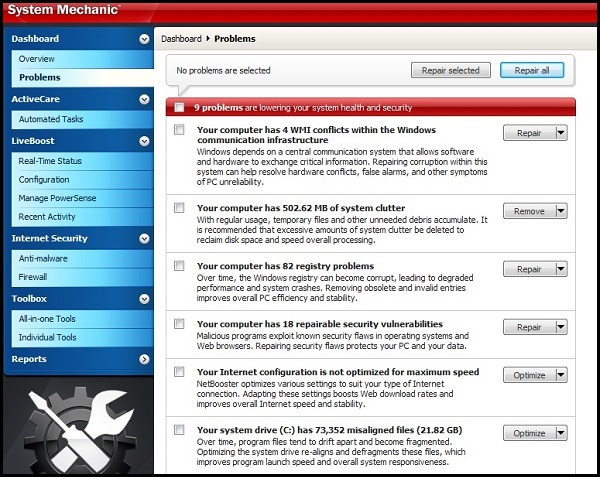 In total, System Mechanic was able to identify issues across 9 high level problem categories and gave us an overall system status rating of 'Poor'. Our test system had 4 conflicts within the Windows communication infrastructure, 502MB of system clutter, 82 registry issues, 18 repairable security vulnerabilities, non-optimized Internet configuration, 73,354 of misaligned and fragmented files, low memory level, no registry backup and 11 percent registry fragmentation. There were also 2 additional recommendations available relating to 3 unnecessary and 21 potentially unwanted startup items. While this may all sound complicated, with just one click you can either repair all of them at once or individually select the ones that you would like to repair, remove or optimize. You can also drill down into almost any of these 9 high level categories to see the finer detail and open the individual tools related to that problem category. You can even add selected problem categories to System Mechanic's ActiveCare, which will then schedule an automated task to proactively manage these issues.
Repair -
We opted for a full repair and depending on the type of issue that needs to be fixed, this may take some time. The task that took the longest was optimizing the hard drive. The majority of other repair tasks were quick though. For us the whole process took about an hour and was followed by a system restart. After the reboot, the overall system status was rated 'Good'. However, 2 additional recommendations relating to startup items and potentially unwanted programs were still there. These are programs that automatically load during startup or are programs that offer similar (redundant) functionality. Most of System Mechanic's repair tasks happen behind the scenes and require minimum user interaction but at this point of the process, users will have to review each of the recommendations and decide whether to keep startup items on/off and uninstall redundant programs completely. To help users decide, there is also a Community results section for each problem item. It can provide a valuable resource to users who are uncertain which startup or redundant programs to keep. It shows the overall tendency of System Mechanic users to keep or uninstall the program, and is represented as a two-colored (Green and Red) segmented percentage bar. We think this is really useful. The software also has a SafetyNet feature that allows you to review or roll-back any changes made to the system. This is another useful feature which we really like in case something goes wrong. After all the repairs were carried out by System Mechanic we started to notice an obvious improvement in performance. System Mechanic didn't make any changes to the hardware, but by removing clutter, optimizing the registry and hard drive the computer felt more responsive.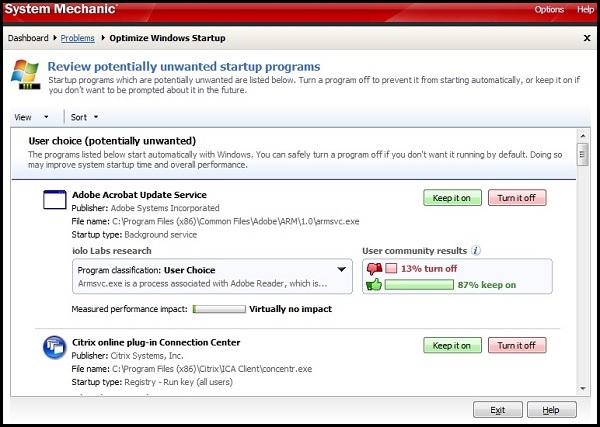 Additional Features -
The ActiveCare feature of the program which we briefly touched upon above are automated tasks that can be enabled to proactively help detect and repair problems as they arise, thereby keeping your PC free of potential issues. ActiveCare only runs when the computer is idle so it will not take up resources and interrupt your work. We think it is best to leave the default setting that System Mechanic recommends.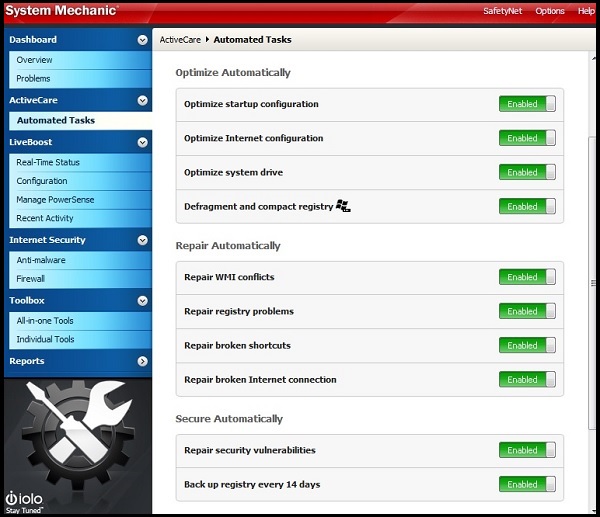 Another interesting feature of System Mechanic is it's LiveBoost technology. It takes an already optimized computer and makes it feel even more responsive and snappier. It does this by fine tuning the processor, memory and hard drive. LiveBoost is comprised of four specialised tools - PowerSense, RamJet, OptiCore and AcceleWrite. PowerSense automatically senses and switches the power modes when it detects that more processor power is needed for the task at hand and in real time. System Mechanic comes with 7 built-in modes as compared to 2 power modes that come by default in Windows. The 7 built-in modes offer various power options from gaming to maximizing the battery. You can either let the software switch between the modes depending on the work load or select a power mode manually. Additionally, you can create your own power mode. With RamJet, every time your computer's free memory goes below 20%, it will instantly free up memory which is no longer used by applications so that the computer feels snappy again. The OptiCore kicks in whenever your processor starts to become dominated by applications and grabs back enough processing power for things that you want your PC to do right now, making the system feel more responsive. Finally, AcceleWrite improves overall hard drive performance by optimizing file read/write and preventing disk fragmentation. Within System Mechanic, these tools run automatically and in real-time as needed. You can see all this in action in the LiveBoost dashboard. We were very pleased with how this all fits together with System Mechanic's core optimization functionality.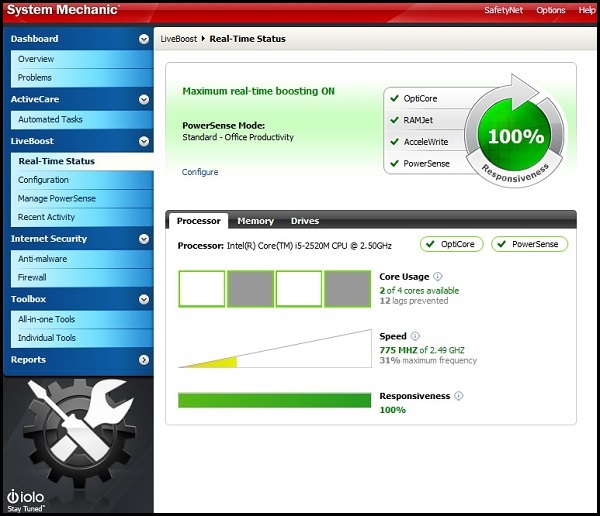 Click here for a closer look and buyer reviews.
The software also comes with an Internet Security section which in the basic version just detects whether an antivirus/firewall is installed or not. iolo also provides an antivirus solution with it's System Mechanic Professional that uses iolo's System Shield as a defense against spyware and viruses. However, since we were using the basic version, it detected that we were using a separate third party antivirus software and provided an option to turn off the antivirus monitoring. It also detected that we were using the Windows built-in Firewall and offered an option to disable this as well.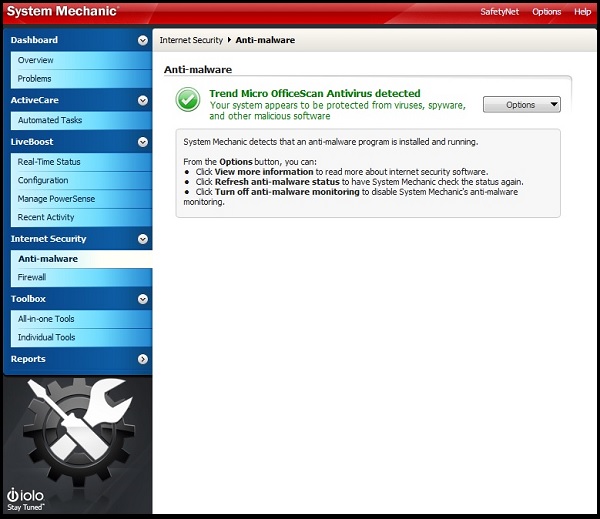 If you would rather optimize and enhance individual computer performance settings, System Mechanic gives you that option too with it's Toolbox. It comes with all kinds of power tools for geeks and experts alike. There is a PC Accelerator that supercharges Windows, a PC Repair Wizard for repairing errors and computer crashes, a PC Cleanup tool for removing system clutter and a PC Security tool. There is also a plethora of individual tools that you can fire up at anytime to detect and repair a specific problem or function. We were really impressed with the range of tools that were at our disposal.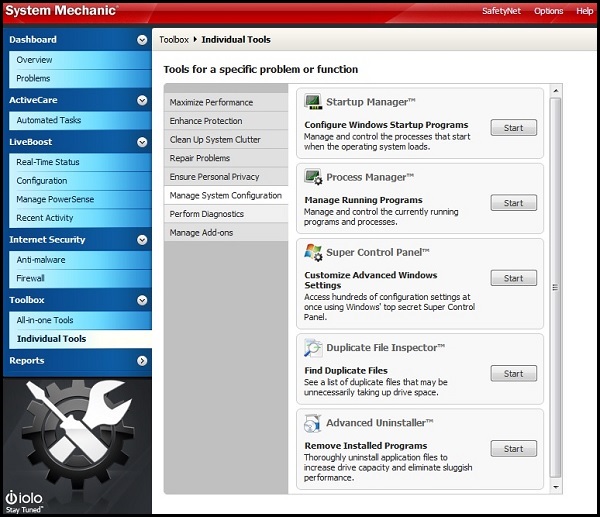 The reports sections is fairly impressive too. Users have the ability to check history or check the IntelliStatus which shows detail about the hard drive space, startup programs, system memory allocation, running programs and Internet speed. In addition, with just one click you can perform optimization and clean up. There is also a Reliability and Energy Efficiency section which shows your PC reliability during the last 90 days, scored on the scale of 1 (least stable) to 10 (most stable) along with your PC's energy efficiency. iolo also provides extensive FAQs and phone support to help you use System Mechanic. There are even How To videos that highlight all the robust sets of features of iolo's various products in step-by-step demos.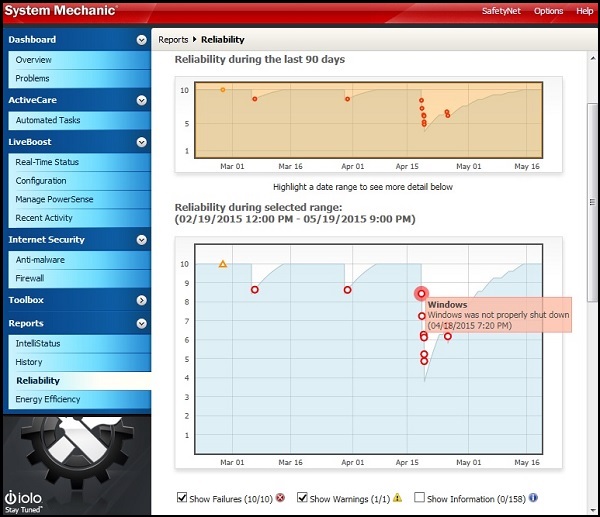 ReviewsBucket's Verdict:
Overall, we think iolo System Mechanic 14.5 is an excellent example of a very well thought-out PC maintenance suite. It is not only able to detect and fix a wide variety of PC issues, it also actively looks for and helps prevent problems with your system before they occur. It's user interface is simple, minimalistic and easy to use, albeit a bit boring. It has loads of features and settings including hard drive optimization, removing unused and junk files and cleaning startup programs. Not only that, with it's LiveBoost feature it takes PC optimization one step further and supercharges the processor, memory and hard drive to deliver the same kind of feeling and responsiveness as the day you bought your computer. Those looking to bring a slow computer back to it's original state or just want a one stop solution for general PC maintenance should definitely give System Mechanic 14.5 a try. It comes with a 30 day money back guarantee, along with an unlimited home computer license and user support.

About iolo technologies, LLC:
iolo technologies, LLC develops patented technology and award-winning software that repairs, optimizes and protects computers and digital devices, enabling users to enjoy their full computing potential by keeping devices running fast and reliably. iolo's flagship performance optimization suite - System Mechanic with it's 16 years of PC tune-up innovation has helped repair over 75 million PCs worldwide and is ranked highly as a PC Tune-up software utility.