LG Chromebase 22CV241 Highlights -

Pros: Quick start-up. Sleek and modern design

Cons: Average specifications. Non-touchscreen display.
LG's first attempt at building an All-In-One desktop featuring Google's operating system (OS) - the Chrome OS, has resulted in the world's first Chromebase. LG has adopted a simple and minimalistic design built around a 21.5 inch screen with modest specifications. The LG Chromebase 22CV241 is powered by an Intel Celeron processor, 2GB of memory and 16GB of solid-state storage. The highlight of this desktop though, is Google's Chrome OS. Traditional operating systems, such as Windows, require a lot of user involvement in maintaining the system: from managing and installing hardware drivers to keeping the system up to date with security updates and patches. Needless to say all of this takes up storage space. The Chrome OS aims to overhaul this paradigm.

With Chrome OS, the browser is the OS. The Chrome OS builds on Google's Chrome browser. The browser serves as a gateway to tens of thousands of web apps in the Chrome web store, many of which work just as well offline as they do online. With the Chrome OS, users will be able to write emails and documents, read the latest news and ebooks, edit videos and photos and play entertaining games just like any with any other traditional operating system. The Chrome OS takes full advantage of Google products such as Gmail, Drive, Search, Maps, YouTube, Play or Google+ Hangouts. Additionally, the Chrome OS offers robust built-in security, employing multiple layers of protection to keep users' information safe and with automatic built-in updates, the operating system reduces the hassle of manually having to maintain the computer. Users no longer have to purchase security software or new versions of word processing and other common software – they are provided for free through automatic updates, ensuring all programs are always up-to-date. This keeps the Chromebase running quickly and smoothly as fewer programs are using the computer's storage.
The entire Chrome OS revolves around the cloud computing model, which simply means that users' data and applications are stored online in the "cloud" and can be accessed anywhere, and from any computer. LG Chromebase 22CV241 features a sleek and modern design and comes in a white or black color.
Performance - LG Chromebase 22CV241 is powered by an Intel Celeron 2955U processor with a clock speed of 1.4GHz. It is an entry level, ultra low voltage dual-core processor. It lacks features like Turbo Boost, which enables the processor speeds to be boosted or slowed down depending on the task, and Hyper-Threading in which multiple threads can be run simultaneously on one CPU core. The processor is comparable to the Intel Core i3-4010U processor although it lags in terms of performance (source - CPUBoss). Nevertheless, this processor is adequate for carrying out simple office and multimedia tasks.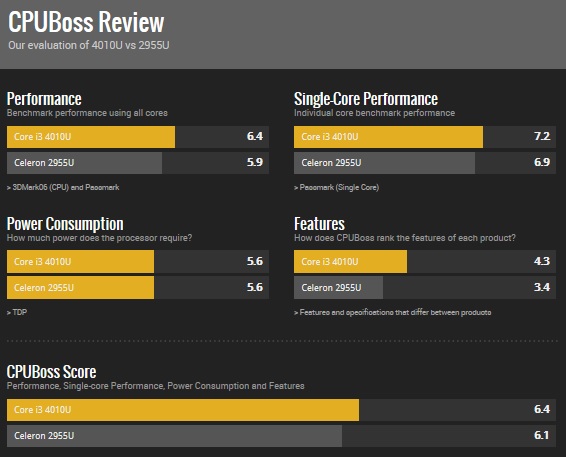 Storage & Memory - The desktop comes with 2GB of memory and 16GB Solid-State Drive (SSD). Compared to traditional electro-mechanical hard disks, SSDs are typically more resistant to physical shock, run silently, have lower access time, and less lag time. The 16GB storage may sound small, however since the Chrome OS is cloud based, the users data is stored online meaning that storage should not be a big concern. The desktop comes with two years worth of 100GB of Google Drive cloud storage.
Display and Graphics - LG Chromebase 22CV241 features a 21.5 inch Full HD (1920 x 1080) IPS display. Similar to other IPS widescreen displays like the Acer H276HL, this monitor delivers great color contrast with an ultra-wide viewing angle. The Intel HD Graphics lack the same graphic capabilities as the Intel Core processors because of the slower and older Intel integrated graphics processor. Although this is not suited for high-end gaming, it is still good for casual gaming in low resolution setting and other multimedia tasks. The desktop also features a pair of built-in 5-watt speakers for clear sound.
Operating System - Chrome OS.
Click here for a closer look and buyer reviews.
LG Chromebase 22CV241 comes equipped with a keyboard and mouse and the connectivity options include HDMI, built-in SD card reader, 4 USB ports (1 USB 3.0, 3 USB 2.0), wireless-N and Bluetooth connectivity and a Gigabit Ethernet LAN port. Additionally, a 1.3 megapixel front facing webcam is capable of capturing 720p video. The desktop measures 20.80 x 7.40 x 15.60 inches and weighs 9.5 pounds.
ReviewsBucket's Verdict:
LG Chromebase 22CV241 features a great design and is simple and practical. It offers an effective way of using Google's services on a desktop. The bare-bones functionality and the affordable price is geared toward home, school and small business settings. It is not a powerful machine but the Chrome OS isn't really hardware intensive (ensuring quick start-up). For users who aren't really going to do much apart from surfing and using web apps, we think the specifications are adequate. Also, whether you like this desktop will largely depend on whether you are comfortable using Chrome OS. The display itself is very impressive and well worth the price. We think it is worth mentioning that the LG Chromebase 22CV241 was awarded with a 2014 Consumer Electronics Show (CES) Innovations Award in the highly competitive Computer Hardware & Components category.