Logitech Performance Mouse MX Highlights -

Pros: Works on a variety of surfaces. Unifying receiver.

Cons: For right-handed use only. May need getting accustomed to.
There is no denying that a wireless mouse provides great convenience when using a laptop or desktop computer. A corded mouse looks very messy and can make your desk look cluttered. But the thing that annoys us the most about a wireless mouse is it's inability to work properly on certain surfaces (like glass). Enter Logitech Performance Mouse MX to solve this issue.

Logitech Performance Mouse MX uses Logitech's Darkfield Laser Tracking to track it's movement on surfaces like clear glass and highly reflective desks, which is very hard for a standard optical or laser mouse to do. A traditional mouse uses irregularities on the surface to track the direction and speed of the mouse. The more irregularities on a surface, the easier it is for the sensor to track movements. On a smooth surface like glass there aren't enough imperfections for a standard mouse to work. Darkfield laser tracking technology uses the smallest possible detail to create a map of the surface. This enables precise cursor control on virtually any surface.

In addition, the Logitech Performance Mouse MX allows you to continue working without stopping to recharge it's batteries. It comes with a micro USB cable — one end plugs into the mouse, the other into either the included wall jack or a USB port on your PC, allowing recharging in the background. Also, the indicator on the side of the mouse will tell you when it needs recharging.

We would like to highlight that the Logitech Performance Mouse MX is primarily designed for right-handed users. The sculpted design cradles the hand while the groove along the left side of the mouse is designed as a resting place for the thumb.
Another great feature of Logitech Performance Mouse MX is the Unifying receiver. Chances are that if you're using a wireless mouse, then you'll also want to use a wireless keyboard as well. The Unifying receiver (a very tiny 2.4-GHz wireless device that plugs into the USB port) allows up to six compatible input devices (mouse, keyboard etc.) to be connected simultaneously. This means that just one receiver is needed rather than having one for each input device. This will save you from using your computer's additional USB ports.

Lifehacker, a lifestyle and technology blog, have recently carried out a user survey asking which mouse users thought was best. The favourite by far was the Logitech Performance Mouse MX and the MX Revolution (it's predecessor) with close to 43% of the overall vote.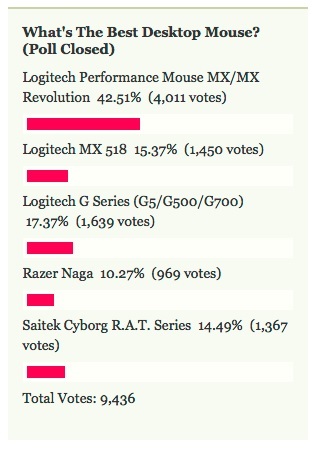 Click here for a closer look and buyer reviews.
Logitech Performance Mouse MX features Hyper-Fast scrolling and programmable buttons to easily navigate documents and web pages quickly and efficiently. The mouse has a total of seven buttons and functions: Left, Right, Back, Forward, Zoom, a scroll wheel, and a thumb button. All of these are easy to access and click. The mouse is a little on the heavy side, weighing 5.8 ounces, but it is easily maneuverable. The mouse is also a bit long, measuring about 5 inches in length (it's 3.25 inches wide and 1.75 inches tall).
ReviewsBucket's Verdict:
Logitech Performance Mouse MX offers solid usability and functionality with the ability to operate across diverse surfaces such as wood, plastic and glass. With a single receiver, you'll be able to connect multiple compatible input devices and with the added benefit of recharging the battery while simultaneously using the mouse, this mouse is a great choice. The mouse has an unusual design which may take time getting used to. If you're thinking of buying this mouse, then we would also recommend purchasing the wireless logitech keyboard as well. Logitech have brought their premium keyboard and mouse together to create an exciting new offering with the Logitech Wireless Performance Combo MX800. Apart from all the features of the Performance Mouse MX, you'll get a keyboard with laser-etched PerfectStroke and Incurve keyboard keys for optimum comfort and smart illumination when you're are using the keyboard in low light conditions.