Logitech Wireless Touch Keyboard K400 Highlights -

Pros: Lightweight and compact. Inexpensive. Decent range. On/Off switch to save power, Universal USB Receiver. Great for occasional use.

Cons: Cheap build quality. Non-backlit keypad, No numeric keypad, No Bluetooth support.
We have always liked the idea of connecting a high definition TV (HDTV) to a portable computing device like a laptop. It is one of the most convenient ways to stream media and is really simple to setup. Although there are other media streaming devices available on the market like the Amazon Fire TV, Apple TV, Chromecast and Roku 3 Media player, we feel it's unnecessary as all you need is a HDMI cable to connect your laptop to a HDTV and have the same functionality.
This allows you to take full advantage of the plethora of online movies and TV shows available with the added benefit of increased workspace. Websites like Netflix and YouTube have thousands of movies/TV shows that you can watch by connecting your laptop to a HDTV. Additionally, you can avoid the costs of purchasing a separate DVD/Blu-ray player or even a gaming console as you'll be able to play DVD/Blu-ray movies and web/software based games on your laptop, and play it back directly on the big TV screen. Furthermore, you'll be able to listen to radio stations or show off personal photos and videos to friends and family on the big screen. Basically you'll be able to mirror anything that's on your laptop, but on a much bigger display.
If you are using such a setup, then this is where a portable keyboard like the Logitech wireless touch keyboard K400 with built-in multi-touch touchpad (Model: 920-003070) will come in especially handy. Instead of hunching over your TV-connected laptop and constantly getting up to type or use the mouse, you can sit comfortably on your couch and use the keyboard or touchpad of the K400 to control your laptop. The Logitech K400 is primarily designed as a home entertainment companion giving you full control of the laptop. It offers much more mobility and can also be used on your lap, in bed, or on-the-go for laptop users. As far as it's aesthetics is concerned, it is a good looking keyboard however it may feel a bit flimsy. The build quality is pretty average which is what you would expect from a very competitively priced keyboard. In our opinion, the keyboard may get damaged if it's handled rough, especially considering the way the black upper panel and white bottom panel are married together. Apart from that, it is very compact and thin at only 0.9 inches thick and weighing just 12.6 ounces (lighter than an iPad). It looks like the big brother of your everyday TV remote control.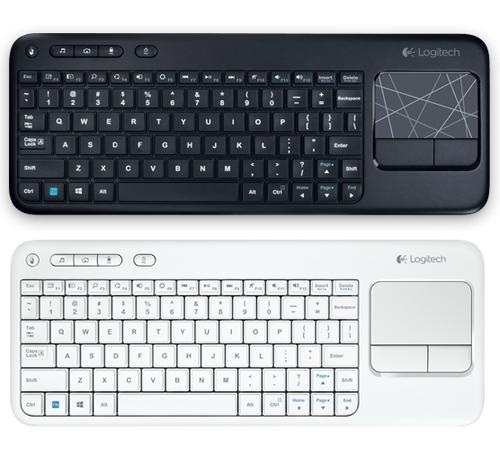 The Logitech 920-003070 wireless touch keyboard K400 comes with a unifying USB receiver and a USB extender. The setup is straightforward and involves plugging the USB receiver in one of the USB ports of the laptop, waiting for Windows to detect it and then switching it on. It's a simple plug-and-play installation. The 2 AA batteries are already pre-installed so users won't need to spend extra on the batteries. It's 2.4 GHz wireless range is pretty good and we had no connectivity issue within 25 feet (advertised range of up to 33 feet) distance from the laptop. Another great thing about the Logitech Unifying USB receiver is that it will allow connecting every Logitech device that supports it to a single receiver – but still, it will take one USB port. There are wireless keyboards available like the Logitech Bluetooth Illuminated Keyboard K810, which uses Bluetooth technology for connecting to a laptop and these are definitely the best way to go in situations where every USB port counts. However they are way more expensive than wireless keyboards like the Logitech K400 which uses a wireless USB receiver for connectivity. Another plus point of the K400 is it's battery life. Logitech claims the AA battery will last a full one year if users simply use the on-off switch to turn off the device when it is not in use. It's fair to say that to test Logitech's claim would take some time (precisely one year!). However, we have read some reviews that also claim that the battery will last for a year based on average use and turning the device off when not in use. We guess the jury is still out on this though.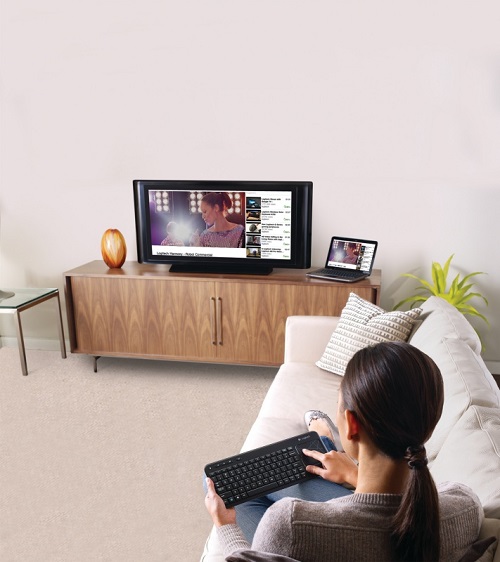 The keyboard is very sleek and has a compact layout. At the top of the keyboard, there are some media hot key controls like Mute, Play, Volume up or down for easy control. As far as the keys itself are concerned, we have a mixed opinion. Because of the compact layout, some may find the keys to be really small while others may find it to be pretty usable. We think that as long as you don't use it as your primary keyboard and mainly use it as a secondary 'couch keyboard' for occasional typing, then it is perfect. However, there is very little space between the keys and some of the keys are really small like the Right Shift and Enter key. We wouldn't exactly recommend the keyboard for long hours of typing for this reason. Additionally, the keys are stepped as opposed to a floating-island design found commonly in most modern laptops. The keys aren't backlit, which would have been especially useful in a dark living room. The keyboard lacks numeric keypads too, which may or may not be a big issue depending on user preference. Other than that, we found the key sensitivity and response to be good enough for occasional use.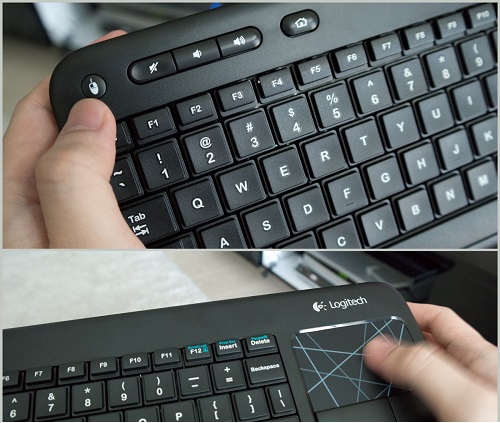 Click here for a closer look and buyer reviews.
What sets the Logitech wireless touch keyboard K400 apart from some other compact keyboards on the market is the built-in touchpad. The 3.5 inch touchpad allows for multi-touch navigation for horizontal and vertical scrolling. It has left and right click buttons located beneath the touchpad. It also supports full Windows 8 gestures. The sensitivity of the click buttons are not the best and the touchpad itself is not that precise. Again, the touchpad is not designed for replacing the traditional mouse, but it will however fully serve the purpose of occasional scrolling and clicking on a laptop that is connected to a HDTV from a distance. The keyboard measures 5.4 x 13.9 x 0.9 inches and weighs only 12.6 ounces. The keyboard comes in white as well. Also, there is a very similar model Logitech Wireless K400R, which has extra functionality - as in Mail, Volume, Play, Stop etc. built on all Function keys. To use just the Function keys (F1-F12), users will have to hold down the FN key.
ReviewsBucket's Verdict:
Logitech makes some of the best keyboards and other accessories for desktops, mobile devices and tablets. The Logitech wireless touch keyboard K400 with built-in multi-touch touchpad is primarily designed to provide convenience when using a laptop connected to a HDTV. It wasn't built to offer a great typing experience and neither it is meant to replace your traditional full sized keyboard or mouse. It does lack some features like backlit and bluetooth support, however flexibility and convenience is the key goal here and it is perfect from that perspective. If you're looking for a lightweight, inexpensive keyboard as a home entertainment companion or for occasional use, the Logitech K400 is a great choice.