RAVPower RP-WD01 Highlights -

Pros: Inexpensive. 5-in-1 functionality. SD media card reader. Portable battery pack.

Cons: Only 1 USB port. Tech novices may initially get frustrated when setting up.
With wireless being the buzz word these days, everyone wants the convenience of connecting and having access to documents and files stored on an external storage device wirelessly. RAVPower have come up with an innovate product called the RAVPower FileHub 5-in-1 that is capable of acting as a central point for sharing files with the added benefit of charging mobile devices simultaneously. In it's simplest form, it is a wireless SD card reader and USB storage media sharing device. RAVPower specializes in making external battery packs, replacement laptop and cell phone batteries and various battery chargers. The RAVPower FileHub 5-in-1 is very similar to HyperDrive iUSBport 2 Wireless USB Port Hub that we have recently reviewed. It is capable of performing the following five main functions:

* WiFi Hotspot - Creates it's own wireless network or can be connected to an existing wireless network for wireless file sharing.
* Sharing USB media storage - Share and transfer files (photos, movies, videos or documents) stored on a portable USB hard drive or USB thumb drive.
* SD card reader - Share and transfer files (photos, movies or videos) stored on a SD card.
* NAS File Server - For connecting and streaming media onto a maximum of 5 devices (laptop, smartphone, tablet, desktop etc.) at the same time.
* Power source - Built-in 3000 mAh battery pack for charging smartphones.

The RAVPower FileHub 5-in-1 is very compact, well-designed and portable. It comes with a USB port for connecting to a USB thumb drive or external USB disk, an SD card reader for connecting to any SD card and a micro USB interface for charging smartphones. There are 4 LED light status indicators: Battery level (indicates the battery level), R/W LED (indicates the read/write status), Wi-Fi (indicates the hotspot status) and Internet LED (indicates whether the device is connected to the internet). Also, there are two buttons on the side: the Reset and Power buttons.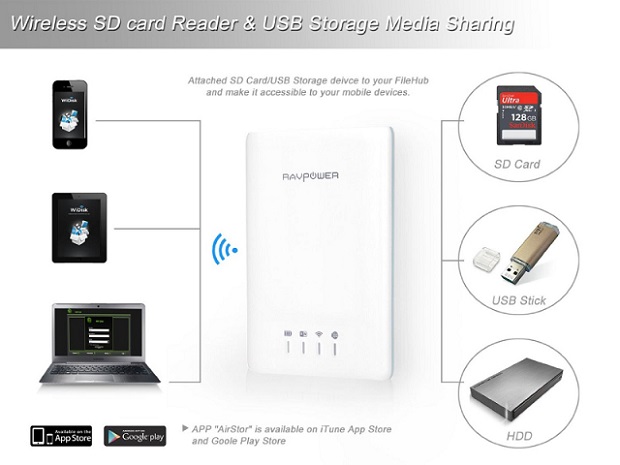 Proccessor : Ralink RT 5350 MIPS24KEc 350 MHz
WiFi Frequency : 2.4 GHZ Speed: 72Mbps at 20Mhz / 150 Mbps at 40MHZ
External Battery Pack : 3000 mAh
SD Card Speed : Read: 3MB/S, Write: 3.5MB/S
USB Interface : Micro USB 2.0

Click here for a closer look and buyer reviews.
The RAVPower FileHub 5-in-1 is easy to set up. The web interface for configuring settings is simple and easy to use. However, it may initially be a bit tricky for tech novices. It comes with a number of advanced features such as Samba, DHCP and DDNS. The device is also capable of bridging the existing wireless network to route any traffic from a user's computer through to itself, so that the user can access the internet and share files on the device at the same time. Performance wise, there is no noticeable drop in upload or download speeds when using the FileHub, however users may experience some lag while playing large video files. Overall, the device performs well when streaming photos, music, and video files. It is important to note that the RAVPower FileHub 5-in-1 does not transcode video content, so the stored files will need to be in a format that can be played back by the client device. A free app for Android or iPhone smartphones also provides easy access to this device. The device measures 5.9 x 4.4 x 2.2 inches and weighs 11.2 ounces.
ReviewsBucket's Verdict:
RAVPower FileHub 5-in-1 is a great little device that can come in very handy especially while travelling. The FileHub has enough battery to make it through most day trips allowing users to plug into their external USB storage device and stream movies or music across multiple wireless devices. The FileHub can also be useful at home. The device accomplishes what it set out to do and for it's price, it offers excellent value for money. Users will get a lot of features in a tiny package including a portable battery pack for charging smartphones. Please note this device also comes in a black color. We highly recommend this product.