Satechi F1 Smart Monitor Stand (ST-F1SMSWY2) Highlights -

Pros: Inexpensive. Sleek and modern design. Sturdy stand. 4 USB 2.0 ports.

Cons: No USB 3.0 port.
For those of you who don't know Satechi, it is a US based company head-quartered in sunny San Diego, California. They make accessories for audio and bluetooth devices, smartphones, tablets, cameras and other office products. Their products are attractive, affordable and efficient like the Slim Surge Protector we recently reviewed. Now they have come out with another great product called the Satechi F1 Smart Monitor Stand. Essentially, they have made an attractive monitor stand with easy accessibility to 4 USB 2.0 ports and a headphone and separate microphone port. This product may sound very simple but it has many advantages:

* The stand can be adjusted to two different preset heights - 4 inches and 2.75 inches so that users can find a comfortable viewing level, thereby avoiding neck and back problems.
* It is not only a stand for monitors as it can also hold laptops or even a printer, allowing users to store paper, envelopes or other accessories underneath the stand.
* It helps to reduce clutter and creates additional desk space to organize office supplies, the keyboard and mouse.
* The USB and headphone/microphone ports in the front allow easy accessibility for connection to USB devices and speakers. This will help users to quickly and efficiently transfer data between a computer, camera, smartphone or an external hard drive.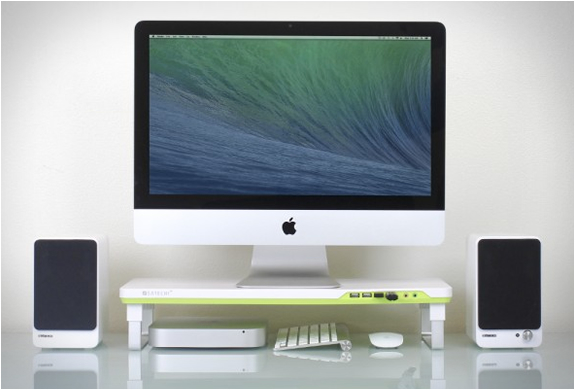 The Satechi F1 Smart Monitor Stand has a slim and modern design and is quite robust. The top of the stand is made of white plastic, while the bottom and side parts are green in color, which make the ports stand out. As mentioned, the aluminium legs can be adjusted to two preset heights according to a user's preference. The rubber pads on the aluminium legs prevent the stand from moving around and scratching the desk. The location of the ports are also very handy. Please note the stand doesn't come with a power adapter, so the USB ports are simply pass through hubs, not providing power to charge devices. The USB extension to run to your computer is placed underneath the stand and there is even a little cut-out to hold the cable in place. This reduces clutter around the desk. The stand measures 23 x 12.3 x 1.3 inches and weighs 3.2 pounds.
Click here for a closer look and buyer reviews.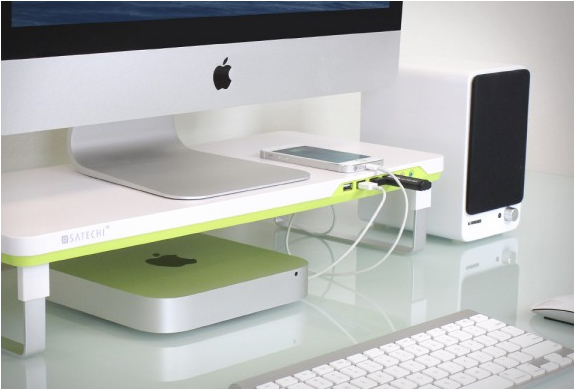 ReviewsBucket's Verdict:
Satechi F1 Smart Monitor Stand is a well-built and modern looking monitor stand with an attractive price. Having a USB 3.0 port would have made it even better, but we guess the stand alone is worth the price. It is really easy to set-up, looks great and gives users a lot of space. If you have a small desk with limited space or would like a modern looking and inexpensive stand, we highly recommend this product. The F1 monitor stand also comes in black color.