Toshiba PX35T-A2300 Highlights -

Pros: Modern and compact design. Good performance. Full HD display.

Cons: Integrated graphics card not suitable for high-end gaming.
Many times users are faced with a dilemma of whether to buy a laptop or a traditional desktop. Both have their own advantages. Laptops are portable, while desktops can be easily upgraded but take up desk space and can not be easily moved around. Also, many users tend to use their laptop as if it were a desktop doing basic tasks like web-browsing and creating spreadsheets, rarely taking it with them when they are mobile. Therefore it doesn't make sense for them to purchase a laptop. This is where All-In-One (AIO) can be a smart choice. They are like desktops but they take very little desk space thereby reducing clutter. Also, unlike a traditional desktop users don't need to buy a separate monitor. Toshiba PX35T-A2300 is one of these AIO desktops. Users will appreciate it's slim aluminium finish body with U-shaped chin, supported by a pedestal stand that makes it look very modern. Apart from the looks, the desktop packs some decent hardware like the Intel Core i3 processor with 6GB of memory and massive 1TB storage space. To top this off, all the hardware is housed within a glossy 23 inch multi-touch screen with full HD resolution.
Performance - Even though the Intel Core i3-3120M processor is not the most recent processor and belongs to the older generation Ivy Bridge architecture, it packs enough power to smoothly run tasks such as spreadsheets and presentations, web-browsing, checking email and streaming videos and music. This dual-core processor supports Intel's Hyper-threading technology to run processes in parallel and manage resources. Each core offers a base speed of 2.5 GHz, but with no Turbo Boost support unlike the latest Intel Core i7 processors. The chart below (source - CPU World) shows the benchmarking results for Intel processors with similar level of performance such as the i3-3120M . As you can see, the processor sits in the middle which means it offers a reasonably good performance.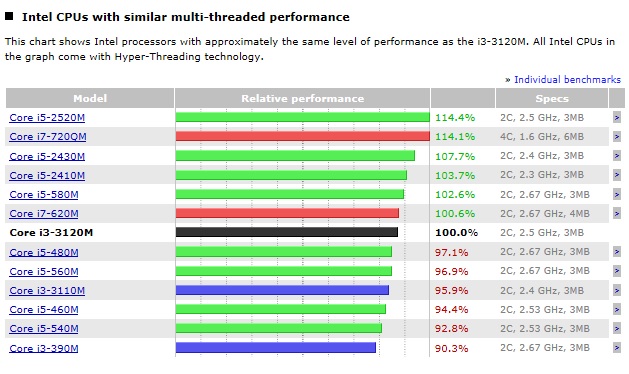 Storage & Memory - Toshiba PX35T-A2300 comes with 6GB of DDR3 memory and a 1TB (7200 RPM) hard drive. The memory and storage is sufficient for light multitasking and storing large amounts of multimedia files and documents. Also, one thing to note is that the hard drive features a faster 7200 RPM drive which will improve overall boot time and responsiveness. This will especially be noticeable when dealing with large files.
Display, Graphics & Sound - The desktop features a glossy 23 inch LED backlight multi-touch screen with support for full HD resolution (1920x1080 pixels). The picture looks clear and crisp with TruBrite technology. Also, the screen can be tilted to adjust your viewing preference. The touchscreen is mostly responsive with the occasional hiccup, nevertheless the display is pretty good. The processor includes an integrated Intel HD Graphics 4000 which will give users average performance in handling graphics related tasks like playing games. The graphics card won't have any issues playing less visually intense games or simple photo and video editing tasks. However it will struggle playing latest games in high resolution settings. Also, the DTS Sound with premium Harman Kardon stereo speakers users will enjoy good sound quality for their movies, music and games.
Operating System - Windows 8.
Click here for a closer look and buyer reviews.
Toshiba PX35T-A2300 comes with all the ports and connectivity options that users would expect from an AIO desktop including 4 USB 3.0 ports, 2 USB 2.0 ports, a DVD/CD SuperMulti-burner drive, a HDMI port, built-in media card reader, 802.11b/g/n wireless, Bluetooth 4.0, Gigabit Ethernet LAN, voice control, a wireless keyboard and rather strange looking mouse. The desktop measures 21.97 x 1.92 x 15.40 inches and weighs 18 pounds.
ReviewsBucket's Verdict:
Toshiba PX35T-A2300 AIO is a desktop computer and multimedia machine combined into one attractive looking system. It takes up little desk space and looks very elegant. The PX35T-A2300 isn't just pretty, it has enough power and features to keep students and home users alike happy. For a reasonable price, users will get the benefit of a 23 inch full HD monitor packed with massive storage space and good multitasking capability. It's a great choice for users looking for a balance between work, play and aesthetics.