Toshiba Satellite L75-B7270 Highlights -

Pros: Competitively priced. Big 17.3 inch display.

Cons: Limited battery life. Non-touchscreen. Entry level processor. A bit heavy.
Usually with laptops the bigger the screen, the more expensive it is for the end users. But not with Toshiba Satellite L75-B7270. This streamlined and attractive looking laptop will appeal to users whose main preference is to have a big screen on a budget, with speed and performance coming in second. This is exactly what Toshiba has done with this laptop. The laptop comes with a super-sized 17.3 inch screen and a price tag of less than $500. The Intel Pentium 3558U processor with 4GB of memory and 500GB hard drive provides entry level performance with basic multitasking and storage capability. It will definitely suit users looking for a multimedia laptop with basic computing needs. Users will enjoying watching movies and playing games on this laptop. The Satellite L75-B7270 is well designed too, with a satin gold finish and modern looking plastic body. It is a bit heavier though, but this is to be expected from a big screen laptop.
Performance - The laptop comes with an Intel Pentium 3558U processor clocked at 1.7 GHz. This is a dual-core processor that was launched in early 2014. The 'U' at the end of the processor model denotes that it is an ultra low-power processor, which in most cases doesn't pack the high-end performance found in processors like that of an Intel Core i3. The Core i3 is a dual-core processor too, but most of it's models are equipped with Intel's Hyper-Threading technology giving them extra speed and performance that is equivalent to a quad-core (4 core) processor. The 3558U processor lacks this technology, so needless to say the performance is a bit average when compared to a Core i3 processor. Nevertheless, the processor has sufficient power for most office, multimedia and entertainment tasks.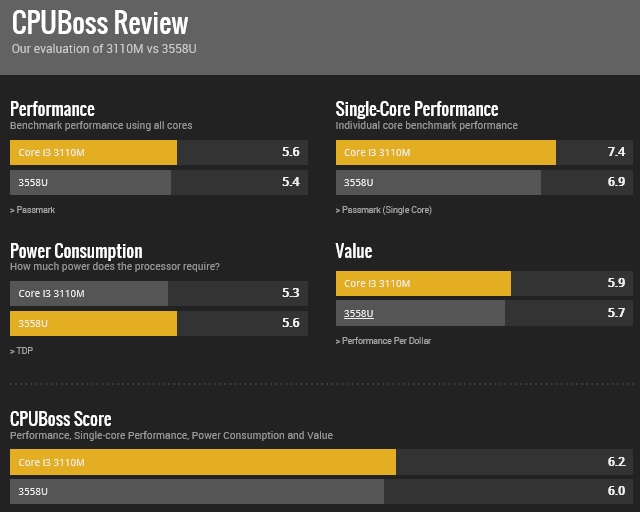 Storage & Memory - The laptop comes with 4GB of DDR3L memory and 500GB (5400RPM) storage space. The 4GB memory will get you through most of your daily tasks but some users may feel the need for a bigger memory when trying to run memory hungry applications. Users can easily overcome this problem as the memory can be upgraded to 16GB if required. Please note that while the memory is upgradable to 16GB, the entire back cover needs to be removed to get to the memory sockets. Therefore, this should be done with caution. The 500GB storage space will allow you to store a decent amount of multimedia files and office documents.
Display & Sound - The 17.3 inch widescreen LED Backlit display supports playing 720p High Definition (HD) contents. Most budget laptop tend to have HD screen resolution of 1366x768 pixels but with Toshiba Satellite L75-B7240 users can enjoy High Definition Plus (HD+) screen resolution of 1600x900 pixels, which results in sharper image quality and clarity. The super-sized 17.3 inch screen will be appreciated by users who prefer to watch movies and play games on their laptop. It will offer all the screen real estate space users need to multitask while creating spreadsheets and editing multimedia files. Also, Windows 8 looks great on this big screen. Having said that, the integrated Intel HD Graphics is significantly slower than most graphics cards found on Intel Core i3 or i5 processors. The laptop will struggle playing some newer graphic intensive games. The sound quality is pretty average at best.
Battery - The 6-cell lithium-ion battery offers a battery life of up to 3.5 hours.
Operating System - Windows 8.1
Click here for a closer look and buyer reviews.
Toshiba Satellite L75-B7270 features a wide array of expandability options including 1 USB (3.0) port, 1 USB (3.0) port with USB Sleep and Charge for smartphones, 2 USB (2.0) ports, a HDMI output port, a media card reader and a DVD-SuperMulti drive. For network connectivity, there is 802.11b/g/n wireless, Bluetooth and 10/100/1000 Ethernet LAN. Needless to say the laptop also comes with a HD webcam and microphone which nowadays is pretty much standard in all laptops. The frameless keyboard comes with a numeric pad and well spaced keys. The pointing device offers multi-touch control as well. The laptop measures 16.30 x 1.30 x 10.60 inches and weighs 5.9 pounds (a bit on the heavier side).
ReviewsBucket's Verdict:
We have reviewed many Toshiba laptops before and one thing we have noticed is that Toshiba makes good quality and reliable laptops. The Toshiba Satellite L75-B7270 is no different. Even though it features an entry level processor, the main highlight of this laptop is it's big 17.3 inch HD+ screen. It will highly appeal to users who don't want a separate desktop and monitor, and at the same time want the convenience of a bigger screen. Everyday users with a need for running basic daily tasks and multimedia applications will find this laptop to be a great choice. You'll be hard pressed to find such a competitively priced 17.3 inch laptop. We would most definitely recommend this if you're on a budget and looking for a laptop with a big display. However, if you're after performance as well then Toshiba has a very similar model with an Intel Core i5 processor - Toshiba Satellite L75-B7240.