Toshiba Satellite Radius P55W-B5224 Highlights -

Pros: Sleek and modern design. Great all round performance packed in a nice full high definition touch screen display.

Cons: Large and heavy for a 2 in 1. Not suitable for heavy gaming.
2 in 1 laptops that can be flipped and converted into a tablet have been around for some time, but recently these devices are gaining popularity because of the convenience and flexibility that standalone devices can't offer. 2 in 1's are basically full-featured laptops with a keyboard and different connectivity options, with an added flexibility that allows them to be transformed into a touchscreen tablet. Different 2 in 1's flip between laptop and tablet mode in different ways. Some have detachable keyboards (turning the screen into a tablet) like the HP Split x2 13-m210dx. You can also find laptops with screens that can hide the keyboard inside their chassis for use as a tablet like the Toshiba Satellite U925T-S2120 Slider. Then there are some with 360-degree hinges that let the screen be flipped around to become a tablet like the Toshiba Satellite Radius P55W-B5224. Whatever ways they flip and transform, there are a number of reasons why 2 in 1's can be an excellent choice. They generally offer better battery life and because they come with a keyboard you can easily write documents or prepare spreadsheets for hours, which otherwise in a standalone tablet would be a bit inconvenient. In this review we take a closer look at the Toshiba Satellite Radius P55W.
Toshiba is furthering it's push into the convertible PC market with it's Satellite Radius laptop that can be folded into numerous modes thanks to it's 360-degree hinged design. The hinged design is similar to what's currently available in laptops like the Lenovo Yoga 2 Pro convertible laptop. However, with the Satellite Radius P55W, Toshiba is trying something different by offering the same versatility in a much larger 15.6 inch screen. As far as the design is concerned, the Radius' chassis is made of silver brushed aluminum in satin gold, which makes it look very premium. The bottom corners of the laptop are rounded giving it a subtle U-shaped design. We like the laptop's clean and modern look, especially the frameless keyboard design that embeds the full sized keyboard in aluminum rather than glossy plastic as found in most budget laptops. It is a bit heavier and thicker though, weighing 4.9 pounds and measuring 0.75 inches thick. Similar to Lenovo's Yoga line of laptops, the Radius' versatility is made possible by it's metal hinges that allow the display to be positioned in just about any angle (full 360 degree rotation). The Satellite Radius supports 5 modes. There is the traditional Laptop mode, as well as the Tabletop mode which allows the laptop to lie flat for two person collaboration. The Presentation mode places the device in a tent-shaped angle making it easy to show the screen while presenting. Taking the presentation mode one step further is the Audience mode which flips the keyboard underneath leaving the screen exposed to watching movies. Finally, the Tablet mode folds the display back into the laptop's undercarriage that has magnets along the length of the device to keep the display panel firmly in place. Transitioning between different modes is very easy and the laptop feels very steady no matter what mode it is in. As far as other specifications are concerned, the Toshiba Satellite Radius P55W-B5224 comes with an Intel Core i7 processor with 8GB memory and 1TB of storage space.
Performance - The Toshiba Satellite Radius P55W offers a respectable performance with its 2.0GHz Intel Core i7-4510U processor. It is an energy efficient dual core mobile processor based on Intel's Haswell microarchitecture. The two physical cores (four logical) can clock up to 3.1GHz. Among it's many features, HyperThreading (HT), Turbo Boost and Virtualization are all included. HT technology enables each microprocessor core to execute multiple software threads at the same time, thereby leading to better utilization of core resources and improved performance. The Turbo Boost technology temporarily boosts CPU performance by increasing the frequency of one or more cores, which in this processor's case is a maximum of 3.1GHz. The frequency is increased in steps, where each step is 133 MHz. Some mobile CPUs support up to 10 steps, or 1.33GHz boost. The processor operates in Turbo Boost mode as long as it stays within it's thermal (TDP and maximum temperature) limits. The Virtualization technology allows users to run applications or operating systems in a virtual mode, giving them the ability to run multiple and/or different operating systems simultaneously on the same computer. It also improves system security and reliability due to it's virtual machine environment being completely independent from the host operating system. According to benchmark tests done by CPUBoss, the Radius P55W scored pretty well when compared to convertibles like the Lenovo Flex 2 which runs on an Intel Core i5 processor (see chart below). It performed similarly well in multimedia performance tests. The laptop has no issues juggling multiple tabs while streaming multimedia and running background processes like antivirus applications or system scans. The performance is great for regular and daily home/office tasks. Design programs like Adobe Photoshop perform well too.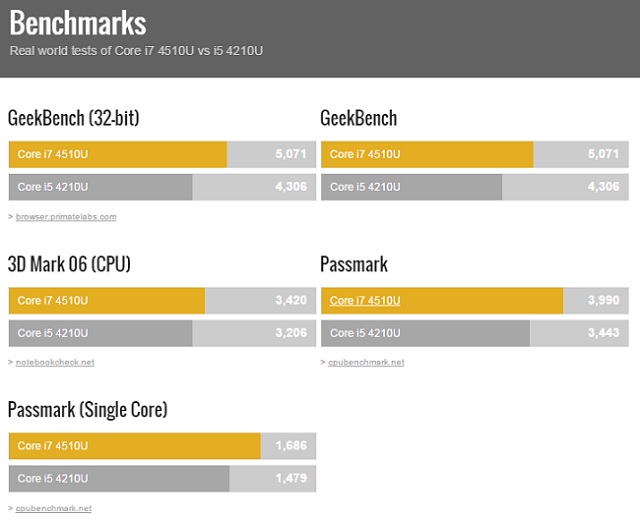 Storage & Memory - The combination of an Intel Core i7 processor with 8GB DDR3L memory makes this laptop great for multitasking. The memory size affects how many applications can be opened at once, so it's good to see this device having a decent amount of memory. The 1TB hard drive (5400RPM) storage space is not bad either. However, the current trend is shifting towards laptops with SSD (Solid State Drive), which provides much faster performance and boot-up time. Nevertheless, the storage space in this laptop is sufficient for storing a large amount of multimedia files and documents. As far as pre-installed software is concerned, Toshiba Radius P55W comes with trial software such as Norton Antivirus and Microsoft Office 365.
Display, Graphics & Sound - The Satellite Radius P55W-B5224 features a 15.6 inch 1920x1080 pixels (Full High Definition) touchscreen display with In-Plane Switching (IPS) panel technology. There's also 10-finger tracking for touch and tablet use. As is typical with an IPS panel, we found the viewing angle to be good and there was no significant loss of contrast. The screen appears to be brighter than other convertible laptops like the Lenovo Flex 2. We were impressed with the display's color reproduction and accuracy. Overall, home/office users are likely going to happy with the picture quality. The integrated Intel HD 4400 Graphics offers solid performance in general, however the overall gaming performance is average at best. It is suitable for playing less demanding games and casual gamers will probably not even notice any difference. Hardcore gamers who like to play newer 3D games should probably look for something with dedicated graphics like the Sony VAIO SVF15N26CXB that offers significantly better gaming performance. The P55W comes with a good set of Harman/Kardon speakers. The sound quality is clear, crisp, and loud making it great for playing movies, games and music.
Battery - Even though the advertised battery life is up to 8 hours, you can expect the 4-Cell lithium-ion to last from anywhere between 6-7 hours depending on usage, which we think is great for a laptop with such a big screen.
Operating System - Windows 8.1.
Click here for a closer look and buyer reviews.
Ports and connectivity options are minimal but include those which are most commonly used. On the right, the laptop has two USB 3.0 ports and an HDMI with 4K Ultra HD output capability. You'll find another USB 3.0 port on the left with a combination headphone/microphone jack, a SD Card reader, the power jack and buttons for power and volume. One of the USB 3.0 ports supports USB Sleep and Charge to charge smart phones and other portable electronics, even when the laptop is turned off. In addition, there is a front facing 720p integrated webcam. However, an Ethernet port is not included so users will have to rely on 802.11n Wi-Fi (Intel Dual Band Wireless-N 7260) and Bluetooth. It also has support for Intel's Wireless Display (WiDi) for streaming HD content without a cable to any WiDi-equipped HDTV or adapter. The Radius features a roomy backlit keyboard that includes a numpad. The keys feel comfortable and the keys are well spaced between each other. Also, the 4.2x2.6 inches Touchpad is very responsive and didn't result in any unintended click or gesture activation. The P55W measures 0.75 x 15.0 x 9.7 inches and weighs 4.9 pounds.


ReviewsBucket's Verdict:
The Toshiba Satellite Radius P55W-B5224 is a very attractive looking 2 in 1 laptop. The brushed aluminum design looks very premium and the build quality is solid without any obvious flaws. The overall performance is good but is held back a bit by the slow spinning traditional 5400RPM hard drive. The 1TB hard drive offers plenty of storage space and the 8GB memory should offer reasonable multitasking capability without having to upgrade. The full high definition touchscreen IPS display is responsive and produces overall good picture quality. The audio quality and connectivity options are great and the battery life is reasonable too, considering the big screen. Unfortunately, holding the hefty 15.6 inch display in Tablet mode while visiting websites or watching videos can present a bit of a challenge and after a while the weight of the laptop could make users feel uncomfortable. At 4.8 pounds, the P55W is heavier than a standard tablet device. That said, it is actually comparatively thin, at just 0.75 inches. If your primary motive is to use this 2 in 1 as a laptop with the occasional convenience of a tablet then would recommend this device, however we have mixed feelings on whether users would enjoy using it primarily as a tablet device. The P55W also comes in another model featuring the Intel Core i5-4210U processor - Toshiba Satellite Radius P55W-B5220. However, between the two we would definitely recommend the Core i7 model.