ViewSonic VA2455Sm LED Monitor Highlights -

Pros: Reduces eye strain with minimum flickering. Good picture quality with Full HD resolution. VESA compatible. Competitively priced.

Cons: Below average sound quality. No HDMI/USB ports. Non-adjustable height.
If you're like most people then staring at the computer screen either in the office, home or on the go for hours on end has become part of your everyday life. Inevitably, prolonged staring can put real strain on your eyes. Have you heard of Computer Vision Syndrome (CVS)? It is the name given to eye related problems like eyestrain and pain caused by prolonged computer use. Research has shown that a vast majority of regular computer users who don't use an eye friendly monitor have at least some symptoms of CVS. The most common being eye strain, blurred vision and headaches. In addition, working adults aren't the only ones vulnerable to CVS. Even children at school who use computers throughout the day can also experience eye related problems. CVS is similar to other repetitive stress injuries, as looking at a computer screen requires your eyes to move back and forward constantly. You may not notice but this requires a lot of effort from your eye muscles. This becomes even more challenging as different monitors have varying levels of screen contrast, flicker, and glare.

This is where a flicker free monitor really helps. The ViewSonic VA2455Sm LED monitor is one such monitor. Most LED screens are plagued with flickering caused by Pulse Width Modulation (PMW), where backlighting is switched on and off rapidly at a fixed frequency. Increasing the frequency can at times 'mask' the screen flickering but it is not ideal as the underlying effect this has on the eyes still persists. The ViewSonic VA2455Sm features a Flicker-Free display technology that completely eliminates screen flickering by integrating DC-modulation (DC) LED backlights, which causes less fatigue. A study conducted by Kitasato University (Japan), shows that monitors with integrated DC-modulation are very gentle on the eyes and the easiest to view. We would also highly recommend you to watch the video below to check whether your current monitor screen flickers or not.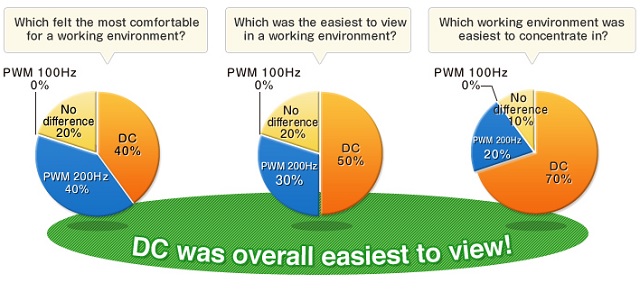 Apart from the Flicker-Free technology. the ViewSonic VA2455Sm offers a Full HD (1920x1080 pixels) screen resolution on a 24 inch (23.6 inch viewable) display. It features ViewSonic's proprietory SuperClear Pro technology with wide viewing angles of 178?/178?, true 8-bit performance to display 16.7 million colors, 8.5ms response time and 3000:1 static contrast ratio.
Design wise the display is pretty ordinary with a round base. The bezel is made of glossy black plastic and to add a bit of modern taste, the lower bezel portion has a textured, faux metallic surface. Also, at the bottom there are a series of standard menu buttons.
Screen Size : 23.6 inch
Backlight Technology : LED
Panel Technology : A-Si (amorphous silicon) TFT
Response Time : 8.5ms
Aspect Ratio : Widescreen 16:9
Horizontal Viewing Angle : 178?
Vertical Viewing Angle : 178?
Maximum Resolution : 1920x1080 pixels
Refresh Rate : 60 Hz
Contrast Ratio : 3000:1
Color : 16.7 Million Colors (True 8-Bit)
Brightness : 250 Nit

Click here for a closer look and buyer reviews.
The ViewSonic VA2455Sm uses A-Si (amorphous silicon) TFT (Thin Film Transistors) panel technology. Amorphous silicon is the preferred choice for thin film transistors on nearly all active matrix LCD screens due to it's low temperature and relatively inexpensive production cost compared to other similar materials. The picture quality is sharp and clear. The colors look rich and consistent without losing their quality, even at a wider viewing angle. Also, the dark colors look deep black without a grayish cast. In addition, the monitor features ViewSonic's proprietary Blue Light Filter that allows users to dim the blue light levels to reduce the side effects of prolonged blue light exposure such as irregular circadian rhythm. However, the monitor is not suitable for gaming with its slow 8.5ms response time. You would be better off considering Acer GN246HL 24 inch Full HD monitor if you're after a gaming monitor. There are five preset options available to users, including Text, Game, Movie, Web and Mono to produce the optimum combination of color and brightness for the best viewing experience.
The connectivity option is limited to a VGA and DVI port. There is no HDMI or USB connectivity which is a huge drawback. Another drawback is that the monitor's height can't be adjusted. It can only be tilted up or down (20?to -5?). The designers obviously didn't have ergonomic considerations in mind. In addition, the monitor has two integrated 2W stereo speakers that produces sub par sound quality. Other features of the monitor include 100 x 100mm VESA mount capability to mount the monitor on a wall and proprietary Eco-mode energy-saving feature that can save electricity costs. The monitor measures 8.3 x 22.3 x 15.6 inches and weighs 8.6 pounds.
ReviewsBucket's Verdict:
Choosing the right monitor is always tough as there are so many things to consider. Most people want the best picture quality and very few consider the impact it would have on your eyes. We think ViewSonic VA2455Sm has struck a nice balance between providing good picture quality with it's proprietory SuperClear Pro technology and reducing eye related problems with it's Flicker-Free technology. The Full HD resolution is definitely a plus, however the lack of connectivity options like HDMI (for connecting to a portable device like a laptop) is a disappointment. Also, the sound quality is very average at best. Overall, we think that the monitor will be most suited in an office or school environment where monitors are mainly connected to a desktop via a VGA cable and there is no need to have good speakers. Office staff and students will surely appreciate the fact that the monitor is doing less harm to their eyes. If you're a programmer, writer, student, graphic designer or anyone else that uses a computer screen for extended periods of time, then we highly recommend this monitor. Your eyes will thank you for it.