Samsung ATIV One 5 Style DP515A2G-K02US Highlights -

Pros: Sleek and modern design. Full HD touchscreen.

Cons: Not good for running demanding applications or heavy gaming. No optical drive.
There are many new computer models in the market, and one might have a hard time finding the best bang for their buck. However, some of the newer models from Samsung are superior and worth considering. Samsung's ATIV One 5 Style DP515A2G-K02US is one of these models. It's sleek and modern design is great looking and would appeal to those in a home or business office environment. The unique ATIV One 5 Style is bold yet not flashy. It's glossy white body with metallic edges and rounded corners looks posh. It's unibody design is able to maximize desk space, making it ideal for those who have smaller desk areas. Forget about messy cables with this desktop, it comes complete with a wireless mouse and keyboard. Pure sophistication and full functionality are just two reasons to own this desktop. Also, the AMD quad-core processor, 4GB of memory and a whopping 1TB of storage gives this desktop enough power to carry out daily home and office productivity tasks with ease, and having a HD touchscreen is just icing on the cake.
Performance - While having a stunning appearance is desirable, it's really all about performance. Samsung ATIV is powered by an AMD A6-5200 Quad-Core Processor. The processor was released in mid-2013 so it is fairly recent. The four CPU cores are able to clock speeds of up to 2.0GHz. Depending on the application, the performance of the A6-5200 is very similar to the Intel Core i3-3217U (see below - source: CPUBoss). According to NotebookCheck, the four CPU cores performed well in multi-threaded applications, but the performance per core was quite low. Nevertheless, the processor should be sufficient for all daily tasks like office productivity, internet browsing and multimedia.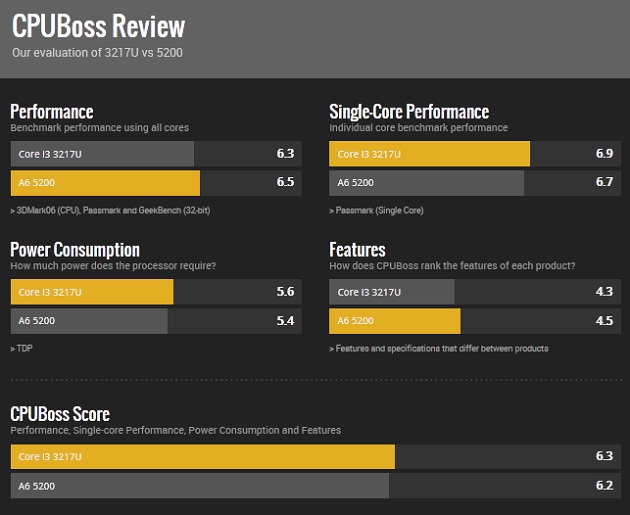 Storage & Memory - The Samsung ATIV One 5 Style DP515A2G-K02US comes with 4GB of DDR3 memory (expandable to 8GB) and 1TB (5400 RPM) hard drive. With more than enough space for both music and movies, users can store all their multimedia files and documents to their heart's content. For those who need to do several things at once, the 4GB of memory enables them to perform at top speed. Having more memory would have been better, but light multitaking should not be an issue with this desktop.
Display, Graphics & Sound - Because the desktop is an All-In-One, it has a beautiful 21.5 inch full HD (1920x1080 pixels) LED display that produces clear and vibrant images. The screen has an extraordinary ten finger multi-touch ability that allows a person to zoom in and out and scroll with ease. Also, the touchscreen capability allows users to take full advantage of Windows 8. The desktop comes with a processor integrated AMD Radeon HD 8400 graphics that is capable of playing older and less demanding games fluently. However, the processor may be limited in performance for some recent games. There are two built in speakers on the back of the computer that are an incredible 4-watts each. That means there is no need for external speakers to hear your favorite songs or watch movies. Also using Bluetooth connectivity, users can stream music from their smartphones to this AIO.
Operating System - Windows 8.
Click here for a closer look and buyer reviews.
Samsung ATIV One 5 Style features all the essential connectivity options including 2 USB 2.0 ports, 2 USB 3.0 ports, Bluetooth, a media card reader (3-in-1 SD/SDHC/SDXC), HDMI in/out port, built-in 802.11b/g/n wireless LAN, built-in Ethernet LAN and a built-in 720p HD Webcam. The only disappointment we have is the lack of optical drive and the fact that most of the ports are located at the rear which may not provide easy accessibility for some users. The desktop measures 20.63 x 5.94 x 15.07 inches and weighs 13.9 pounds.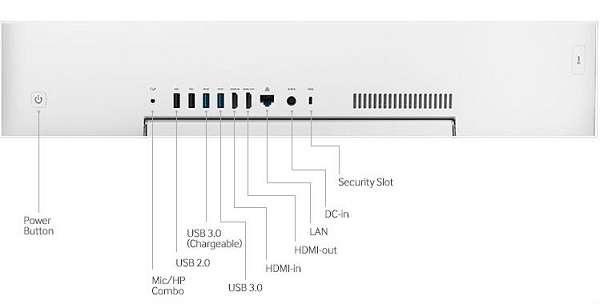 ReviewsBucket's Verdict:
Anyone who is looking for a decent computer system should definitely consider the Samsung ATIV One 5 Style DP515A2G-K02US. It's sleek and elegant design will appeal to everyone and it won't disappoint performance wise either. The desktop's quad-core processor will allow users to be able to draft emails, watch videos and play games, all at the same time. The full HD touchscreen is something that everyone needs on their computer. The ability to set the mouse aside and use your fingertips to guide across the screen is exceptional. Surfing the web, pulling up pictures or playing games will never be so easy. It's all about convenience and this desktop delivers. For a great computer at a reasonable price, the Samsung ATIV 21.5 inch All-In-One desktop is a great choice.